What is Rotary Evaporator?
Rotary evaporator, also known as rotary evaporator, is an evaporation instrument widely used in laboratories. It is composed of motor, distillation bottle, heating pot, condenser tube and other parts. It is mainly used for continuous distillation of volatile solvents under reduced pressure. Used in chemistry, chemical industry, biomedicine and other fields. Rotary evaporators can be used to recover and evaporate organic solvents. It uses a motor to drive the distillation bottle to rotate. Since the distiller is constantly rotating, the addition of zeolite can be avoided without bumping. At the same time, due to the continuous rotation, the liquid is attached to the wall of the distiller, forming a layer of liquid film, which increases the evaporation area and accelerates the evaporation speed.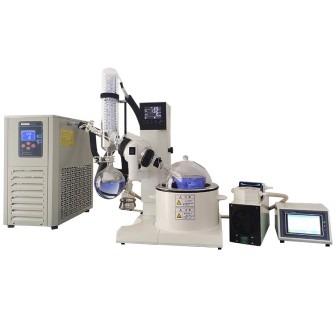 Features of Rotary Evaporator
Explosion-proof rotary evaporator with condenser for high recovery.
Reasonable structure, exquisite materials.
Fast drying.
The volume of a single sample can be processed at one time.
The price is reasonable.
Applications of Rotary Evaporator
It is mainly used for continuous distillation of volatile solvents under reduced pressure, and is widely used for large-scale concentration, drying, extraction and recovery of samples. It is an ideal equipment for scientific research experiments and industrial mass production in chemical, pharmaceutical, food, environmental protection, universities and other fields.
The rotary evaporator continuously distills a large amount of volatile solvents under reduced pressure, and can separate and purify the reaction products by concentrating the extract and distilling the receiving liquid. Use a large-capacity rotary evaporator to increase the evaporation area, place it in a decompression water bath, and heat it while rotating to make the solution diffuse and evaporate efficiently.

How to Choose the Model?
Order Process

Why Choose Us?
Rich categories.
The products are market-oriented and exported to many countries in the world.
Perfect sales system, efficient and fast after-sales service.
On-time delivery rate reaches 100%.
High-cost performance.
FAQ