What is Lab Freeze Dryer?
The freeze dryer for laboratory, also known as lyophilizer, originated from the vacuum freeze-drying technology in the 1820s. It refers to a process in which solid materials are directly sublimated into a gaseous state under vacuum conditions without going through the liquid phase. During the freeze-drying process, the original chemical structure and morphology of the solute will not be destroyed. In addition, the biologically active material can still restore the conformation and biological function before freeze-drying after being re-dissolved. Compared with other drying methods, vacuum freeze-drying technology has incomparable advantages, so this technology is increasingly widely used in biology, medicine, food, environment, etc.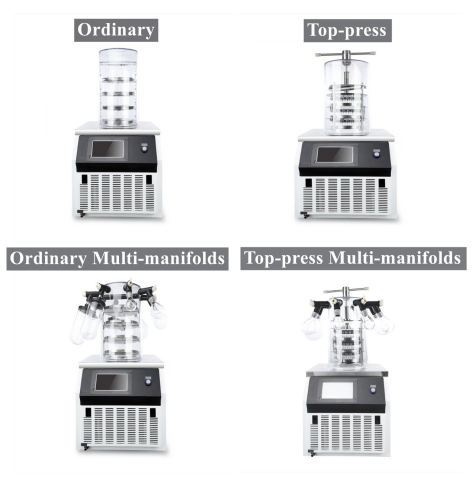 Features of Lab Freeze Dryer
Heat-sensitive substances will not be denatured or inactivated.
Greatly reduce the loss of some volatile components in the substance.
The growth of microorganisms and the action of enzymes are eliminated, so the original characteristics can be maintained.
Keep the original structure without concentration.
Avoid surface hardening caused by general drying methods.
The product can be stored for a long time without deterioration.
Each model is available in 4 types: Ordinary, Top-Press, Ordinary Multi-Manifolds, and Top-Press Multi-Manifolds.
Types of Lab Freeze Dryers
Silicone Oil Heating Freeze Dryer
Applications of Lab Freeze Dryer
Biological specimens and biological tissues: For example, the production of various animal and plant specimens, dry preservation of skin, bones, aorta, heart valves and other marginal tissues used for animal xenograft or allogeneic transplantation.
Environmental protection: freeze-drying of soil and sludge samples.
Food drying: coffee, tea, meat, fish and eggs, seaweed, fruits, vegetables, seasonings, tofu, convenience foods, etc.
Biopharmaceuticals: vaccine powder injection, interferon, orally disintegrating tablets, serum protein and plasma, enzymes, cosmetic skin tissues, etc.
Scientific research: freeze-drying samples of drug research and development, polymer synthesis, nanomaterials, soil testing, food testing, etc.
Disease prevention and resistance: freeze-drying of bacteria, viruses, etc., pretreatment of physical and chemical laboratory samples.

Why Choose Us for Lab Freeze Dryer?
On-time Delivery
Our on-time delivery rate is 100%. Delivery time is usually 7-15 working days after payment.
Rich Export Experience
Drawell was founded in 1999 and has over 20 years of exporting experience. We have a professional sales team of around 30 people.
Our main markets are South Africa, the Middle East, Southeast Asia, Europe, etc. So far, we have established business relationships with more than 100 countries.
Quick Service
For the before-order stage, our professional sales team will respond to your inquiry within 24 hours whether it is on working days or not.
For the order-running process, we will keep track of your order. You don't have to worry about the quality or production time.
For the after-sales stage, our technical guidance is free and ready forever. If you have any problems, our after-sales team and engineers will help you solve them, and you will get an answer within 24 hours.
Warranty services
All Drawell Instruments will be warranted for a period of 12 months after shipment.