What is Vacuum Drying Oven?
The vacuum drying oven is an earlier drying device, and the inside of the oven is divided into several layers by heating plates. Hot water or low-pressure steam is passed into the heating plate as the heating medium, the material pan with the medicine to be dried is placed on the heating plate, the door of the box is closed, and the inside of the box is vacuumed with a vacuum pump. The heating plate heats the medicine to the specified temperature in the circulating flow of the heating medium, and the water starts to evaporate and is gradually drawn away with the vacuum. This equipment is easy to control, can condense and recover the evaporated solvent, and the medicine is not easy to be contaminated during the drying process. It can be used for medicine drying, packaging material sterilization, and heat treatment.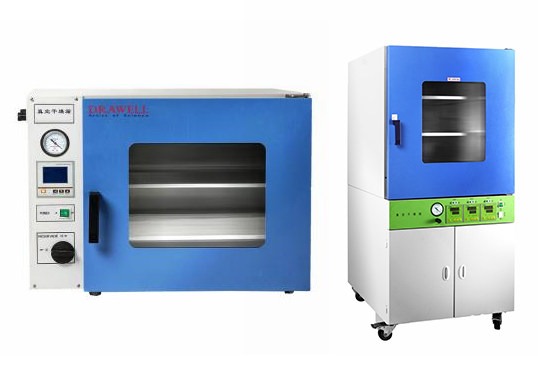 Features of Vacuum Drying Oven
Microprocessor controller with LCD display, more accurate and reliable.
Polished stainless steel chamber, durable and easy to clean.
A tempered, bullet-proof double glass door ensures the safety of the operator and clear observation of the chamber.
Door tightness can be adjusted, and silicon sealing. To keep vacuum states in the chamber can fill a working chamber with inert gas (inflation pressure ɗ 0.1 MPa).
Storage, heating, testing, and drying can be performed in an environment without oxygen or in an inert atmosphere. It will not cause oxidation.
Equipped with leakage protection.
Vacuum degrees can be displayed and full-automatic controlled by a microcomputer for LC types.
Applications of Vacuum Drying Oven
Drawell Vacuum Drying Oven is suitable for industrial and mining enterprises, medical colleges, and scientific research institutions to conduct drying and heating treatment tests on objects under vacuum conditions. It is specially designed for drying heat-sensitive, easy-decomposable, and easy-to-oxidize products. It can fill the studio with inert gas. Especially for some items with complex compositions, they can be dried quickly.

Specifications of the Vacuum Drying Oven
Model

DW-LVO-1B(6050)

DW-LVO-0B(6020)

DW-LVO-6090

DW-LVO-6210

Image

Power Supply

AC 220V, 50Hz

Volume(L)

54L

25L

91L

215L

Power Rating(kw)

1.4kw

0.5kw

1.6kw

2.2kw

Temperature Range(℃)

RT+5 ~250℃

RT+5 ~200

Temperature Fluctuation(℃)

±1℃

Display Resolution(℃)

0.1℃

Vacuum Pressure

<133 Pa

Chamber Size (W×D×H)cm

42×35×37

30×30×28

45×45×45

56×60×64

Exterior Size (W×D×H)cm

71×59×53

58×57×45

61×66×145

72×82×175

Package Size(W×D×H)cm

82×70×69

70×64×60

78×76×163

89×92×193

Net/Gross Weight(kg)

75/106

35/50

90/145

145/195
Model

DW-LVO-1B(6050)

DW-LVO-0B(6020)

DW-LVO-6090

Image

Power Supply

AC 220V, 50Hz

Volume(L)

50L

91L

215L

Power Rating(KW)

1.4kw

1.6kw

2.2kw

Temperature Range(℃)

RT+10~250

RT+10~200

Temperature Fluctuation

±1℃

Display Resolution

0.1℃

Vacuum Degree

<133 Pa

Chamber Size (W×D×H)cm

42×35×37

45×45×45

56×60×64

Exterior Size

(W×D×H)cm

53×56×137

61×66×145

72×82×175

Package Size (W×D×H)cm

70×66×155

78×76×163

89×92×193

Net/Gross(kg)

75/106

90/145

145/195
Vacuum Drying Oven Display

Other Incubators