What is Autoclave?
Autoclaves, also known as steam autoclaves, include portable sterilizers and vertical autoclaves. An autoclave uses a heating wire to heat water to generate steam and maintain a certain pressure. It is mainly composed of a sealable barrel, a pressure gauge, an exhaust valve, a safety valve, and an electric heating wire.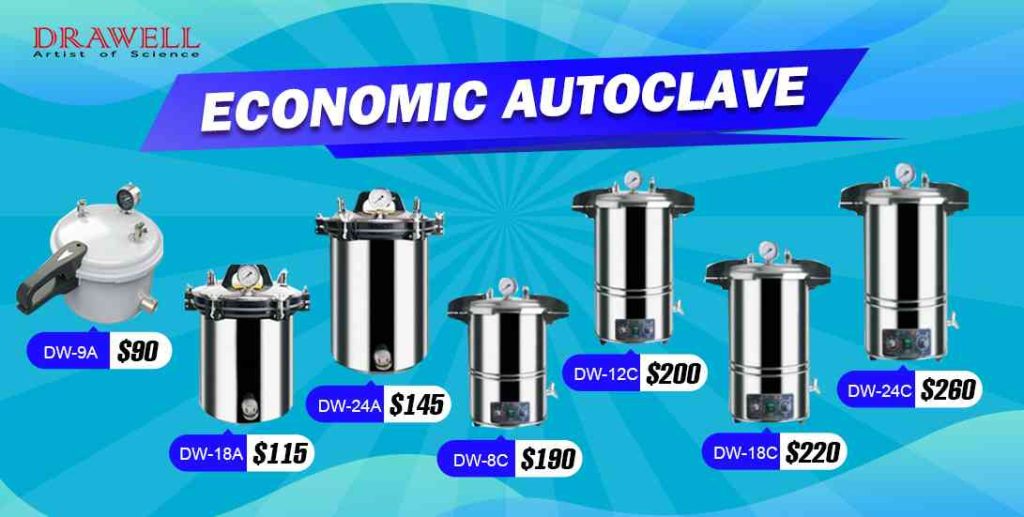 Autoclave Features
High-Quality SUS304 stainless steel material.
Electric heating system.
Silicone seal.
A dual scale indicates a pressure gauge.
Double safety valve to ensure safety.
Microcomputer control system.
High-pressure faucet drainage water, Over-temperature protection, Over-pressure protection, Water shortage protection.
Easy to operate, safe, and reliable.
Multifunctional Sterilizer: Full-automatic; Status flow chart to show the process; Automatic water feeding; Fast cooling; Drying function etc.
304 High-Quality Material: The main body of the container is made of 304 high-quality stainless steel, which is not only resistant to acid and alkali but also safe and has a long service life, which is 3-5 times longer than that of aluminum alloy products.
Over Temperature Protection System: The system can monitor the temperature change in the sterilization chamber in real-time, and immediately disconnect the power supply once it detects that the temperature is too high or changes abnormally.
Automatic Troubleshooting System: Troubleshooting happens automatically at startup. If any malfunction occurs during the operation of the device, an audible alarm will sound and an error number will be displayed on the screen.
Safety and Functionality: Self-induction pressure interlock device, cover inspection, over-temperature protection, temperature monitoring, dry-burning protection system, over-pressure protection, safety valve, over-current short-circuit protection, leakage protection device, anti-scalding safety protection, automatic troubleshooting system.
DRAWELL's Laboratory Autoclave (Sterilizer) Products
Autoclave Specifications
Portable Autoclave

DW-280A Series

DW-280B Series

DW-280D Series

DW-280D Digital Series

Picture

Fature

1.Electric heating system

2.On/Off switch

1.Electric Coal and Gas Heating

2.Plug ON/OFF

1.Electric heating system

2.Manual control dial display

1.Electric heating system

2.LED digital display screen

Volume

18L; 24L; 30L

Working temperature

115-129℃

Working pressure

0.145-0.165Mpa

Power

AC220V/50Hz/2.0KW



Vertical Autoclave

GI Series

GR Series

FD Series

Picture

Model difference

TW:Standard + cooling fan,

TR:TW+drying

DA: Standard+cooling fan,

DF:DA+automatic water feeding,

DR: DF+drying

A:Standard. Fully automatic, basic Model

R: A+drying function

Feature

Full-automatic; Status flow chart to show the process; LCD Display

Drying function

Full-automatically;

Automatically water feeding;

Fast cooling;

Drying function;

Full automatic;

drying function
Sterilization mode

Solid mode: Heating-Sterilizating-Exhausting

Solid with drying mode: Heating-Sterilization-Exhausting-Water drainage-Drying

Liquid mode: Heating-Sterilizing-Precooling-Exhausing

Liquid with warming mode: Heating-Sterilizing-Precooling-Exhausting-Warming

Agar mode: Heating-Melting-Warming

Sterilization temperature

105-135°C

105-138°C

105-135 °C

Sterilization time range

1-6000 minutes

1-6000 minutes

1-300 min

Display range of pressure

-0.l-0.5Mpa

-0.1-0.5Mpa

0-0.4Mpa
Autoclave Application
The autoclave is rapid and reliable disinfection and sterilization equipment using pressure-saturated steam to sterilize products. The autoclave is a piece of ideal equipment for sterilizing medical instruments, dressings, glassware, solution culture medium, etc. It is widely used in medical and health services, scientific research, agriculture, food factories, drinking water factories, etc.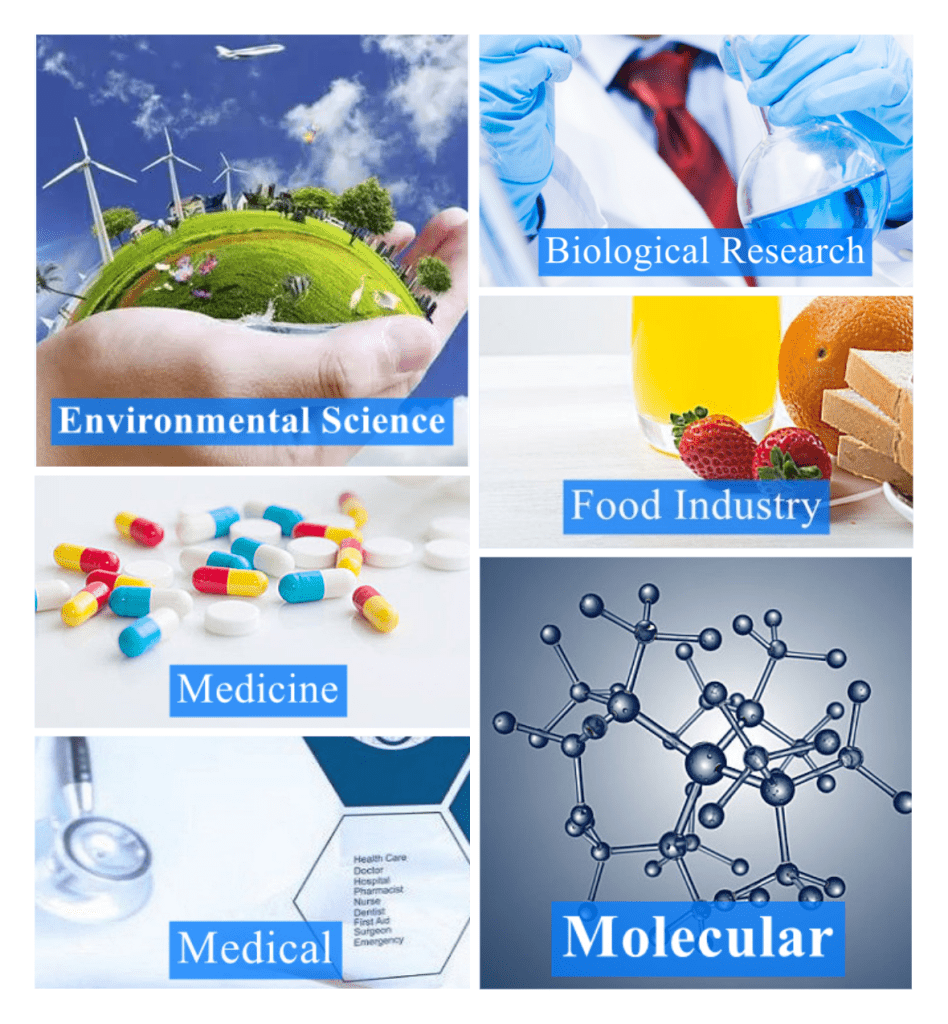 Customer Feedback of the Autoclave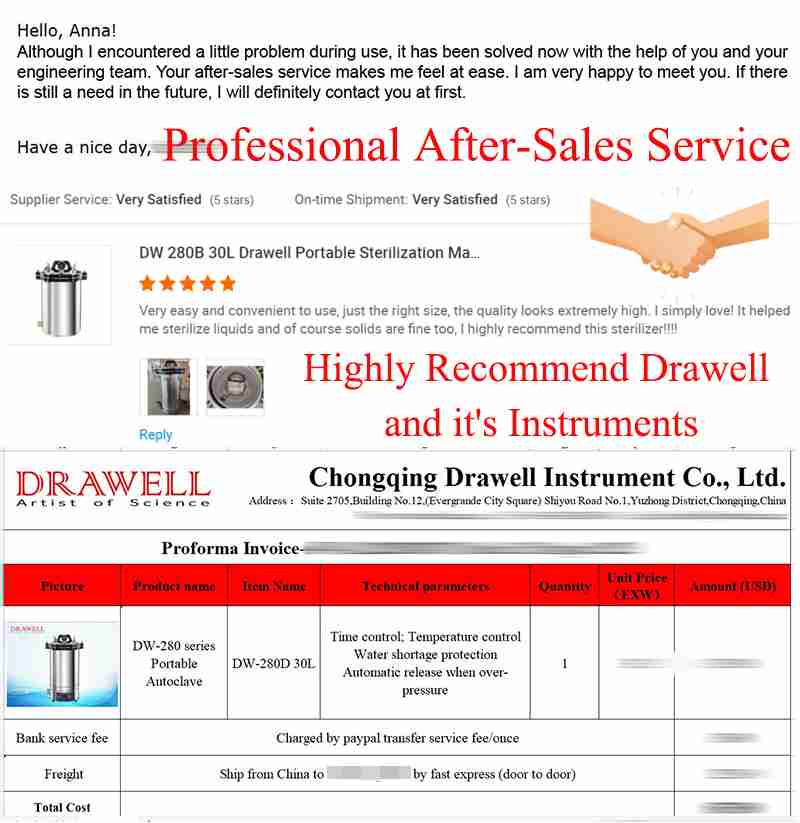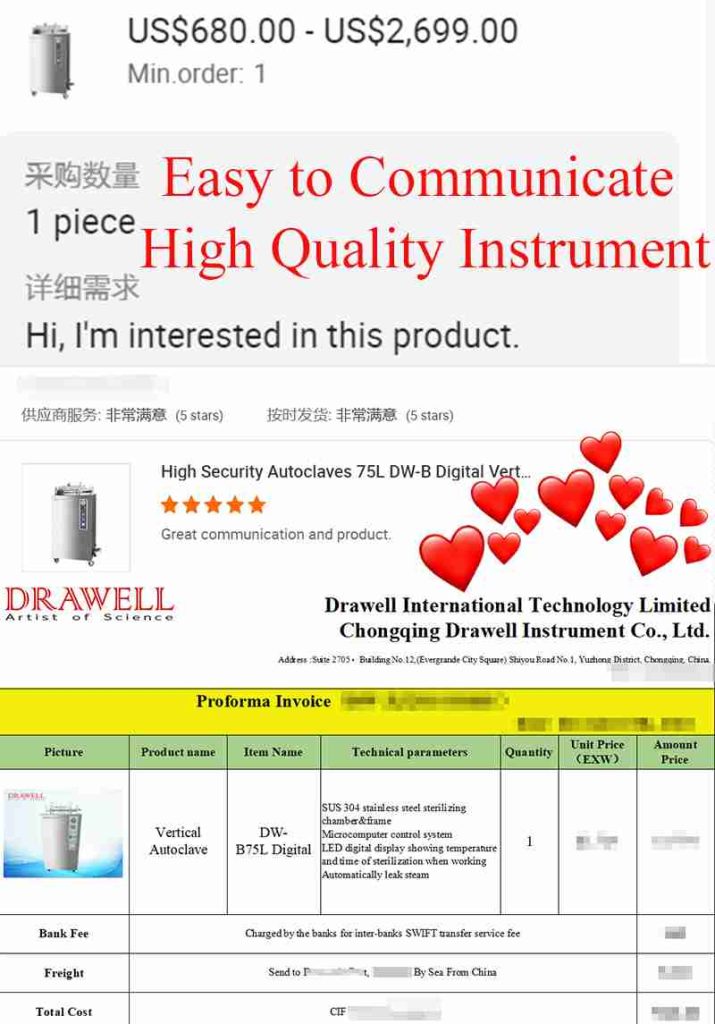 How to Choose the Autoclave?
Q1: What's your application?
A: Normally, our autoclave can be used for sterilizing medical instruments, dressings, glassware, solution media, etc.
Q2: What capacity do you want?
A: In general, we have 3 types of autoclave, including portable type with 18L,24L and 30L optional; vertical floor type with 35L,50L,75L,100L,120L and 150L optional; automatic vertical floor type with 29L,36L,50L,54L,60L,80L,100Land110L optional.
Q3: Do you want the drying function?
A: For the normal vertical floor type, with a capacity of more than 75L, we can help you add the drying function. And for the automatic vertical floor type, the model number ends with R having the drying function.