What is Autoclave?
Autoclave is an instrument that can kill or remove all microorganisms on the medium, including bacterial spores and non-pathogenic microorganisms. There are usually three methods moist heat disinfection, dry heat disinfection, and chemical disinfection. This series is a high-pressure steam sterilizer, which uses saturated pressure steam to quickly and reliably sterilize and sterilize items. It is suitable for medical and health, scientific research, agricultural, and other units. It can sterilize medical equipment, glassware, solution culture medium, mushroom planting substrate, etc.

Features of Vertical Autoclave
High-quality SUS304 stainless steel material
Light indicate working status
Temperature and time of sterilization can be set.
Water lack auto-protection
Overpressure auto-discharging
Over-current auto-protection
Over temperature auto-protection
A drying function can be added (best large than 75L)
Good sterilization effect: the steam sterilizer can inactivate the microorganisms in the article in a short time, and the sterilization effect is good.
Easy to operate: The steam sterilizer is easy to operate, just put the items into the sterilization chamber, and then set the sterilization time and temperature.
Safe and reliable: The steam sterilizer has multiple safety protection measures, such as over-temperature protection, pressure protection, automatic drainage, etc., to ensure the safety and reliability of the operation process.
Applications of Vertical Autoclave
Steam sterilizers are mainly used in medical and health, life sciences, food processing, and other fields, such as hospitals, laboratories, pharmaceutical manufacturers, food processing enterprises, etc. It can sterilize various items, such as medical devices, medicines, petri dishes, test tubes, syringes, infusion sets, food, etc.

Customer Feedback on the Vertical Autoclave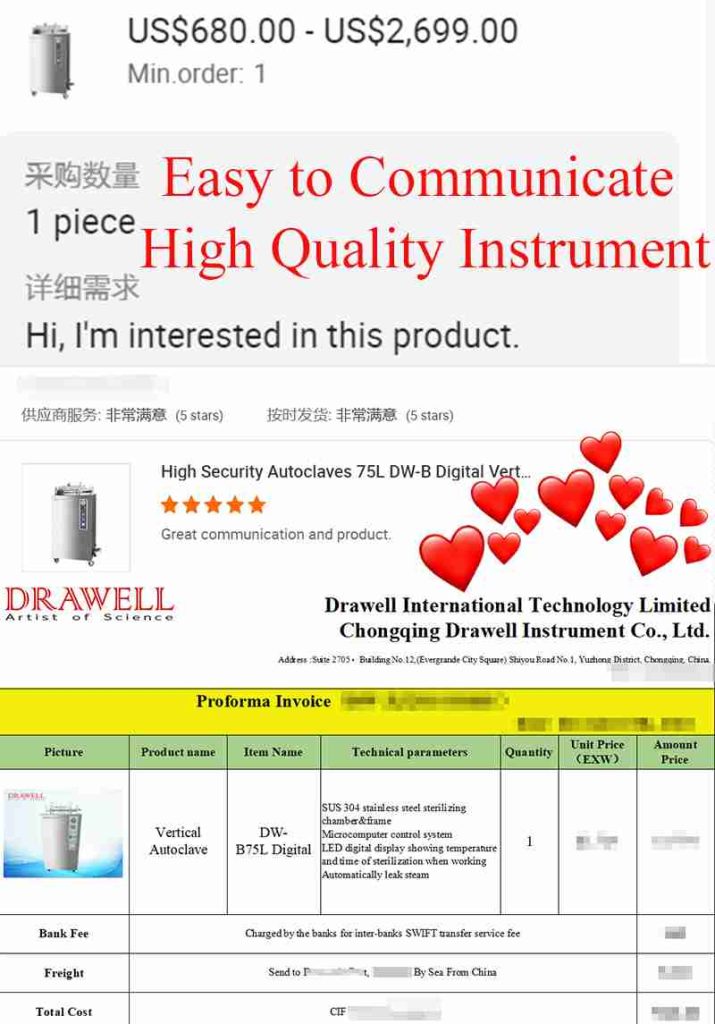 How to Choose Vertical Autoclave Model?
Please let us know what items you want to sterilize, what capacity you need, and what voltage you use. We will recommend a specific model for you.
| | | | |
| --- | --- | --- | --- |
| Series | DW-B | DW-B Digital | DW-B Hand Wheel Digital |
| Volume | 35L-150L | 35L-150L | 35L-100L |
| Working temperature | 115-129℃ | 100-134℃ | 100-134℃ |
| Working pressure | 0.145-0.165Mpa | 0.22Mpa | 0.22Mpa |
| Time scope | 0-80min | 0-999min | 0-9999min |
| Power | AC220V/50Hz / AC110V/60Hz | AC220V/50Hz / AC110V/60Hz | AC220V/50Hz / AC110V/60Hz |
| Picture | | | |
Order Process

FAQ
Related Products Recommendation