What is High-Speed Centrifuge?
Centrifuges with a rotation speed between 10,000rpm and 30,000rpm are called high-speed centrifuges. It uses the powerful centrifugal force which is generated by the high-speed rotation of the rotor to separate each component into liquid and solid particles or liquid mixtures, it is suitable to separate and synthesize trace samples rapidly. Because of the high rotating speed and powerful centrifugal force, it is an effective preparation instrument for high purity separation, concentration, and refinement of suspended substances in the sample solution, and various samples for research extraction. Benchtop high-speed centrifuge is an important instrument for scientific research and production departments of medicine, pharmacology, biology, chemistry, agricultural science, food, and environmental protection. And benchtop high-speed centrifuge is widely used in many kinds of drugs and biological products, such as blood, cells, proteins, enzymes, nucleic acids, viruses, hormones, and so on.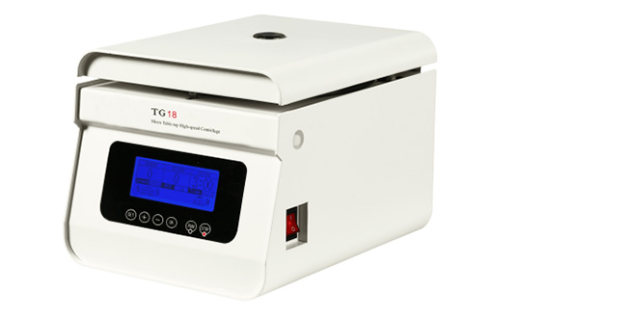 Features of Benchtop High-Speed Centrifuge
Stainless material, sturdy and durable;
Low noise;
Protection systems ensure safety;
Multiple rotors for options;
Microprocessor control, simple operation;
Long service life, and meet the CE standard.
Applications of Benchtop High-Speed Centrifuge
The benchtop high-speed centrifuge is a frequently used laboratory instrument, it uses the centrifugal force generated by the rotating head to separate the substances with different densities and particle sizes in the suspension or emulsion. It is widely used in chemical, food, pharmaceutical, environmental protection, mining, teaching and other laboratories.
Data collection and analysis in the small test stage;
Collecting microorganisms;
Separate sulphuric acid precipitates and immunoprecipitates;
Cell extraction;
Extract large organelles.

Attention
Do not place any heavy objects on the cover of the high-speed centrifuge.
After every time using, please be sure to clean the inner and rotor.
If you don't use it for a long time, the centrifuge cover should be opened for a period of time before use to dry the inner chamber.
After long-term use, wear is a normal phenomenon.
Why Choose Us?
On-time Delivery
Our on-time delivery rate is 100%. Delivery time is usually 7-15 working days after payment.
Rich Export Experience
Drawell is founded in 1999 and has more than 20 years of exporting experience. We have a professional sales team of around 30 people.
Our main markets are South Africa, the Middle East, Southeast Asia, Europe, etc. So far, we have established business relationships with more than 100 countries.
Quick Service
For the before-order stage, our professional sales team will respond to your inquiry within 24 hours whether it is on working days or not.
For the order-running process, we will keep track of your order. You don't have to worry about the quality or production time.
For the after-sales stage, our technical guidance is free and ready forever. If you have any problems, our after-sales team and engineers will help you solve it, and you will get an answer within 24 hours.
Warranty Services
All Drawell Instruments will be warranted for a period of 12 months after shipment.
Related Centrifuges Recommendation