What is Gel Documentation?
Gel doc, also known as a gel documentation system, gel image system, or gel imager, refers to equipment widely used in molecular biology laboratories for the imaging and documentation of nucleic acid and protein suspended within polyacrylamide or agarose gels. These gels are typically stained with ethidium bromide or other nucleic acid stains such as GelGreen. Generally, a gel doc includes an ultraviolet (UV) light transilluminator, a hood or a darkroom to shield external light sources and protect the user from UV exposure, and a CMOS camera for image capturing.
The gel imaging analysis system is suitable for the observation, shooting, and analysis of gel bands after electrophoresis. With the help of a high-resolution CCD and zoom lens, the weak electrophoretic bands that are difficult to be recognized by the naked eye are obtained, and the special filter set is used to effectively filter out the background interference noise while maximizing the control of ethidium bromide (EB) pollution and ultraviolet rays Leakage, to realize the simple and convenient screen magnification display, save, mark or edit the electrophoresis results, organize the experiment report, print, and transmit online, etc., get rid of the cumbersome operation process of the experimenter, and achieve the incomparable effect of the ordinary ultraviolet analyzer or film observation box.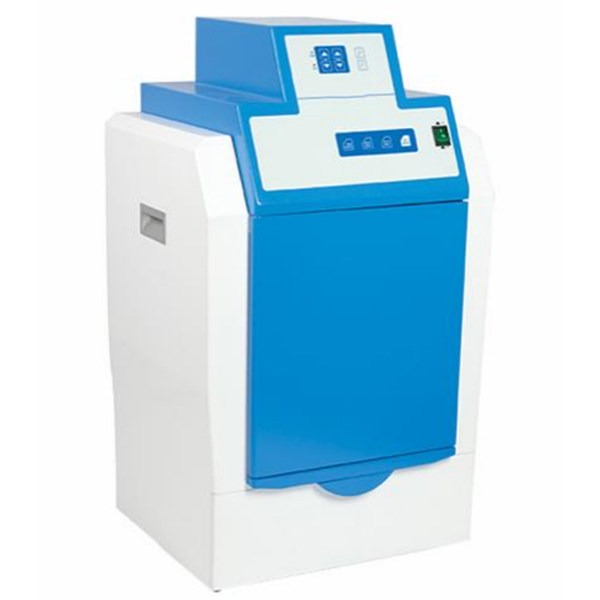 CCD with lower lux and high-resolution, easy to get dim stripes and real-time browse, whole-screen display and simple to operate.
Six-time zoom lens and simple to enlarge and shrink gel photos.
The center position indicator can ensure the gel is placed in the center position.
Intelligent control box.
You can realize control of the zoom, focus, aperture, UV light, and white light through the panel key.
Safety function for your eyes that automatically shuts down the UV light when the door is opened and reactivates the UV light when the door is shut.
Timed shut down: The UV light protection system automatically shuts down the lights after 15 minutes to maximize the life of the lamp and vitreous.
The zoom lens is protected with an RS232 interface.
Drawer-style gel platform, convenient to observe, operate and cut gel.
Transferring the plate changes UV light into white light.
Using a multi-layer gel filter effectively filters background noise.
You can realize the control of the zoom, focus, aperture, UV light, and white light through a computer mouse.
Regular and reliable system convenient to maintain and exchange par.
Application of Gel Documentation
Gel imaging is mainly used for protein and nucleic acid gel imaging and analysis. The system provides white light, ultraviolet light, and blue light sources to capture the gel. The image capture software comes with the system to capture the image, and then the image analysis software comes with the system. Analyze the captured images. Gel analysis software is mainly used in the fields of biomedicine and medicine, providing scientific researchers with a way to analyze gel images and other biological bands.

Specifications of Gel Documentation
| | | |
| --- | --- | --- |
| Model | DW04S-3C | DW04S-3E |
| Picture | | |
| Effective pixel | 1280×1024 | 2560×1920 |
| Pixel density | 10 bit | 10 bit |
| Pixel size | 5.4×5.4 (um) | 5.4×5.4 (um) |
| Resolution | 1.4 megapixels | 5.0 megapixels |
| Signal to noise ratio | >56db | >56db |
| Sensitivity | Can detect the double chain DNA of EB staining below 20pg. | Can detect the double chain DNA of EB staining below 20pg. |
| Camera | low illumination and high resolution digital CCD | low illumination and high resolution digital CCD |
| Zoom lens | F=1:1.2, 2/3″ inch 6x zoom lens | F=1:1.2, 2/3″ inch 6x zoom lens |
| Filter | 590 (nm) | 590 (nm) |
| UV light transmission size(WxL) | 250×200 (mm) | 250×200 (mm) |
| Visible light transmission size(WxL) | 250×210 (mm) | 250×210 (mm) |
| Transmission UV wavelength | 302 (nm) | 302 (nm) |
| Reflectance UV wavelength | 254, 365 (nm) | 254, 365 (nm) |
| Transmission UV lamp power | 302nm (8W) | 302nm (8W) |
| Reflectance UV lamp power | 254nm(11W)z 365nm(11W) | 254nm(11W)z 365nm(11W) |
| Dimention (LxWxH) | 470x405x820 (mm) | 470x405x820 (mm) |
| Weight | 29.0 (kg) | 29.0 (kg) |
Gel Documentation Display

Other Products Recommend