What is Laminar Flow Cabinet?
A laminar flow cabinet or tissue culture hood is a carefully enclosed bench designed to prevent contamination of semiconductor wafers, biological samples, or any particle-sensitive materials. Air is drawn through a HEPA filter and blown in a very smooth, laminar flow towards the user.
Due to the direction of the airflow, the sample is protected from the user, but the user is not affected by the sample. Cabinets are usually made of stainless steel and have no gaps or joints where spores might collect. Such enclosures exist in both horizontal and vertical configurations, and there are many different types of enclosures with various airflow patterns and acceptable uses. Laminar flow cabinets provide product protection by ensuring that work on the bench is only exposed to HEPA-filtered air.

Depending on their mass, HEPA air filters can capture between 9,997 and 9,999 particles per 10,000 particles larger and smaller than 0.3 microns in diameter. 99.97% performance is acceptable for most industrial uses. However, pharmacy and laboratory applications require a filtration performance level of 99.99%.
Types of Laminar Flow Cabinet
A vertical flow clean bench is noisier than a horizontal clean bench because its fan is installed at the top. The wind blows vertically so it is often used in medical engineering to ensure the operator's health. Vertical laminar flow clean bench is widely used in areas requiring partial cleaning, laboratories, biopharmaceuticals, optoelectronics, microelectronics, hard disk manufacturing and other fields.
Horizontal flow clean bench noise is compared small, so it is usually used in the electronic industry, which has little effect on health. Horizontal laminar flow is widely used in electronics, national defense, precision instruments, meters, pharmaceutical industries, etc.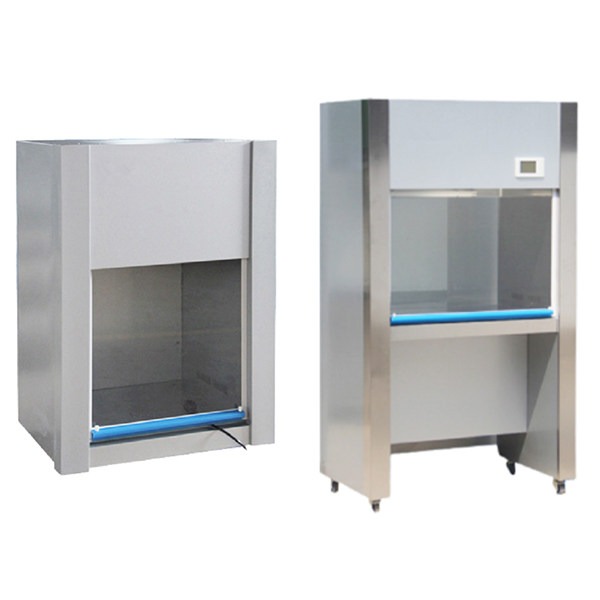 Features of Laminar Flow Cabinet
Using a remote to control the wind speed (two-stage wind speeds).
Equipped with HEPA filter. With primary filter for preliminary filtration, which can effectively extend the life span of HEPA filter.
Adopt Arbitrary positioning sliding door system.
The shell is made of a colored steel plate, and the working table is SUS304 brushed stainless steel, which is corrosion-resistant and easy to clean.
Lighting and sterilization system safety interlock.
Digital explicit liquid crystal control panel. Three stages of wind speed(fast, medium, and slow). Except for SW-CJ-1D and SW-CJ-1G which only have two stages of wind speed.
Vertical quasi-closed table, air curtain stroke of downdraft in the operation room, which can effectively prevent external gas input to keep the operation area clean.
The fan is installed on the bottom of the laminar flow cabinet.
Though both vertical and horizontal airflow is available, you can only choose to use vertical airflow or horizontal at a time.
Application of Laminar Flow Cabinet
The laminar flow clean bench is a work bench or similar enclosure which has its own filtered air supply. The clean bench was developed as an adjunct to cleanroom technology (the need to protect the work from contamination). In recent years, the use of the clean bench, laminar flow cabinet, or laminar flow hood has spread from research and manufacturing to other fields such as aerospace, bioscience, pharmaceutical production, and food processing. Today, laminar flow clean benches are used in a variety of applications throughout medical research laboratories, hospitals, manufacturing facilities, and other research and production environments.

Specifications of Laminar Flow Cabinet
(1) Desktop laminar flow cabinet series
| | | | | |
| --- | --- | --- | --- | --- |
| Model | VD-650 | VD-850 | HD-650 | HD-850 |
| Picture | | | | |
| Type | Vertical | Vertical | Horizontal | Horizontal |
| Clean grade | Grade 100(209 E U.S. Federal) | Grade 100(209 E U.S. Federal) | Grade 100(209 E U.S. Federal) | Grade 100(209 E U.S. Federal) |
| Number of bacteria | ≤0.5per utensil.hour(90mm utensil) | ≤0.5per utensil.hour(90mm utensil) | ≤0.5per utensil.hour(90mm utensil) | ≤0.5per utensil.hour(90mm utensil) |
| Noise | ≤62dB | ≤62dB | ≤62dB | ≤62dB |
| Power | 220V/50HZ | 220V/50HZ | 220V/50HZ | 220V/50HZ |
| wind speed | 0.25-0.45m/s | 0.25-0.45m/s | 0.25-0.45m/s | 0.25-0.45m/s |
| illumination | ≥300LX | ≥300LX | ≥300LX | ≥300LX |
| Working area dimension(W*D*H) | 485*475*455mm | 685*475*455mm | 485*385*455mm | 685*385*455mm |
| Overall dimension(W*D*H) | 640*530*845mm | 840*530*845mm | 640*530*845mm | 840*530*845mm |
| HEPA filter size and quantity | 480*460*38*1pc | 680*460*38*1pc | 480*460*38*1pc | 680*480*38*1pc |
| Fluorescent/UV lamp specifications and quantity | 10W*1PC / 10W*1PC | 15W*1PC / 15W*1PC | 10W*1PC / 10W*1PC | 15W*1PC / 15W*1PC |
(2) Vertical laminar flow cabinet series
Model

SW-CJ-1D

SW-CJ-1F

SW-CJ-1FD

Picture

Clean grade

Grade 100(209 E U.S. Federal)

Grade 100(209 E U.S. Federal)

Grade 100(209 E U.S. Federal)

Number of bacteria

≤0.5per utensil.hour(90mm utensil)

≤0.5per utensil.hour(90mm utensil)

≤0.5per utensil.hour(90mm utensil)

Noise

≤62dB

≤62dB

≤62dB

Power

220V/50HZ

220V/50HZ

220V/50HZ

wind speed

0.25-0.45m/s (fast and slow 2 speeds)

0.25-0.45m/s (fast, medium and slow 3 speeds)

0.25-0.45m/s (slow,medium and fast 3 speeds)

illumination

≥300LX

≥300LX

≥300LX

Working area dimension(W*D*H)

700*490*515mm

870*580*515mm

870*580*515mm

Overall dimension(W*D*H)

855*550*1600mm

1030*670*mm

1030*650*1600mm

HEPA filter size and quantity

695*460*38*1pc

865*555*38mm*1pc

865*555*38mm*1pc

Fluorescent/UV lamp specifications and quantity

15W*1PC / 15W*1PC

20W*1PC / 20W*1PC

20W*1PC /20W*1PC

Operator

one person/two person/three person/optional
(3) Horizontal laminar flow cabinet series
| | | |
| --- | --- | --- |
| Model | HS-840U | HS-1300U |
| Picture | | |
| Clean grade | Grade 100(209 E U.S. Federal) | Grade 100(209 E U.S. Federal) |
| Number of bacteria | ≤0.5per utensil.hour(90mm utensil) | ≤0.5per utensil.hour(90mm utensil) |
| Noise | ≤62dB | ≤62dB |
| Power | 220V/50HZ | 220V/50HZ |
| wind speed | 0.25-0.45m/s (slow,medium and fast 3 speeds) | 0.25-0.45m/s (slow,medium and fast 3 speeds) |
| illumination | ≥300LX | ≥300LX |
| Working area dimension(W*D*H) | 700*560*580mm | 1140*615*580mm |
| Overall dimension(W*D*H) | 855*765*1765mm | 1295*765*1765mm |
| HEPA filter size and quantity | 695*600*38mm*1pc | 1135*600*38mm*1pc |
| Fluorescent/UV lamp specifications and quantity | 20W*1PC /20W*1PC | 30W*1PC /30W*1PC |
| Operator | One person | Two persons |
(4) Vertical and horizontal laminar flow cabinet series
| | | |
| --- | --- | --- |
| Model | SW-CJ-1FB | SW-CJ-2FB |
| Picture | | |
| Clean grade | Grade 100(209 E U.S. Federal) | Grade 100(209 E U.S. Federal) |
| Number of bacteria | ≤0.5per utensil.hour(90mm utensil) | ≤0.5per utensil.hour(90mm utensil) |
| Noise | ≤62dB | ≤62dB |
| Power | 220V/50HZ | 220V/50HZ |
| wind speed | 0.25-0.45m/s (fast and slow 2 speeds) | 0.25-0.45m/s (fast and slow 2 speeds) |
| illumination | ≥300LX | ≥300LX |
| Working area dimension(W*D*H) | 870*510*600mm | 1320*510*600mm |
| Overall dimension(W*D*H) | 1025*745*1815mm | 1475*745*1815mm |
| HEPA filter size and quantity | 865*600*38*1pc/865*484*38*1PC | 1320*600*38*1pc/1320*484*38*1pc |
| Fluorescent/UV lamp specifications and quantity | 20W*1PC / 20W*1PC | 30W*1PC / 30W*1PC |
| Operator | one person | Two person |
(5) All steel vertical air flow cabinet series
| | | | |
| --- | --- | --- | --- |
| Model | SW-CJ-2D | SW-CJ-1FD | SW-CJ-2FD |
| Picture | | | |
| Clean grade | Grade 100(209 E U.S. Federal) | Grade 100(209 E U.S. Federal) | Grade 100(209 E U.S. Federal) |
| Number of bacteria | ≤0.5per utensil.hour(90mm utensil) | ≤0.5per utensil.hour(90mm utensil) | ≤0.5per utensil.hour(90mm utensil) |
| Noise | ≤62dB | ≤62dB | ≤62dB |
| Power | 220V/50HZ | 220V/50HZ | 220V/50HZ |
| wind speed | 0.25-0.45m/s (slow,medium and fast 3 speeds) | 0.25-0.45m/s (slow,medium and fast 3 speeds) | 0.25-0.45m/s (slow,medium and fast 3 speeds) |
| illumination | ≥300LX | ≥300LX | ≥300LX |
| Working area dimension(W*D*H) | 1140*700*520mm | 840*700*520mm | 840*700*520mm |
| Overall dimension(W*D*H) | 1300*740*1620mm | 1000*740*1620mm | 1000*740*1620mm |
| Operator | two persons | one person | one person |
| Note | | | |
Laminar Flow Cabinet Display

Other Lab Cabinets