What is Soxhlet Extractor?
Soxhlet extractor, also known as fat extractor, is an instrument for extracting and separating organic matter such as fat according to the principle of soxhlet extraction. Using the principle of solvent reflux and siphon, the solid matter is continuously extracted by pure solvent, which not only saves solvent, but also has high extraction efficiency. The instrument is composed of three parts: extraction bottle, extraction tube, and condenser. There are siphon tubes and connecting tubes on both sides of the extraction tube, and the connections of each part must be tight to prevent air leakage. Soxhlet extractor is the ideal equipment in food, grease, feed and other industries.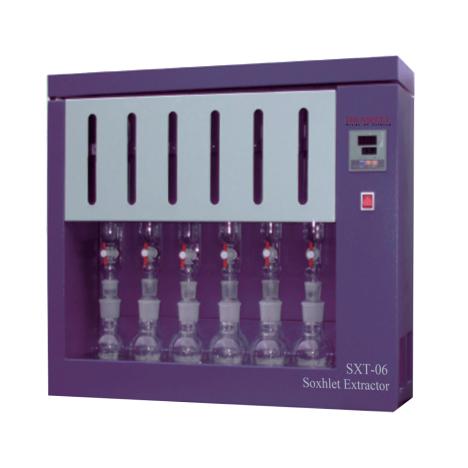 Features of Soxhlet Extractor
Low cost of analysis.
Integrates temperature control, extraction, washing, and recovery.
It is suitable for a variety of organic solvents with different boiling points, and the temperature control range is wide, from room temperature +5°C to 300°C.
The relative error of the experimental results is less than 1%.
Small size, multiple heating methods, water bath heating & metal bath heating & electric heating, automatic temperature control, uniform heating, safe operation.
Simultaneous detection of multiple samples, 2pcs or 6pcs.
Application Areas
Unlike a traditional extraction method, a small amount of solvent is reused to perform an extraction many times. This means that much less solvent is used in a Soxhlet extraction, making it more time and cost effective. Also, the Soxhlet extractor can run continuously without any further operation, making it an excellent choice for extracting compounds over hours or even days.
Now Soxhlet extractors are used whenever thorough extraction is required, especially in the petroleum and food industries. It is also widely used in fields such as agriculture, environment and industry. It is an ideal instrument for fat determination in food, oil, feed and other industries, and can also be used for the extraction of soluble organic compounds in medicines and other substances.
The Soxhlet extraction process is the most useful technique for solid-liquid extraction in many fields in agriculture, pharmaceuticals, food, and the environment.
The Soxhlet apparatus allows continuous processing of samples with solvents over hours or days to extract target compounds.
This technique can be used to determine the lipid and fat content of animal and plant tissues.
This is also used to determine the percentage of fat content in a food sample by weight in the sample.

Specifications of Product
| | | |
| --- | --- | --- |
| Model | DW-SXT-02 | DW-SXT-06 |
| Picture | | |
| The scope of application | can be used to extract food, feed, oil, soil and other sample | oil content in the range of 0.5% -60% of food, feed, oil and other samples |
| The number of samples per batch | 2pcs | 6pcs |
| Extract the bottle volume | 500ml / pcs | 150ml / pcs |
| The amount of sample extraction | 0.5-20g /pcs | 0-5g /pcs |
| The power supply voltage | 220V ± 10V 50Hz | 220V ± 10V 50Hz |
| Electric heating power | 300W | 300W |
| Temperature range | room temperature +5℃~ 100℃ | room temperature +5℃~ 100℃ |
| Dimensions (mm) | 750*360*550 | 550 × 320 × 626 |
| Weight | 16kg | 23kg |
Products Display

Other Products Recommend
How to Choose the Model?
Order Process

Why Choose Us?
Rich categories, 9 models of UV-VIS spectrophotometer.
The products are market-oriented and exported to many countries in the world.
Perfect sales system, efficient and fast after-sales service.
On-time delivery rate reaches 100%.
High-cost performance.
FAQ: