What is Analytical Balance(0.1mg)?
An analytical balance (or lab balance) is a class of balance designed to measure a small mass in the sub-milligram range. The measuring pan of an analytical balance (0.1 mg resolution or better) is inside a transparent enclosure with doors so that dust does not collect and so any air currents in the room do not affect the balance's operation.
This enclosure is often called a draft shield. The use of a mechanically vented balance safety enclosure, which has uniquely designed acrylic airfoils, allows a smooth turbulence-free airflow that prevents balance fluctuation and the measure of mass down to 1 μg without fluctuations or loss of product. Also, the sample must be at room temperature to prevent natural convection from forming air currents inside the enclosure causing an error in the reading. Single pan mechanical substitution balance is a method of maintaining consistent response throughout the useful capacity of the balance. This is achieved by maintaining a constant load on the balance beam and thus the fulcrum, by subtracting mass on the same side of the beam as which the sample is added.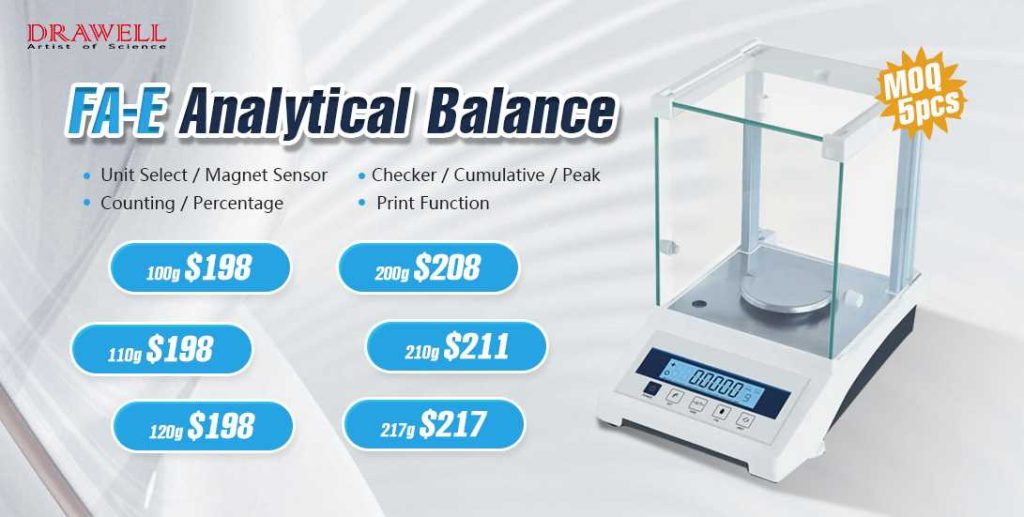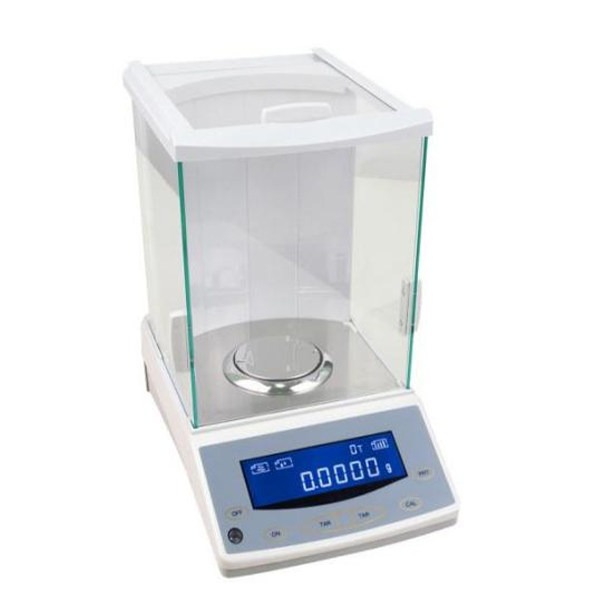 Features of Analytical Balance(0.1mg)
Electromagnetic force compensation technology.
Aluminum alloy die cast base and ss platter.
Super bright LCD display with backlight.
RS232C interface.
Clear glass windshield as standard.
Overload protection, bubble level adjustment, under hook.
Full capacity subtraction.
Multi weighing unit conversation g/mg/ct/oz.
Stabilization time, 2-3 seconds.
Check weighing, parts counting, percentage weighing.
Universal power adaptor supplied as standard.
Certificated calibration weight supplied as standard.
Internal calibration or external calibration for your choice.
Applications of Analytical Balance(0.1mg)
Laboratory balances from a general standpoint measure the mass of an object, in the laboratory, they are used to measure solids, liquids, and tissue, and they have a wide range of uses in virtually any laboratory including clinical, research, and environmental settings.

DRAWELL's Analytical Balance
Specifications of Analytical Balance(0.1mg)
(1) FA-E series
Model

FA1004E

FA1104E

FA1204E

FA2004E

FA2104E

FA2204E

Picture

Capacity(g)

100g

110g

120g

200g

210g

220g

Resolution(g)

0.0001g

Cal.weight

Internal Calibration

Min weighing(g)

0.0004g

Stable Time

≤3s

Display

LCD(white back light with black font)

Pan size

Φ80mm(standard) Φ90mm(optional)

Operation temp

5-35℃

Repeat ability

±0.0002g

Liner

±0.0003g

Dimension

300X200X285mm

Draft shield size

180x175x200mm

LCD Size

96x24mm

Option

RS232C(standard)、 RS485/ USB/Printer(optional)

Packing size

425x320x415mm

Gross weight

8.0kg
(2) FA-T series
Model

FA1004T/FA1004N-T

FA1204T/FA1204N-T

FA2004T/FA2004N-T

FA2204T/FA2204N-T

FA3004T/FA3004N-T

Picture

Max.Capacity

100g

120g

200g

220g

300g

Min.Capacity

10mg

10mg

10mg

10mg

10mg

Readability

0.1mg

Cal.weight

External Calibration/Internal Calibration

Linearity:

±0.3mg

Repeatability:

±0.1mg

Settling time:

≤8sec.

Operating temperature:

17.5℃~22.5℃,fluctuation range<1℃/h

Pan size:

Φ80mm

Output Interface:

RS232/USB

Windshield Size:

225mm*220mm*265mm

Dimensions:

340mm x 215mm x350mm

Net Wight:

7200g

Power Supply

AC110-240V/Universal Adaptor DC5V-2A

Scope of testing

0-20.0000g/cm³

Peeled Range

0-20.0000g/cm³

Measurement Precision:

0.1mg/cm³

Repeat Accuracy:

±0.2mg/cm³

Resolution:

0.11mg/cm³

Calibration Weight:

100g

200g
(3 )FA series
Model

FA1004/FA1004N

FA1204/1204N

FA2004/FA2004N

FA2204/FA2204N

FA3004/FA3004N

Picture

Capacity:

0-100g

0-120g

0-200g

0-220g

0-300g

Readability:

0.1mg

Cal.weight

External Calibration/Internal Calibration

Linearity:

±0.2mg

Repeatability:

±0.2mg

Pan size:

Φ80mm

Output Interface:

RS232

Dimensions:

340mm x 215mm x350mm

Net Wight:

6800g

Power Supply

Universal Adaptor AC110-240V
Analytical Balance (0.1mg) Display

FAQ
Related Balance Recommendation