What is -86℃ Refrigerator?
-86℃ medical low-temperature refrigerator refers to a kind of refrigeration equipment whose temperature can be adjusted and controlled and can be kept constant in a low-temperature range; divided into vertical ultra-low temperature refrigerator and horizontal ultra-low temperature refrigerator, the temperature range is roughly from -40℃ to -86℃ degree. Ultra low temperature refrigerator is instruments in biochemistry and molecular biology laboratories, mainly used for the preservation of reagents, biological samples, or medicines. Ultra-low temperature refrigerators have a wide range of applications, including biological research, metal processing, hospital pharmaceutical companies, epidemic prevention systems, and military industries.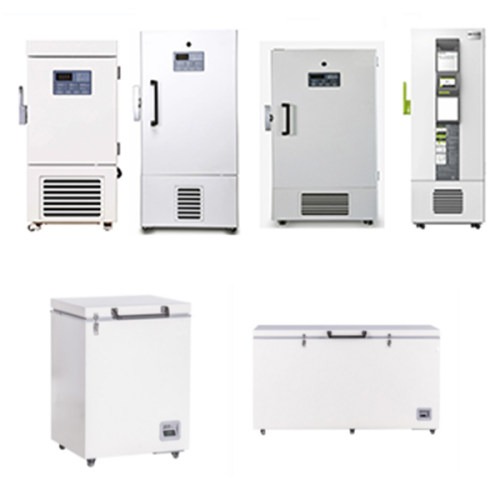 Features of 86℃ Refrigerator
Wide available voltage range: 198V~242V.
Wide temperature range: 10°C~32°C ambient temperature can reach -86°C.
Accurate Temperature control technology to make the temperature maintain -60°C – -86°C.
USB port to read temperature (except horizontal type) and alarm conditions in recent 1 month.
Digital display with big screen, easy to check.
Mobile and fixable wheel for moving.
Security Guarantee
Temperature high/low alarm, sensor malfunction alarm.
Audible and visible alarm.
Keyboard lockable, password protection to prevent change running parameter randomly.
Display running parameters with real-time monitoring to guarantee the stability of the freezer.
Application of –86℃ Refrigerator
-86°C medical low-temperature freezer can be used in scientific research, low-temperature experiments of special materials, freezing red blood cells, white blood cells, skin, bones, bacteria, semen, DNA/RNA, cells, vaccines, strains, biological products, ocean fisheries, electronic devices, low-temperature experiments of special materials, etc. It is suitable for blood stations, hospitals, health and epidemic prevention systems, scientific research institutes, electronics industry, chemical industry, biological engineering, university laboratories, ocean fishing companies, etc.

Specifications of –86℃ Refrigerator
(1) Vertical Refrigerator
Model

MDF-86V58

MDF-86V188E

MDF-86V408E

MDF-86V588E

MDF-86V838E

Performance

Capacity

58L

188L

408L

588L

838L

Temperature range(℃)

-40~-86℃

Ambient temperature(℃)

10~32℃

Control System

Controller

Microprocessor

Display

Digital display

Refrigeration System

Compressor

1

2

Refrigerant

Mixed-gas

Cooling Type

Direct cooling

Defrost Type

Manual

Electrical Data

Power Supply (V/Hz)

220~240/50~60; 115/60

Rated Power (W)

442W

660W

890W

1500W

1700W

Electrical Current (A)

2.67A

4.3A

4.6A

9.1A

9.8A

Power Consumption (kwh/24h)

5.6

8.2

12

16.5

18.8

Dimensions

NT./GT.(kg)

115/155

174/224

234/291

290/360

344/430

Exterior size(W*D*H)(mm)

635*757*1212

850*930*1595

890*930*1945

880*1090*1995

1175*1075*1990

Interior size(W*D*H)(mm)

330*453*410

465*465*830

606*575*1180

606*738*1310

894*718*1310

Alarm

High/low temperature

Y

Y

Y

Y

Y

Power failure

Y

Y

Y

Y

Y

Abnormal voltage

Y

Y

Y

Y

Y

Sensor error

Y

Y

Y

Y

Y

Filter screen check

Y

Y

Y

Y

Y

Thermostat failure

Y

Y

Y

Y

Y

Low battery

Y

Y

Y

Y

Y

Condenser clean

Y

Y

Y

Y

Y

High ambient temperature

Y

Y

Y

Y

Y

Door ajar

Y

Y

Y

Y

Y

Accessories

Castor

Y

Y

Y

Y

Y

Inside door

1

2

2

2

2

Test hole QTY/diameter

1/25mm

USB port

Y

Y

Y

Y

Y

Remote alarm port

Y

Y

Y

Y

Y

(2) Horizontal Refrigerator
Model

MDF-86H105

MDF-86H485

Performance

Capacity

105L

485L

Temperature Range

-40~-86℃

-40~-86℃

Ambient Temperature

+10~+32℃

+10~+32℃

Control System

Controller

Microprocessor

Microprocessor

Display

Digital Display

Digital Display

Refrigeration System

Compressor

1

1

Refrigerant

Mixed

Mixed

Cooling Type

Direct Cooling

Direct Cooling

Defrost Type

Manual

Manual

Alarm

High/low Temperature

Y

Y

Sensor Error

Y

Y

Controller Error

Y

Y

Electrical Data

Power Supply (V/Hz)

187~242/50~60; 115/60

187~242/50~60; 115/60

Rated Power (W)

455

675

Electrical Current (A)

2.2

3.57

Power Consumption (kwh/24h)

3.8

11.5

Dimensions

Interior Size (W*D*H)

480*380*665mm

1455.5*525.2*674mm

Exterior Size (W*D*H)

680*580*935mm

1695*840*962mm

N.t./G.t.

42kg/45kg

96kg/120kg

Accessories

Caster

Y

Y

Test Hole/Diameter

1/25mm

1/25mm

PDF Brochure of Refrigerator
Other Refrigerator & Freezer