What is Atomic Absorption Spectrometer?
Atomic absorption spectroscopy, or AAS, is a technique for measuring the concentrations of metallic elements in different materials.
As an analytical technique, it uses electromagnetic wavelengths, coming from a light source.
Distinct elements will absorb these wavelengths differently. It gives a picture of what concentrations of a specific element there is in whatever material, or liquid, is being tested.
Principle: Atomic absorption spectroscopy (AAS) is based upon the principle that free atoms in the ground state can absorb light of a certain wavelength. Absorption for each element is specific, no other elements absorb this wavelength.
Absorption spectroscopy measures how much light is absorbed by a sample over a range of wavelengths defined by the electromagnetic spectra. The wavelength at which a chemical component absorbs light is a function of the type of ion or molecule that is being monitored.
Features of AAS
Aiming at the requirements of multi-element detection tasks, the uniquely designed 8-light position lamp holder is compatible with the light position element memory function of conventional lights and easily supports 1~4 lights to be preheated at the same time, so that the light source of the instrument is on standby at any time. Ease of use further enhancement.
DW-320N is Flame type;
DW-4530F is an Automatic Flame type;
DW-180B Fully automatic flame type;
DW-220A is a Fully automatic flame and furnace type,
DW-220B is a Fully automatic flame type;
DW-200 is a Fully automatic flame and furnace type.
Classification of AAS
From the number of instrument holders: Single Holder, Multiple Holders.
From the automation degree: Manual, Automatic.
From the test methods: Flame, Graphite Furnace and Hydride Generator.
From instrument automation: Single Beam, Double Beam.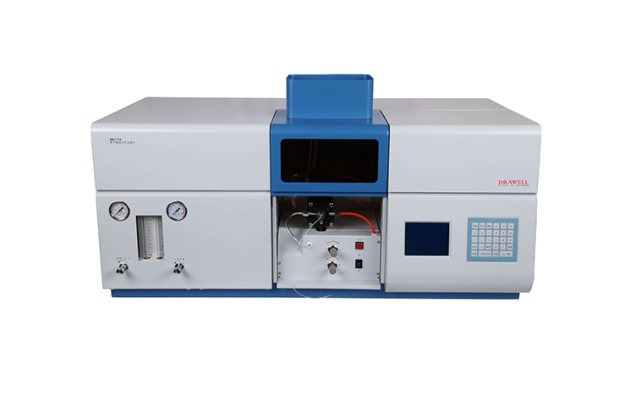 Applications of Atomic Absorption Spectrophotometer
Atomic absorption spectrometry (AAS) is an easy, high-throughput, and inexpensive technology used primarily to analyze elements in solution. As such, AAS is used in food and beverage, water, clinical research, and pharmaceutical analysis.
In Laboratory, Atomic Absorption Spectrophotometry (AAS) is used to determine the concentrations of individual elements in a sample by measuring the selective absorption of light by gaseous atoms produced by spraying a solution into a flame (FAAS) or by evaporation in a carbon tube (CFAAS).

1. Application in Theoretical Research
Atomic absorption can be used as an experimental method of physics and physical chemistry to measure and study some basic properties of substances. The electrothermal atomizer is easy to control the evaporation process and the atomization process, so there are many advantages in using it to measure some basic parameters. Some of the elements measured by the electrothermal atomizer include the activation energy of elements leaving the body, the diffusion coefficient of gaseous atoms, dissociation energy, oscillator strength, broadening of spectral line profiles, solubility, and vapor pressure.
2. Application in Elemental Analysis
Atomic absorption spectroscopic analysis, because of its high sensitivity, less interference, and simple and fast analysis method, is now widely used in various fields such as industry, agriculture, biochemistry, geology, metallurgy, food, environmental protection, etc. At present, atomic absorption has become the main method for metal element analysis. It is one of the most powerful tools and is used as a standard analysis method in many fields.
The characteristics of atomic absorption spectroscopic analysis determine its important position in geological and metallurgical analysis. It not only replaces many general chemical analyses but also has the same status as X-ray fluorescence analysis and even neutron activation analysis. At present, the atomic absorption method is also used to determine more than 70 elements in geological samples and can achieve sufficient sensitivity and good precision. The analysis of various trace elements in iron and steel, alloys and high-purity metals is now also mostly using atomic absorption.
Atomic absorption is increasingly used in food analysis. There are satisfactory atomic absorption analysis methods for more than 20 elements in food and beverages. The analysis of essential elements and harmful elements in biochemical and clinical samples is now using the atomic absorption method.
The literature on atomic absorption analysis of metallic elements in petroleum products, ceramics, agricultural samples, pharmaceuticals, and paints has increased in recent years. The analysis of trace metal elements in environmental samples such as water and air has become one of the important fields of atomic absorption analysis. Some non-metallic elements can still be determined by the indirect atomic absorption method.
3. Application in Organic Matter Analysis
AA-1800C atomic absorption spectrometer can be used to determine various organic compounds by indirect method. 8-hydroxyquinoline (Cu), alcohols (Cr), aldehydes (Ag), esters (Fe), phenols (Fe), biacetyl (Ni), phthalic acid (Cu), fatty amines (co) , amino acid (Cu), vitamin C (Ni), anthranilic acid (Co), ramifen (Cu), quinine formate (Zn), organic acid anhydride (Fe), benzyl penicillin (Cu), glucose (Ca ), epoxide hydrolase (PbO, halogen-containing organic compounds (Ag) and many other organic substances are all determined indirectly through stoichiometric reactions with corresponding metal elements.
4. Application in Metal Chemical Speciation Analysis
Different organic compounds of the same metal element can be analyzed by gas chromatography and liquid chromatography separation and then determined by AA-1800C atomic absorption spectrometer. For example, there are 5 kinds of alkyl lead in gasoline, 5 kinds of alkyl lead, alkyl selenium, alkyl arsine, and alkyl tin in the atmosphere, and alkyl arsine, alkyl lead, alkyl lead, alkyl mercury, organic Chromium, alkyl lead, alkyl mercury, organic zinc, organic copper and other metal organic compounds in organisms can be identified and determined by different types of spectroscopic atomic absorption methods.
Different Applications of Spectrophotometer
Application
Spectrophotometer Type
Picture
Model
Gold in Ore, Metallurgy.
Geology, Mining, Petroleum.
Cement, Soil, Medicine, etc.
AAS
DW-AA320N
Alloy, Mineral, Precious Metal, RoHS, Catalyst etc.
XRF
DW-NP-5010
EDX3600H
TrueX 900
EDX800
MaterialsAnalysis, Geology,
Petrochemicals, Biology, Cement, Soil, Cosmetics, Food, etc.
ICP-AES
DW-TY-9900
Foundry, Steel, Metal Recovery, Smelting, MilitaryAerospace, etc.
Full Spectrum Direct Reading Spectrometer
DW-TY9000
How to Choose the AAS Model?
Flame Atomic Absorption Spectrometry (FAAS). In flame atomic absorption spectrometry, either an air/acetylene or a nitrous oxide/acetylene flame is used to evaporate the solvent and dissociate the sample into its component atoms. When light from a hollow cathode lamp (selected based on the element to be determined) passes through the cloud of atoms, the atoms of interest absorb the light from the lamp. This is measured by a detector and used to calculate the concentration of that element in the original sample. The use of a flame limits the excitation temperature reached by a sample to a maximum of approximately 2600°C (with the N2O/acetylene flame). For many elements, this is not a problem. Compounds of the alkali metals, for example, and many of the heavy metals such as lead or cadmium and transition metals like manganese or nickel are all atomized with good efficiency with either flame type, with typical FAAS detection limits in the sub-ppm range. However, there are a number of refractory elements like V, Zr, Mo, and B which do not perform well with a flame source. This is because the maximum temperature reached, even with the N2O/acetylene flame, is insufficient to break down compounds of these elements. As a result, flame AAS sensitivity for these elements is not as good as other elemental analysis techniques. You can choose, DW-180B, DW-220B, DW-320.
Graphite Furnace Atomic Absorption Spectrometry (GFAAS). This technique is essentially the same as flame AA, except the flame is replaced by a small, electrically heated graphite tube, or cuvette, which is heated to a temperature up to 3000°C to generate the cloud of atoms. The higher atom density and longer residence time in the tube improve furnace AAS detection limits by a factor of up to 1000x compared to flame AAS, down to the sub-ppb range. However, because of the temperature limitation and the use of graphite cuvettes, refractory element performance is still somewhat limited. You can choose DW-220A, or DW-200.
Some Special elements like As, Pb, Sn, Se, Hg, need to test by AAS with Hydride Generator.
Products Display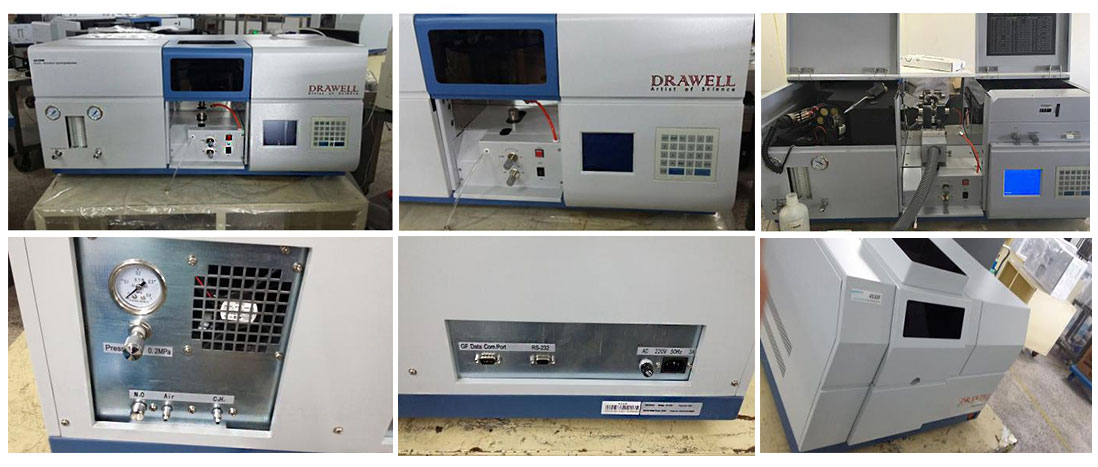 Order Process of AAS

Why Choose Us for AAS?
Rich categories,
The products are market-oriented and exported to many countries in the world
Perfect sales system, efficient and fast after-sales service
On-time delivery rate reaches 100%
High-cost performance
Customer Feedbacks: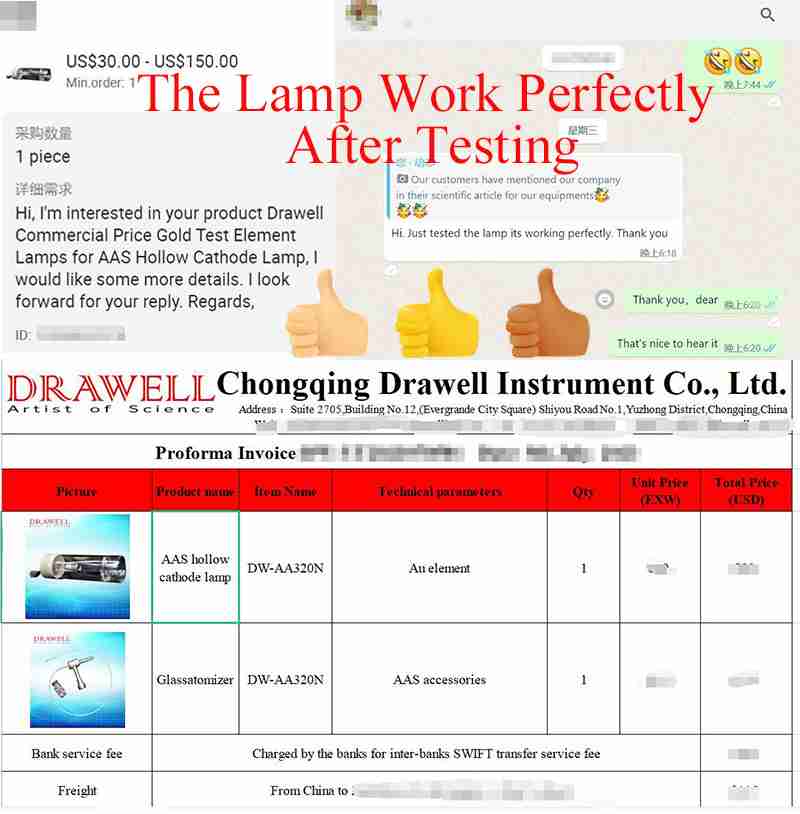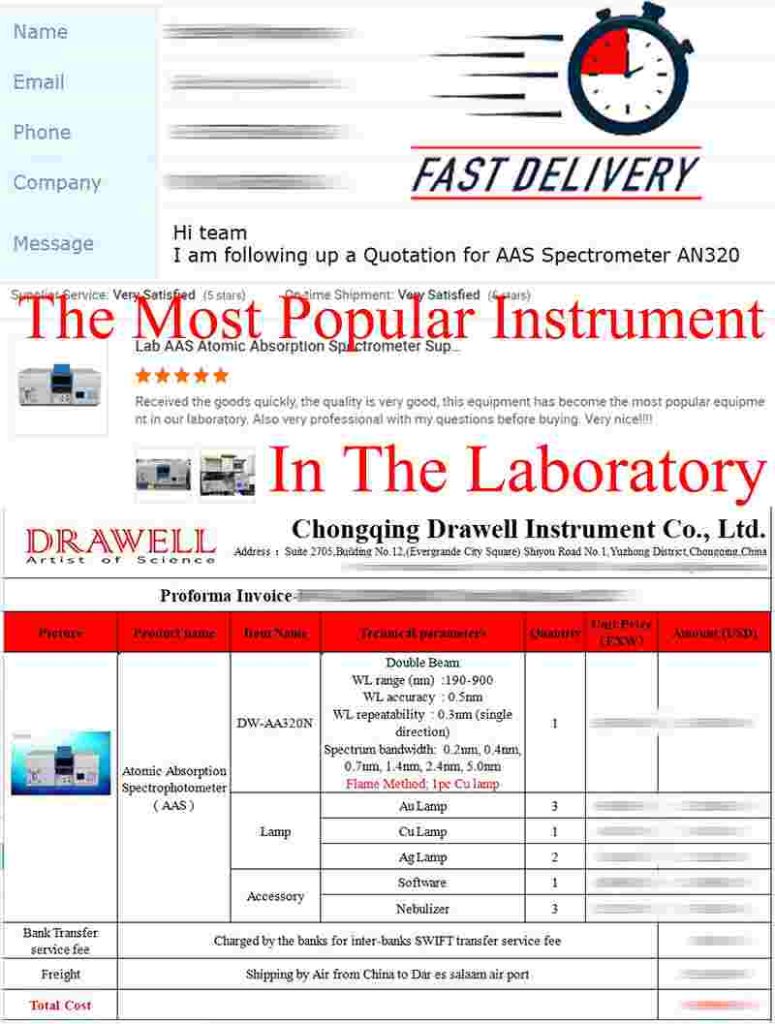 FAQ
Other Spectrophotometers