Fluorescence Spectrophotometer
What is Fluorescence Spectrophotometer?
A fluorescence spectrophotometer is an instrument used to scan the fluorescence spectrum emitted by fluorescent labels.
Principle: A fluorescence spectrophotometer uses a beam of light that excites the electrons in molecules of certain compounds and causes them to emit light. That light is directed towards a filter and onto a detector for measurement and identification of the molecule or changes in the molecule.
Usages: A fluorescence spectrophotometer can not only do general quantitative analysis but also infer the conformational changes of molecules in various environments, thereby clarifying the relationship between molecular structure and function.
Features of Fluorescence Spectrophotometer
1. Simple interface, easy to operate
2. High precision and fast scanning speed
3. Low cost of analysis
4. Wide Spectral measurement range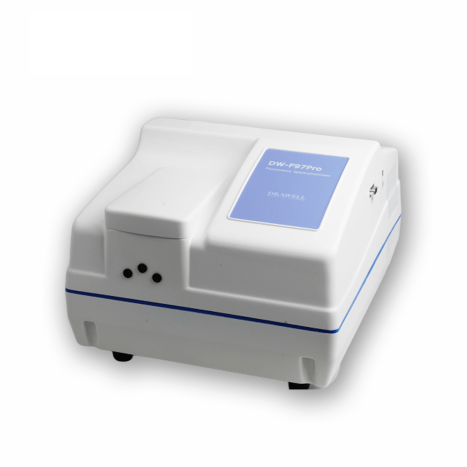 Specifications of Fluorescence Spectrophotometer

Application Areas of Fluorescence Spectrophotometer
The fluorescence photometer analyzes the composition of substances that produce fluorescence after excitation by a light source or substances that produce fluorescence after chemical treatment. It can be used in biochemistry, biomedicine, environmental chemical, and other departments.

Products Display



Why Choose Us for Fluorescence Spectrophotometer?
---
"Multiple suppliers" have always been an issue in the procurement process. Drawell as a one-stop laboratory equipment and scientific instruments supplier, can perfectly solve this problem. In addition to manufacturing our own equipment, we also represent other laboratory equipment. Our product lines are rich and diverse at competitive prices. Provide one-stop service to customers.
---
User Training – Training by Drawell skilled engineers about installation, debug tests, technical services, etc. It can happen in our factory in China, or at the site in the customers' country. Cost depends on where and when the training happens.
---
To discuss the problem and get it resolved, online chats, real-time video calls, and remote guidance. For the after-sales stage, our online technical guidance is free and ready forever.
---
1 year free official warranty, including repairing quality-damaged parts, and offering replacements of selected parts (shipping cost is extra). 5% of the product price is charged for extending the warranty before the end of the official warranty.
How to Choose the Model?
Q1: What's your sample?
A: Normally, a Fluorescence spectrophotometer can test liquid samples and solid samples.
Q2: What's the spare part for a different sample?
A: For the liquid sample, the instrument comes with 2 quartz four-way cuvettes, other parts are not needed. For a solid sample, if it's a powder sample, it needs to equip with a sample holder base and powder sampler holder; and if it's a film sample, it needs to equip with a sample holder base and film sampler holder.
Q3: What's the wavelength range?
A: You need to confirm your test wavelength range, different model series has different wavelengths as below:
F93 series: 360-650nm; F96 series:200-850nm;F97 series:200-900nm: F98 series:200-900nm.
Q4: How to match different wavelengths?
A: For the F93 series, the light source is LED, you need to choose a different LED to match the wavelength of different samples.
For the F96 series, you need to equip with different filters to match different wavelengths.
For F97 and F98 series, both models are equipped with a monochromator. We can set all wavelengths in the wavelength range by adjusting the grating in the monochromator.
Q5: What's the resolution?
A: F93 series:12nm; F96 series:10nm; F97 series:10nm and 2nm/5nm/10nm/20nm optional; F98 series:1nm/2nm/5nm/10nm/20nm optional
Other Spectrophotometers