What is Auto Hematology Analyzer?
Hematology analyzers are used to count and identify blood cells at high speed with accuracy. It has the strong characteristics of "high precision, fast speed, easy operation, and strong function".Hematology analyzers are used to run tests on blood samples. They are used in the medical field to do white blood cell counts, complete blood counts, reticulocyte analysis, and coagulation tests. There are hematology analyzers that are for human blood or animal blood, which are useful for veterinarians, zoos, and research labs. At present, hematology analyzers that apply multiple detection principles have come out, providing effective blood cell detection parameters for different levels of clinical needs, and are important for disease diagnosis and treatment clinical significance.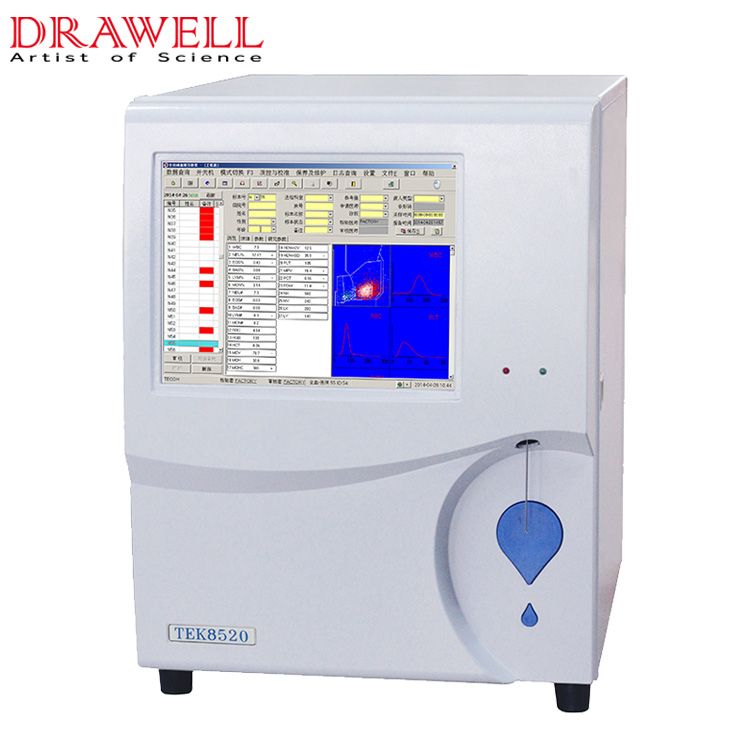 Features of Auto Hematology Analyzer
Automatic touch screen, high resolution, user-friendly software.
Unique high-efficiency laser energy-focusing technology
Patented high-efficiency laser energy focusing, combining, fresnel lens focusing laser signal
Effectively avoid the interference of other light signals and get stronger and more stable signals and more accurate classification
Unique double sheath flow focusing fluid technology inner
The sheath flow is a closely packed cell so the cell is arranged in the sheath flow axis. make sure the flow through the testing center one by one under the action of flow power.
Outer sheath flow device, ensure cell were taken away quickly after flowing through
aperture, avoid eddy current, in order to get a more stable signal.
Exceptional cellular alarm function
Fragment、plasmodium、cell tolerance、 PLT aggregation、 Low HGB in RBC、abnormal scatter diagram custom parameters alarm recheck, Provide multinomial research parameters: specific lymphocyte immature cell unrecognized cell, etc.
Floating classification technology
Automatically adapt to the change of scattergram, and effectively identify the boundaries of various cells, to obtain more accurate WBC classification results.
Applications of Auto Hematology Analyzer
The automatic blood cell analyzer is suitable for blood cell count, white blood cell classification, and hemoglobin concentration measurement in clinical testing. Such as:
WBC, LYM#, MID#, GRA#, LY%, MID%, GR%, RBC, HGB, HCT, MCV, MCH, MCHC, RDW-SD, RDW-CV, PLT, MPV, PDW, PCT, P-LCR, P-LCC and Histogram for WBC, RBC, PLT
1. Red blood cell series: The RBC count, Hb determination, and HCT of the blood cell analyzer are mainly used to judge whether there is anemia and the degree of anemia.
2. White blood cell series: The blood cell analyzer can be used to count white blood cells: to determine the type and degree of infection.
3. PLT series: The PLT count of the hematology analyzer is mainly used to evaluate the coagulation function of blood.
4. Applications of histograms: The blood cell analyzer can measure the volume of each blood cell while counting RBC, WBC, and non-PLT. The volume histogram of blood cells is formed by taking the cell volume as the abscissa and the relative frequency of cells as the ordinate. , the histogram can not only explain the analysis results, but also help the diagnosis of some diseases and LX observation, and can also judge whether the test results are credible based on the histogram.

How to Choose the Auto Hematology Analyzer?
How to choose three 3 or 5 part differentiation?
3 part differentiation is generally applicable to the daily testing needs of individual outpatient clinics and primary medical care, as well as the annual medical examination tasks of grade-level hospitals in the countryside, and the reagent prices are relatively cheap;
5 part differentiation is suitable for the daily testing needs of grade hospitals, and the price of reagents is relatively high.
According to the selection of testing items.
Different models of hematology analyzers have different numbers of testing items. The more testing items, the more expensive the relative price. According to the actual clinical needs, select the corresponding hematology analyzer model.
How to choose according to the sample processing capacity of the hematology analyzer?
DW-TEK5000P up to 60 samples per hour, DW-TEK8520 up to 90 samples per hour.
Order Process

Why Choose Us?
Rich categories
The products are market-oriented and exported to many countries in the world
Perfect sales system, efficient and fast after-sales service
On-time delivery rate reaches 100%
High cost performance
FAQ
Related Products Recommendation