What is Direct Reading Spectrometer?
DW-TY-9000 is a Full Range of Solutions for the Entire Metals Industry. It uses full-digital technology to replace bulky photomultiplier tube (PMT) simulation technology and keep pace with international spectrometer technology. The adoption of a vacuum optical chamber design, full-digital excitation light source, advanced CCD detectors, and high-speed data readout system equips the device with high properties, ultra-low limit of detection (LOD), long-term stability, and repeatability. The analytical precision can meet the requirements of laboratory standards, the analytical data is stable and reliable. Widely used in metallurgy, casting, machinery processing, and other industries incoming and outgoing product quality control.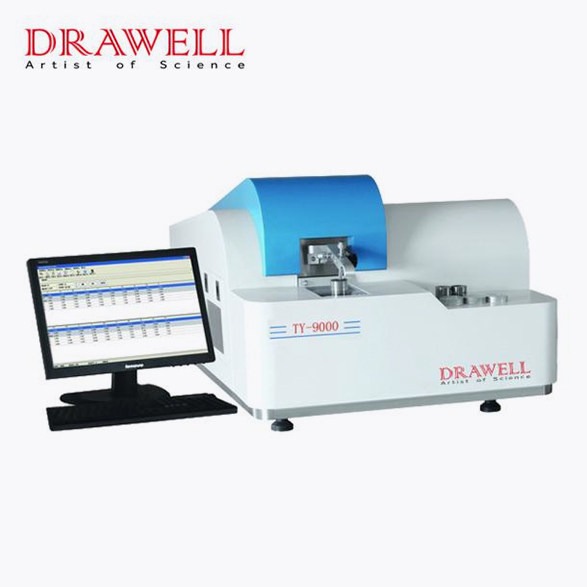 Features of Direct Reading Spectrometer DW-TY-9000
High-performance optical system.
Automatic optical path calibration.
Single-plate lens design.
Vacuum chamber integration.
Vacuum anti-return oil technology.
Open excitation platform.
Jet electrode technology: unique argon gas path design, reducing the cost.
The integrated gas circuit module.
Fully digital excitation light source.
High-speed data acquisition: The instrument uses high-performance CCD devices, ultraviolet coating technology, and high-performance FPGA, DSP, and ARM processors.
Ether data transmission.
Prefabricated working curve.
The analysis speed is fast, and the element composition of all channels can be measured within 20 seconds.
Multi-matrix analysis.
The software is multi-language, fully compatible with the Windows system.
Application Areas of Direct Reading Spectrometer DW-TY-9000
Direct reading spectrometers are widely used in various analyses in metallurgy, foundry, machinery, scientific research, commodity inspection, automobile, petrochemical, shipbuilding, electric power, aviation, nuclear power, metal and non-ferrous smelting, processing and recycling industries.
Different Applications of Spectrophotometer
Application
Spectrophotometer Type
Picture
Model
Gold in Ore, Metallurgy.
Geology, Mining, Petroleum.
Cement, Soil, Medicine, etc.
AAS
DW-AA320N
Alloy, Mineral, Precious Metal, RoHS, Catalyst etc.
XRF
DW-NP-5010
EDX3600H
TrueX 900
EDX800
MaterialsAnalysis, Geology,
Petrochemicals, Biology, Cement, Soil, Cosmetics, Food, etc.
ICP-AES
DW-TY-9900
Foundry, Steel, Metal Recovery, Smelting, MilitaryAerospace, etc.
Full Spectrum Direct Reading Spectrometer
DW-TY9000
Specifications of Direct Reading Spectrometer DW-TY-9000
Item

Index

Optical System

Focal Length

400mm

Wavelength range

130nm-800nm

Detector

High resolution CCD Multi detectors

Degree of vacuum

Auto control within 6-20 pa

Pixel resolution

30pm

Grating line

2400m1/mm

First order spectral line dispersion rare

1.2nm/mm

Average resolution ratio

10pm/pixel

Full spectrum

Light room temperature is controlled automatically

Spark Source

Type

Digital arc and spark source

Spark frequency

100-1000HZ

Discharge current

1-400A

Ignition voltage

>15000V

Excitation light

Optimization of discharge parameters design

High energy precombustion technology HEPS

Processor

High-speed data synchronization acquisition and processing

Spark Stand

Electrode

Tungsten electrode technology

Make up

Thermal deformation self-compensation design

Argon flushed with minimal consumption of Argon

Spray discharge electrode technology

Adjustable electrode technology

Others

Measurable elements

Fe、Al、Cu、Ni、Ti、Co、Zn、Sn、Mg、Pb etc

Dimension

800mm(L)*700mm*470mm(H)

weight

About 100kg

Storage temperature

0℃-45℃

Operating temperature

10℃-35℃, 23±2℃ is recommended

Power

AC220V/50Hz(Customized)

Power consumption

Excitation:700W/Stand by:100W

Argon quality

99.999%, Argon pressure>4Mpa

Argon consumption

5L/min during spark mode

Interface

Ethernet data transmission based on DM9000A
Elements and the scope of instrumental analysis
Program

Fe-Low alloy

Fe-Cr-Ni steel Cr-Ni

Elements

Min

Max

Min

Max

C

0.006

1.3

0.008

2.5

Si

0.01

3.9

0.09

4

Mn

0.03

2.1

0.12

16

P

0.002

0.12

0.003

0.3

S

0.002

0.16

0.001

0.4

Cr

0.01

4.5

7.4

32

Ni

0.004

4.4

0.8

48

Mo

0.004

1.3

0.08

4.2

Al

0.003

1.5

0.005

1.7

Cu

0.002

0.5

0.05

4.5

Co

0.001

0.5

0.008

17

Ti

0.002

1.2

0.005

1.1

Nb

0.002

0.3

0.02

2

V

0.003

0.9

0.02

9.5

W

0.03

2.1

0.002

4.1

Pb

0.003

0.03

0.001

0.02

Mg

 0.001

0.14

 0.001

 0.14

B

0.006

0.02

0.007

0.02

Sn

0.001

0.09

0.003

0.05

Zn

0.002

0.04

0.006

0.08

Sb

0.002

0.02

0.0005

0.022

Fe

(Remain)

(Remain)
Products Display

Why Choose Us?
Our on-time delivery rate is 100%. Delivery time is usually 7-15 working days after payment.
Drawell is founded in 1999 and has more than 20 years of exporting experience. We have a professional sales team of around 30 people.
Our main markets are South Africa, the Middle East, Southeast Asia, Europe, etc. So far, we have established business relationships with more than 100 countries.
For the before-order stage, our professional sales team will respond to your inquiry within 24 hours whether it is on working days or not.
For the order-running process, we will keep track of your order. You don't have to worry about the quality or production time.
For the after-sales stage, our technical guidance is free and ready forever. If you have any problems, our after-sales team and engineers will help you solve them, and you will get an answer within 24 hours.
All Drawell Instruments will be warranted for a period of 12 months after shipment.
Other Spectrophotometers