What is FTIR Spectrophotometer?
Fourier transform infrared spectrometer is abbreviated as FTIR. It is different from the principle of dispersive infrared spectroscopy. It is an infrared spectrometer developed based on the principle of Fourier transformation of infrared light after interference. It is mainly composed of the infrared light source, interferometer, sample chamber, detector amplifier, an analog-to-digital converter (A/D), and computer composition. It can carry out qualitative and quantitative analysis of samples and is widely used in the fields of medicine and chemical industry, geology and mining, petroleum, coal, environmental protection, customs, gem identification, criminal investigation identification, etc.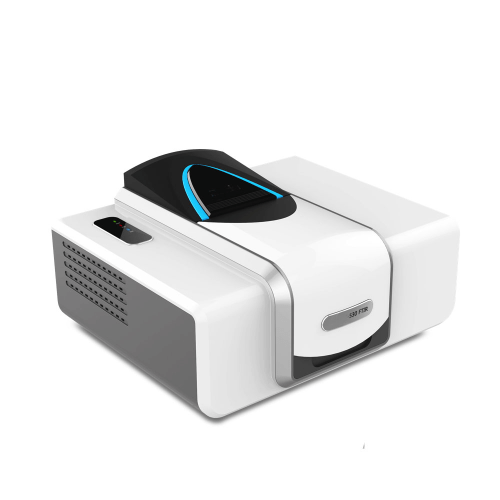 Advantages of Fourier Transform Infrared Spectrometer
Why would we rather use FTIR instruments than dispersive ones? There are three major advantages of FT instruments.
Multiplex: since all wavelengths are measured simultaneously, the measurement time is greatly reduced.
Throughput: FT instruments don't use slits, therefore the amount of light entering into the instrument is much larger, and the measurement is less sensitive to noise.
Connes: since we use an extremely accurate laser for the position determination of the mirror, the precision is very high, better than 0.01 cm-1. This is better for quantitative analysis and library searching.
Applications of FTIR Spectrophotometer
FTIR can reveal the composition of solids, liquids, and gases. Its most common application is to identify unknown materials and confirm production materials (raw materials/finished products).
1. Chemical and pharmaceutical fields
2. Coal and petroleum analysis
3. Health and quarantine
4. Food
5. Environmental protection
6. Optical coating and other fields, etc.

Specifications of FTIR Spectrophotometer
Model
DW-FTIR-530A
Wavenumber Range
7800cm

-1

~350cm

-1

Wavenumber Accuracy
±0.01 cm

-1

Resolution
0.85 cm

-1

Detector
Room temperature DLATGS module (standard); Temperature stabilized, high sensitivity DLATGS module (optional)
Beam Splitter
Multilayer Ge coated KBr
Products Display

Why Choose Us?
On-time Delivery
Our on-time delivery rate is 100%. Delivery time is usually 7-15 working days after payment.
Rich Export Experience
Drawell is founded in 1999 and has more than 20 years of exporting experience. We have a professional sales team of around 30 people.
Our main markets are South Africa, the Middle East, Southeast Asia, Europe, etc. So far, we have established business relationships with more than 100 countries.
Quick Service
For the before-order stage, our professional sales team will respond to your inquiry within 24 hours whether it is on working days or not.
For the order-running process, we will keep track of your order. You don't have to worry about the quality or production time.
For the after-sales stage, our technical guidance is free and ready forever. If you have any problems, our after-sales team and engineers will help you solve it, and you will get an answer within 24 hours.
Related Products Recommendation