What is Kjeldahl Nitrogen Analyzer?
The Kjeldahl method or Kjeldahl digestion in analytical chemistry is a method for the quantitative determination of nitrogen contained in organic substances plus the nitrogen contained in the inorganic compounds ammonia and ammonium (NH3/NH4+). Without modification, other forms of inorganic nitrogen, for instance, nitrate, are not included in this measurement.
Using an empirical relation between Kjeldahl nitrogen content and protein content is an important method for analyzing proteins. This method was developed by Johan Kjeldahl in 1883. The Kjeldahl method's universality, precision, and reproducibility have made it the internationally recognized method for estimating the protein content in foods and it is the standard method against which all other methods are judged. It is also used to assay soils, wastewater, fertilizers, and other materials. It does not, however, give a measure of true protein content, as it measures nonprotein nitrogen in addition to the nitrogen in proteins.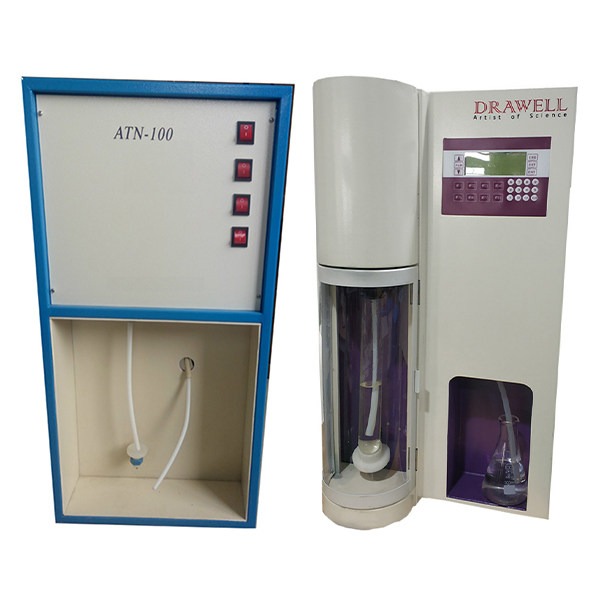 Features of Kjeldahl Nitrogen Analyzer
1. cover is made of a specific powder-coated steel plate, that resists chemical reagents and mechanical erosion.
2. simple structure, button control, easy to operate.
3. optimized internal configuration, convenient to install and maintain.
4. touch buttons to add distilled water, alkali, and vapor-controlled, no need to contact with reagent.
5. short distillation duration, work efficiency enhanced.
6. for the solution set, the volume of the boric acid solution, the amount of alkali, and distillation time can be set up at random.
7.20 groups of experimental procedures can be stored to meet users' various requirements.
8. perfect protection system: remind when digestion tube is not in place, protect steamer furnace from being overheated or over-voltage; alarm when distillation is finished.
9. manual and auto, two modes for customers to shift.
Application of Kjeldahl Nitrogen Analyzer
The Kjeldahl nitrogen analyzer uses the Kjeldahl method to detect the content of ammonia, protein nitrogen, phenol, volatile fatty acid, cyanide, sulfur dioxide, ethanol, etc. in grains, food, feed, water, soil, sludge, sediment, and chemicals. . It has a very good price-performance ratio, and only the titration process requires manual operation, which is very suitable for routine testing by laboratories and inspection institutions. It is widely used in the analysis of nitrogen or protein content of food, crops, seeds, soil, fertilizers, and other samples.

Specifications of Kjeldahl Nitrogen Analyzer
| | | |
| --- | --- | --- |
| Model | DW-ATN-100 | DW-ATN-300 |
| Picture | | |
| Determination of varieties | Food, food, dairy, beverages, feed, soil, water, drugs, sediments and chemicals | Food, food, dairy, beverages, feed, soil, water, drugs, sediments and chemicals |
| Measuring range | 0.1mgN~200mgN | 0.1mgN ~240mgN(nitrogen content 0.02% ~95%) |
| work mode | semi-automatic | Automatic |
| Determine the amount of sample | Solid ≤ 5g / unit Liquid ≤ 15ml / unit | Solid ≤ 5g / unit Liquid ≤ 15ml / unit |
| Recovery | better than 99.5% | better than 99.5% |
| Repeatability | <1% | ≤ ±1% |
| Distillation rate | 3 to 7 minutes / sample | 3 to 7 minutes / sample |
| Cooling water consumption | 2L / min | 1L-2L / min |
| Power supply | 220V 50Hz | 220V 50Hz |
| Power | 2000W | 1600W |
| Dimensions | 380 * 330 * 820mm | 775*380*330*mm |
| Weight | 26kg | 28kg |
KDN-D series digital-display temperature-controllable digestion furnaces have models of 4 holes, 8 holes, 12 holes, and 20 holes for users to choose from, depending on their detection amount. SO2 and other poisonous gas escaping from the digestion furnace will be discharged by the relevant waste gas absorption system, guaranteeing the safety and cleanness of your lab.
Name

Model

Picture

Specification

Digital display temperature controllable digestion furnace

KDN-04D

4 samples/batch

KDN-08D

8 samples/batch

KDN-12D

12 samples/batch

KDN-20D

20 samples/batch
Kjeldahl Nitrogen Analyzer Display


Why Choose Us?
1. Pre-Installation services
Providing free pre-installation advice and guidance. Providing a demonstration video if necessary.
2. User training
Operation manuals are in English. Training by Drawell skilled engineers can happen in our factory in China, or at the site in the customer's country. Cost depends on where and when the training happens.
3. Warranty services
1 year free, including repairing quality-damaged parts, and offering replacements of selected parts (shipping cost is extra). 5% of the product price is charged for extending the warranty before the end of the official warranty.
4. Online support
To discuss the problem and get it resolved, online chats, real-time video calls, screen
sharing is available as per customers' comfort.
5. Return/Replacement
If quality problems cause any misfunction of Drawell products, free spare parts can be offered. In certain terms and conditions, the broken machines can be replaced within the warranty
6. Upgrades
Upgrading software for the device is provided within the warranty.
Other Products Recommend