What is Fume Hood?
A laboratory fume hood or exhaust hood is a ventilation unit that is designed to limit exposure to hazardous or toxic fumes, vapors, or dust. The air is drawn from the lab space into the fume hood and then dispersed into the atmosphere.
Ductless Exhaust Fume Hoods ventilate and remove chemical fumes using activated charcoal filters, allowing the safe indoor release of exhaust. HEPA / ULPA filters provide a clean and particle-free environment.
Ducted fume hoods have ventilation to the outside and provide the most user protection mostly for chemically dangerous fumes. Cleatech Laboratory Hoods are available in a range of materials to meet requirements for chemical resistance, static control, and cleanliness.
Working Principle of Fume Hood
The fume hood has a built-in multi-function power outlet for easy use of other equipment in the laboratory. The quick-opening faucet is used to facilitate experimental water use. The front glass baffle can be moved up and down, and the fan is placed on the top to extract the toxic and harmful gases in the experiment. The working surface can be equipped with a water tank to facilitate the discharge of the experimental residue through the water tank to protect the experimental environment safely and reliably.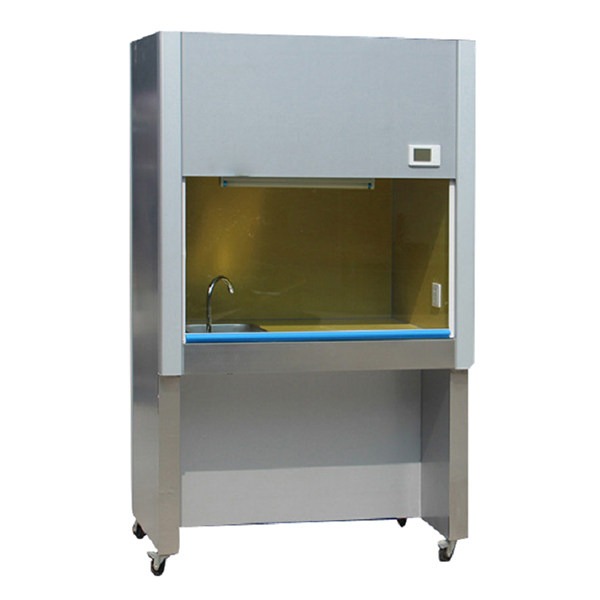 Features of Fume Hood
Using fireproof high-density board material as the frame, the experimental area is made of stainless steel or PP veneer, and the sealing is good.
Negative pressure form effectively discharges the experimental gas in the working area.
Digital display LCD control interface, fast and slow two speeds.
The working area is all SUS304 stainless steel or PP material, easy to clean, and anti-corrosion.
Standard configuration diameter 160mm, 1-meter long exhaust duct and elbow.
The work area is equipped with a five-hole socket.
Optional work area sink and faucet.
Application of Fume Hood
Fume hoods are used in teaching and research, medicine, environmental protection and chemical industry, and biochemical laboratories. Among them, they are the most widely used in various biochemical and physical, and chemical laboratories. They are used to protect the purity of experimental samples and ensure the accuracy of experimental results. It plays a vital role in maintaining the cleanliness of the laboratory environment, improving labor and hygiene conditions, increasing work efficiency, and protecting the health of users.

Specifications of Fume Hood
| | | | |
| --- | --- | --- | --- |
| Model | ZJ-TFG-12 | ZJ-TFG-15 | ZJ-TFG-18 |
| Picture | | | |
| Wins speed | 0.25-0.45 m/s | 0.25-0.45 m/s | 0.25-0.45 m/s |
| Power | 220V/50HZ | 220V/50HZ | 220V/50HZ |
| Working area size(W*D*H) | 1030*695*580mm | 1300*695*580mm | 1600*695*580mm |
| Overall dimension(W*D*H) | 1185*760*1950mm | 1455*760*1950mm | 1755*760*1950mm |
| Fluorescent lamp specifications and quantity | 20W*1PC | 30W*1PC | 20W*2PCS |
Model

ZJ-TFG-12 all steel

ZJ-TFG-15 all steel

ZJ-TFG-18 all steel

Picture

Working area size

(W*D*H) mm

985*595*1185

1285*595*1185

1585*595*1185

Overall dimension

(W*D*H) mm

1200*850*2350

1500*850*2350

1800*850*2350
Fume Hood Display

Why Choose Us?
1. On-time Delivery
Our on-time delivery rate is 100%. Delivery time is usually 7-15 working days after payment.
2. Rich Export Experience
Drawell is founded in 1999 and has more than 20 years of exporting experience. We have a professional sales team of around 30 people.
Our main markets are South Africa, the Middle East, Southeast Asia, Europe, etc. So far, we have established business relationships with more than 100 countries.
3. Quick Service
For the before-order stage, our professional sales team will respond to your inquiry within 24 hours whether it is on working days or not.
For the order-running process, we will keep track of your order. You don't have to worry about the quality or production time.
For the after-sales stage, our technical guidance is free and ready forever. If you have any problems, our after-sales team and engineers will help you solve them, and you will get an answer within 24 hours.
Other Equipment in the Laboratory