Energy Dispersion X-ray Fluorescence Spectrometer (DW-NP-5010)
DW-NP-5010 energy dispersive X-ray fluorescence spectrometer (XRF) is widely used in environmental protection, geology, mineral, metallurgy, cement, electronics, petrochemical, polymer, food, medicine and high-tech materials and other fields, playing an important role in product research and development, production process monitoring and quality management.In addition, the instrument can be used in archaeology, building materials, RoHS directive and other industries. It is the enterprise quality control ideal choice.
Main Component of the X-ray Fluorescence Spectrometer:
Si(PIN) or SDD detector
Multi-channel analyzer
Power controller
X-ray tube
High voltage generator
The automatic filter conversion system
Radiation shielded system
The detection limit of harmful elements Cd, Pb, Cr, Hg and Br is restricted according to ROHS instruction
Powerful analysis software workstation
Features of DW-NP-5010 Spectrometer:
It can do qualitative, quantitative and no sample analysis. Such as block samples, powder or liquid samples, from the 4th element in the periodic table beryllium (Be) to the 92rd element uranium (U), almost all of the elements can be accurately analyzed.
The analytical concentration range can be from 0.1 PPM to 100%, and even up to 100% of the element concentration can be directly measured without dilution.
XRF analysis method has the advantages of simple sample preparation, wide determination range of elements, high determination accuracy, good reproducibility, fast measurement speed (the 30s-900s), no environmental pollution and no destruction of samples.
Specifications of DW-NP-5010 X-ray Fluorescence Spectrometer
Model
DW-NP-5010
Analysis principle
Energy-dispersive X-ray fluorescence analysis
Element measuring range
Any element from Na(11)-U(92)
Min. measuring limit
Cd/Hg/Br/Cr/Pb≤2 ppm
Sample shape
Arbitrary size, any irregular shape
Sample type
Plastic/metal/film/powder/liquid etc
X ray tube
Target material
Mo
Tube voltage
5─50KV
Tube current
1─1000uA
Sample exposure diameter
2, 5, 8mm
Detector
Si-PIN or SDD detector, high speed pulse height analysis system
High voltage generator
Special HV generator for X fluorescence
ADC
2048 channels
Filter
6 filters are automatically selected and converted.
Sample observation
200×color CCDcamera
Analysis software
Patented software products, free upgrade for life
Analysis method
Theoretical α coefficient method,basic parameter method, empirical coefficient method
Analysis time
30-900seconds, adjustable
Operating system software
WINDOWS XP
Data processing system
Host
PC business model
CPU
≥2.8G
Memory
≥2g
CD-ROM
8xDVD
Hard disk
≥500G
Display
22'' or 24'' LCD display
Working environment
Temperature 10-35С,humidity 30-70%RH
DW-NP-5010 Spectrometer Display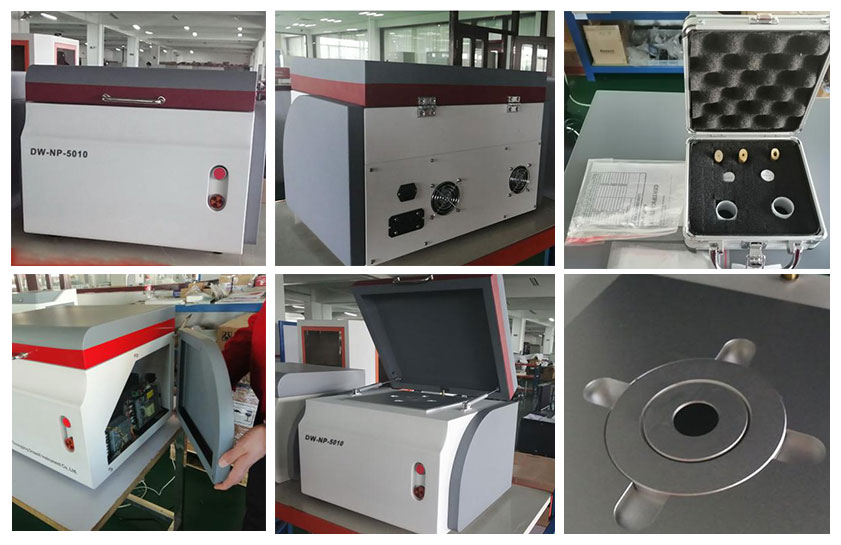 Other X-Ray Fluorescence Spectrometer (XRF)