GI T Series Autoclave
GI T SERIES Autoclave
Type T: Semi-automatic, whole process shown by the indicator
Type TW: Fully automatic, the whole process is shown by the flow chart
Type TR: Fully automatic, drying function based on Type TW
Introduction of GI T Series Autoclave
"SMART IIH" microcomputer control system is adopted to realized not only intelligent controls of the sterilization process but also the classified management of instruments (user, administrator, and engineer three levels included). As a result, we can guarantee satisfactory use and management of autoclaves.
Our patented pressure interlocking device can automatically sense the pressure in the sterilization chamber and is tightly locked, which effectively prevents personal injuries caused by spraying steam arising from misoperation. The system can monitor the pressure changes in the sterilization chamber on a real-time basis. Upon detection of any pressure anomaly, the dual overpressure protection system consisting of a safety valve and a pressure protective device will be actuated immediately to relieve pressure or disconnect the power supply.
The cover and bench of the sterilization chamber are made of special plastic to give a nice look and avoid causing corrosion and scalding. The unique steam discharge and collection system can help to prevent scald.
5 sterilization cycles are preset for sterilization, drying, and warming of solid and liquid particles, and for melting and warming of agar separately.
Features of GI T Series Autoclave
Temperature and pressure
Sterilization temperature: 105 to 135°C, designed pressure:。.3Mpa
Big LCD Screen can clearly show all sterilization data and processes.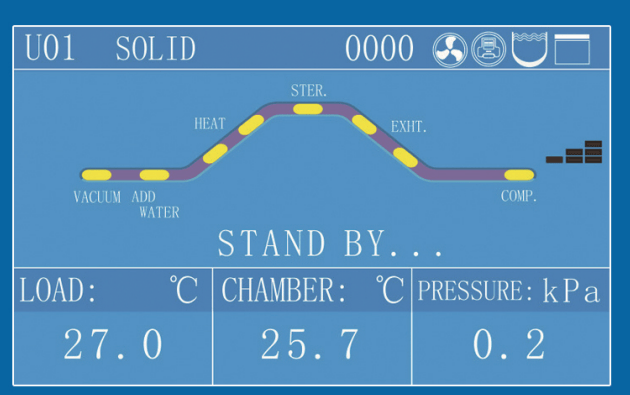 Over temperature protection system
The system can monitor the temperature changes in the sterilization chamber on a real-time basis and disconnect the power supply immediately upon detection of temperature or abnormal temperature variation.
Automatic troubleshooting system
Troubleshooting is conducted automatically upon startup. Acoustic alarms will be given and an Error Number will be displayed on the screen if any trouble occurs during equipment operation.
Safety and Function
Self-induction pressure interlocking device, lid closing checking, over temperature protection, temperature monitor, dry scorch protection system, overpressure protection, safety valve, over current and short circuit protection, leakage protection device, anti-scald safety protection, automatic troubleshooting system.
Function Table of GI T SERIES Autoclave
GI36TR/GI54TR
GI36TW/GI54TW
GI36T/GI54T
GI80TR/GI100TR
GI80TW/GI100TW
GI80T/GI100T
Sterilization mode
Solid mode:
Yes
Yes
Exhauting controlled by a knob
Heating-Sterilizating-Exhausting
Solidwithdrying mode:Heating-Sterilization-Exhausting-Water drainage-Drying
Yes
No
No
Liquid mode:Heating-Sterilizing-Precooling-Exhausing
Yes
Yes
Exhauting controlled by a knob
Liquid with warmingmode:Heating-Sterilizing-Precooling-Exhausting-Warming
Yes
Yes
No
Agar mode:Heating-Melting-Warming
Yes
Yes
Yes
Preset range of exhausting temperature
73-104℃
73-104℃
Exhauting controlled by a knob
Preset range of drying time&temperature
1-300min

& 80-140℃
No
No
Status flow chart that displays work processes
Yes
Yes
Status indicator
Timed startup
0min-6days delayed
0min-6days delayed
No
Procedures created
60
60
20
Specification Table of GI T SERIES Autoclave
Model

GI29TW

GI54TW

GI80TW

GI100TW

GI54TR

GI80TR

GI100TR

Model difference

TW: Standard + cooling fan,

TR: TW+drying

Capacity(L)

29

54

80

100

Dimension(L* W*H mm)

460x542x1070

460x542x1070

620x680x1100

620x680x1200

Chamber dimension(Dia*H,mm)

ф 325×460

ф325×670

ф 400×709

ф400×809

Chamber material

SUS 304

Rate power supply(w)

2300

2600

4600

4600

Power requirement

22OV,16A.50/60HZ

220V,32A. 50/60 HZ

Working environment

5 45″C . relatively humidity 10%-85%

Stainless steel basket

(Dia*H/mm)

(ф 300×200)x2

(ф 300×200)x3

(ф360×280)x2

(ф360×220)x3

Temperature accuracy

O.l°C

Working environment

5 45″C, relatively humidity10% 85%

Display system

LCD displayer

Sterilization temperature

105-135°C

Sterilization time range

1-6000 minutes

Melting temperature

60-100

Melting time

1-6000 minutes

Warming temperature

45-60 °C

Warming time range

1 9999 minutes

Drying temperature(TR)

Drying time range 1-300 minutes, drying temperature: 80-140°C

Sterilization cycle

1. Liquid

2. .Liquid with warming

3. Solid

4. Instruments packed with doth

5. Fabric

6. Rubber

7. Fast

8. Waste

9. Agar melting

10. Self defined

11. Drying (only for drying models)

Sterilization cycle number

Can save up to 60 cycles, record 1000 process, and USB port

Exhaust

Automatic internal discharging , with a steam collecting bottle inside. Exhaustspeed can be selected by 6 levels.

bottle inside. Exhaust

Preset range of timer

Can be preset and auto start up to 6 days in advance

Display range of pressure gauge

-0.l-0.5Mpa

Pressure

Max working pressure: 0.25Mpa;

Design pressure:0.3Mpa

Controller

"SmartIIII" fast speed microcomputer controller

Safety device

Self-induction pressure interlocking device, lid closing checking, over temperature protection, temperature monitor; dry scorch protection system, over pressure protection,safety valve,over current and short circu it protection, leakage protection device,anti-scald safety protection, automatic troubleshooting system
Series Difference of Autoclave
Type T: Semi-automatic, cooling fan, the whole process shown by the indicator
Type TW: Fully automatic,standard+cooling fan, the whole process shown by the flow chart
Type TR: Fully-automatic, standard+cooling fan+drying function
DW-GI54TW / DW-GI80TW /DW-GI100TW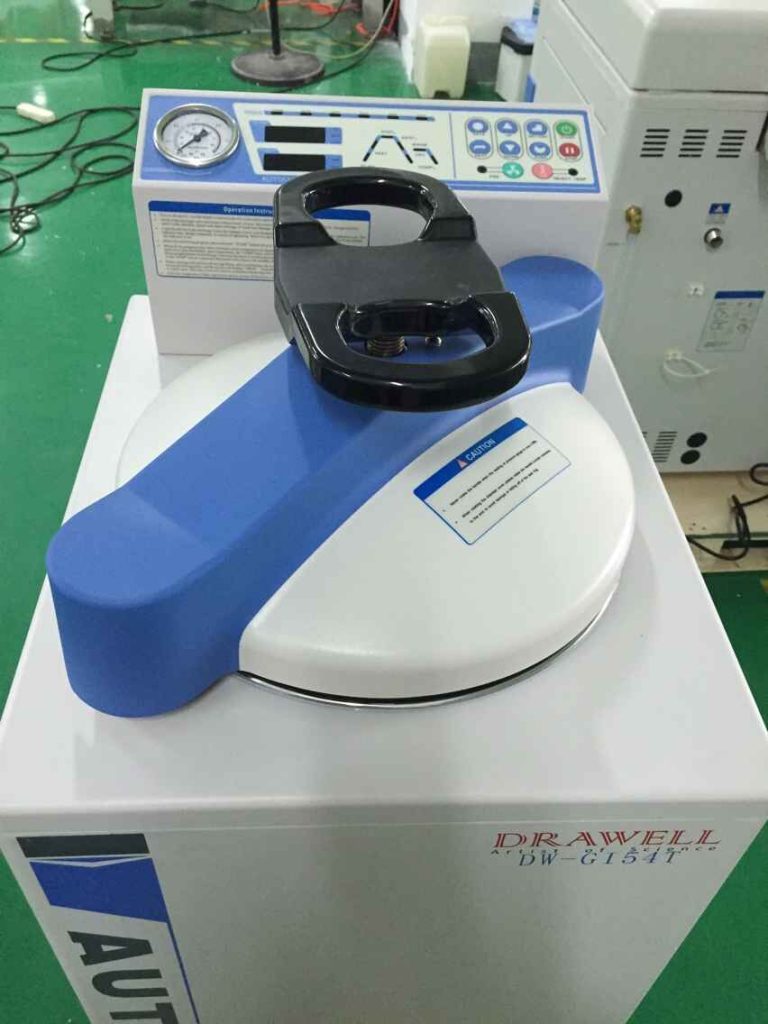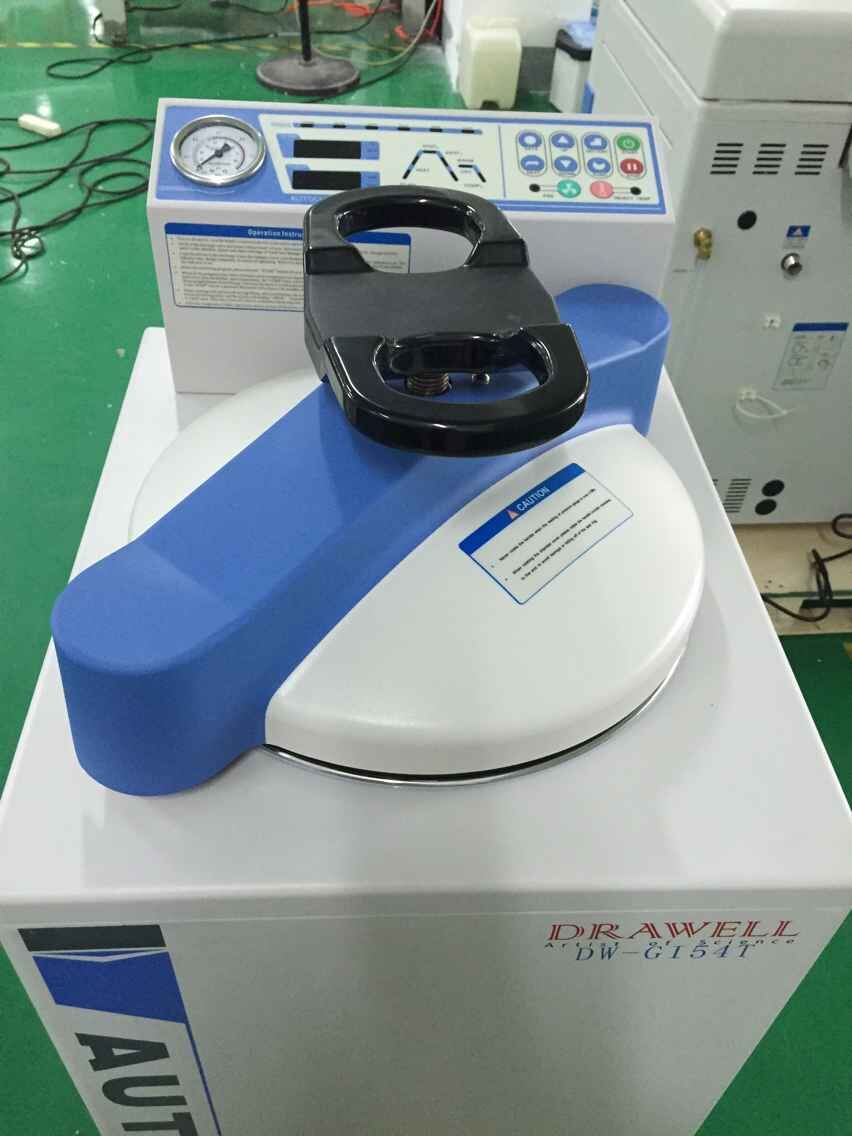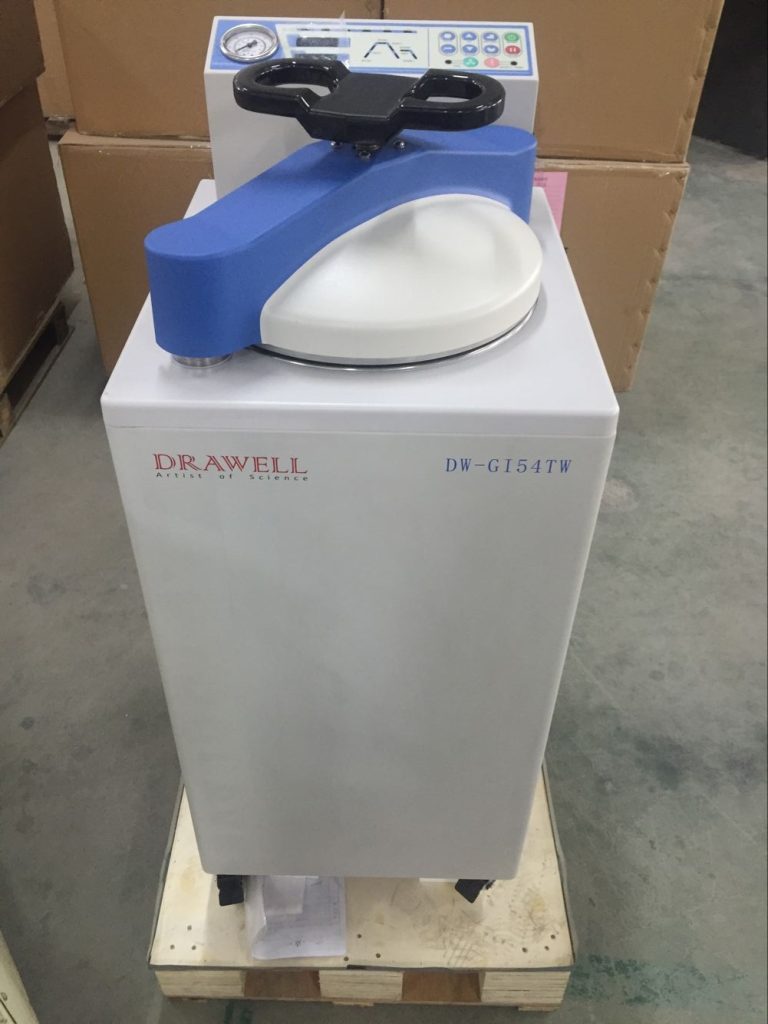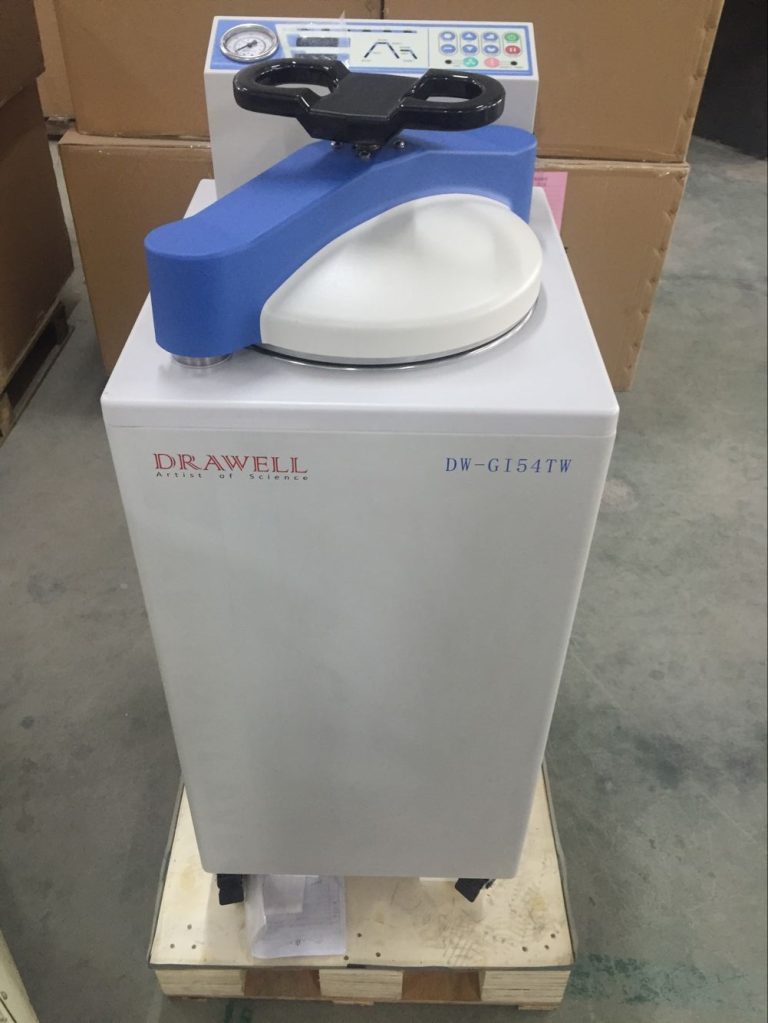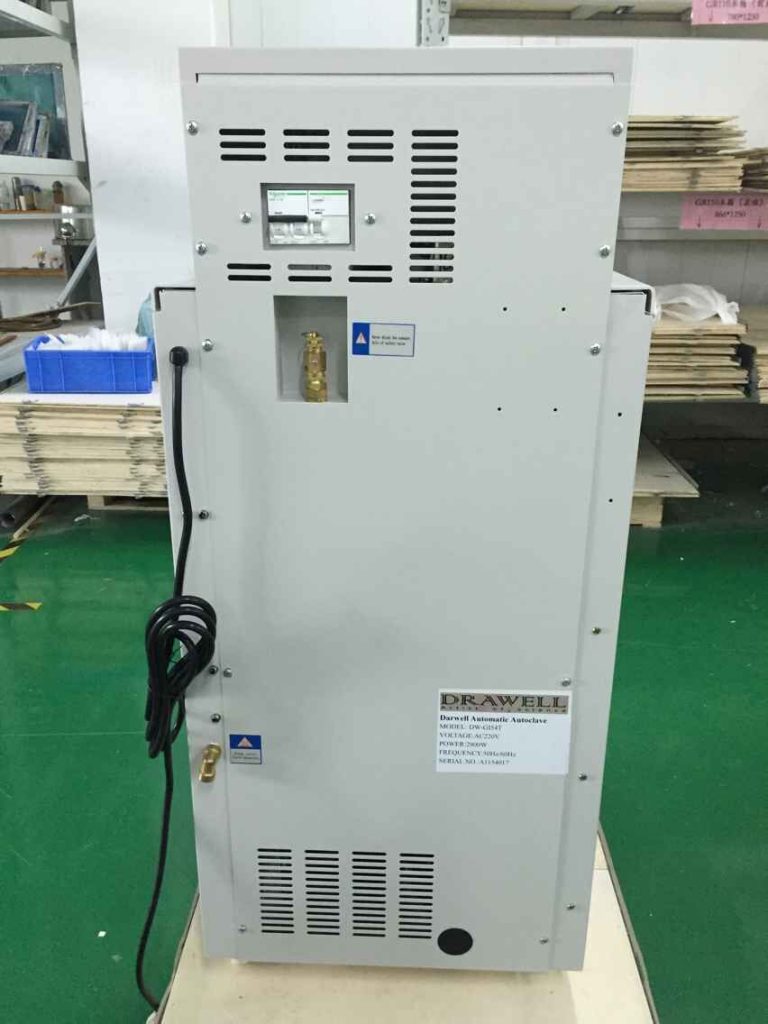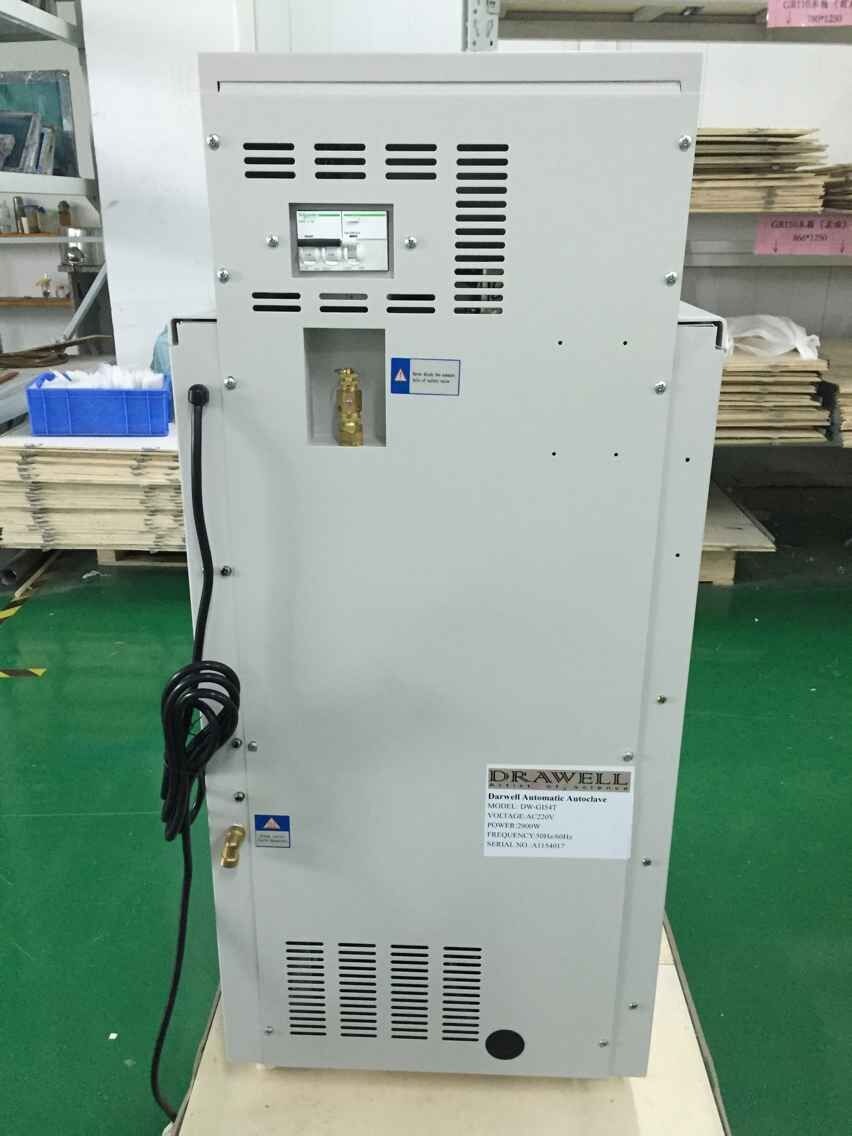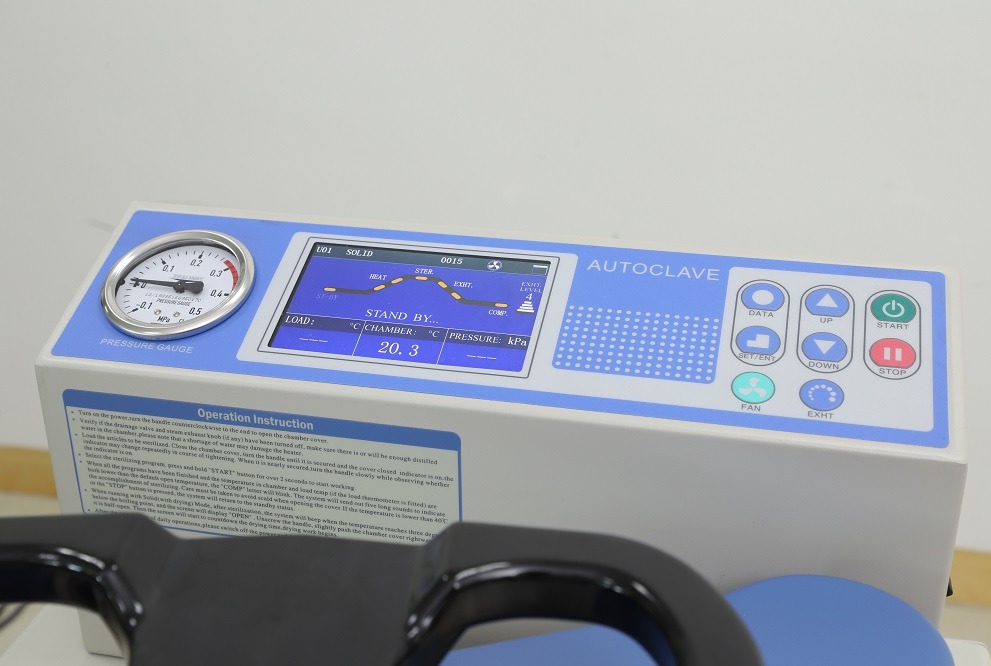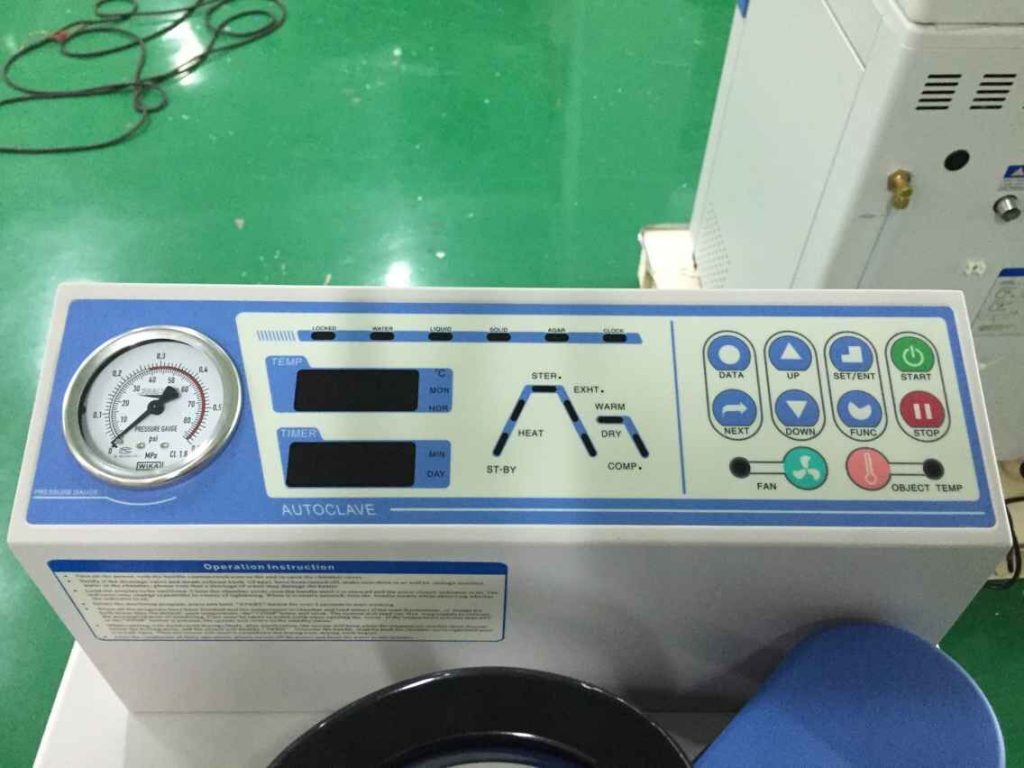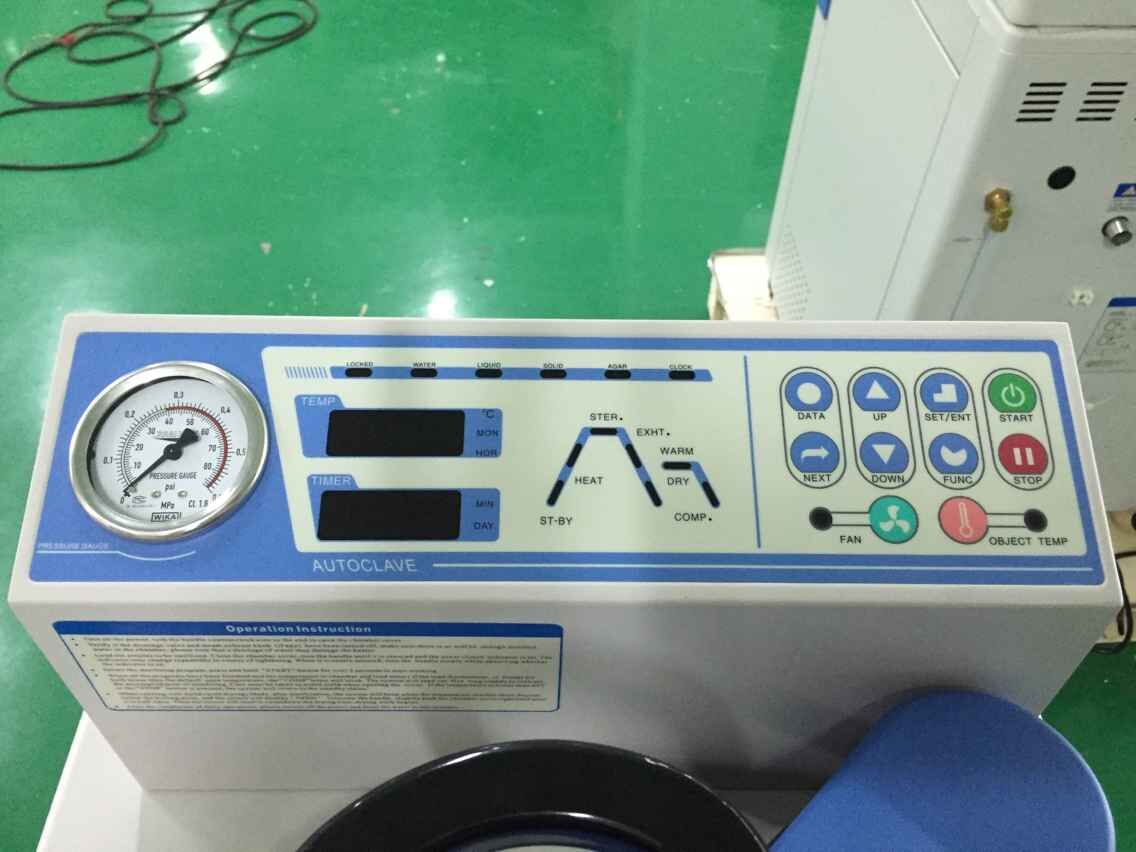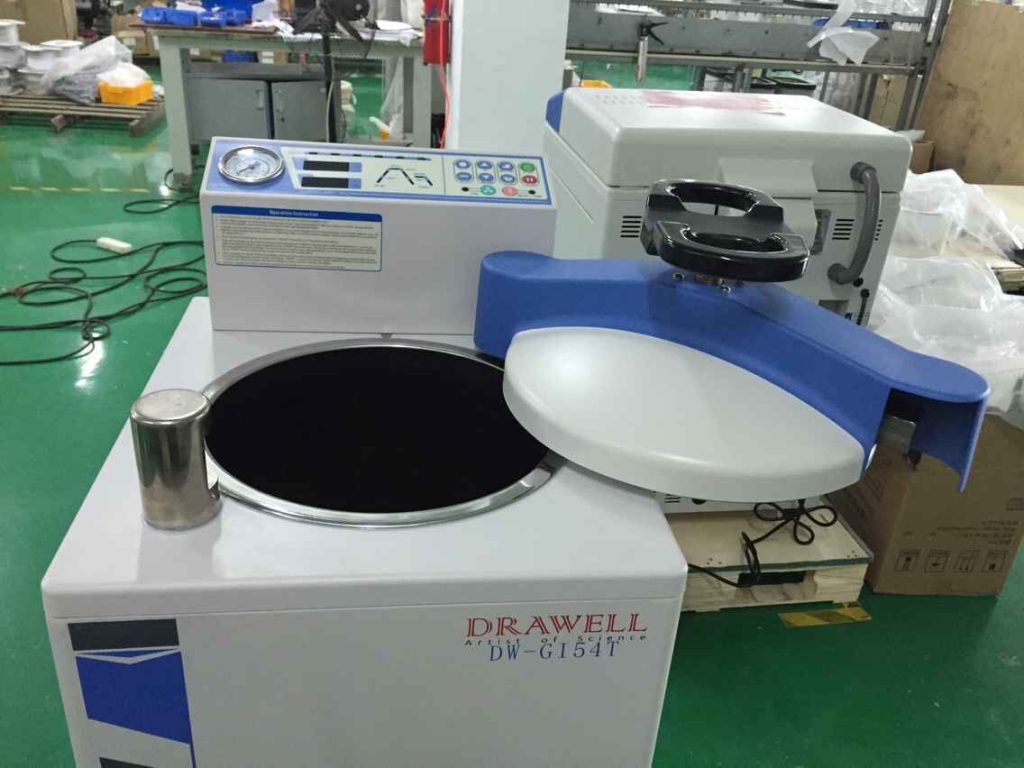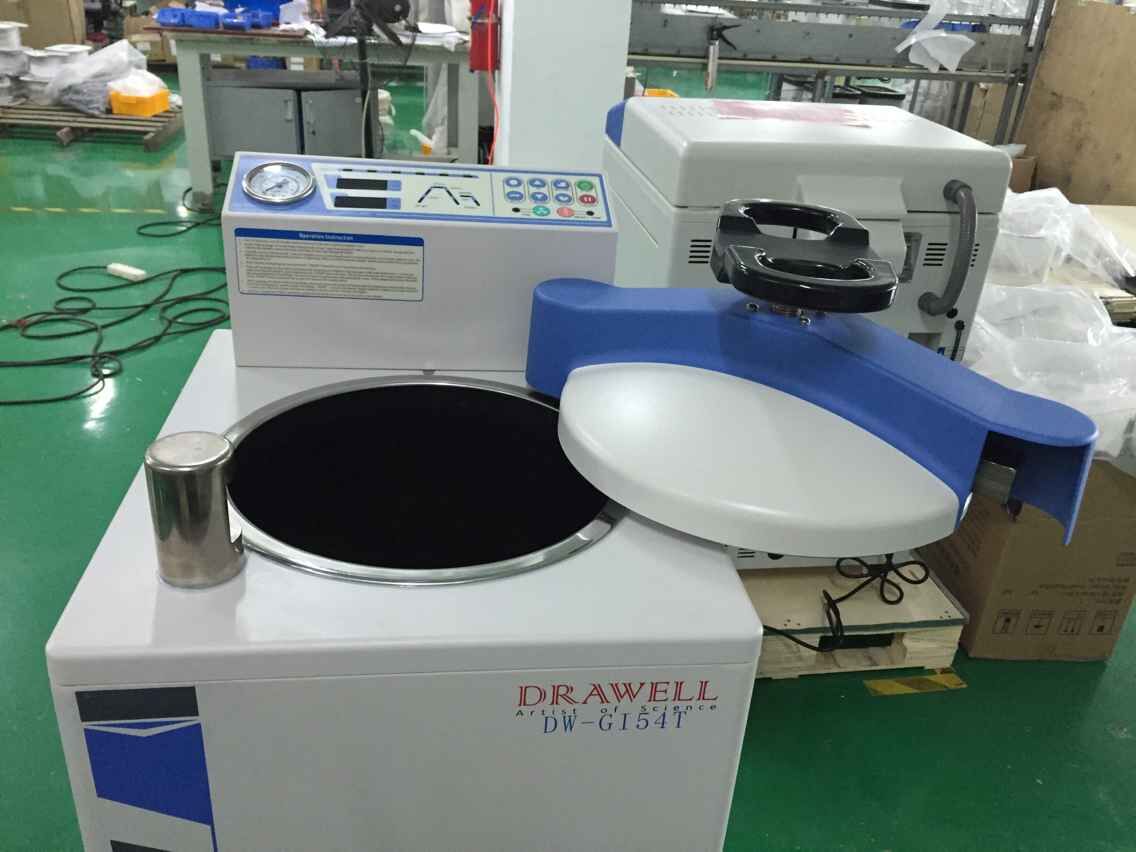 Other Autoclave