DD5-MC/DD6-MC Floortype Refrigerated Centrifuge
DD5-MC/DD6-MC is a model, which compact size and with a large capacity refrigerated function.
Widely used in Hospital, Blood banks, Bio-Chemistry, Bio-pharmaceutical, Scientific research, etc.
Features of DD5-MC/DD6-MC Refrigerated Centrifuge
1. Advanced CPU control system:
Can more accurately control speed, time, and relative centrifuge.
2. Maintenance-free AC variable frequency motor:
Centrifugal speed and force step increase adjusted to 10rpm/10±g.
Time control: 0-99 minutes, accuracy ±1 second.
3. Stainless steel cavity & Sturdy structure:
Suitable for continuous use, inflatable spring, easy-open lid, the auto-locking lid to ensure safety.
4. Advanced electronic imbalance detection system:
Monitor the centrifuge process in real-time to ensure a safe operation.
5. Super-hard aluminum alloy rotor: With sealing performance and unlimited high-temperature sterilization resistance.
6. False alert: When the operation is over, or there is an error/imbalance, the sound signal prompts and the operation stops at the same time.
7. Lid open programmable, motorized, Lid dropping protection.
8. Manual emergency lid release: Very useful in unexpected power interruption; Can't run when the lid is open, nor open the lid when rotor runs.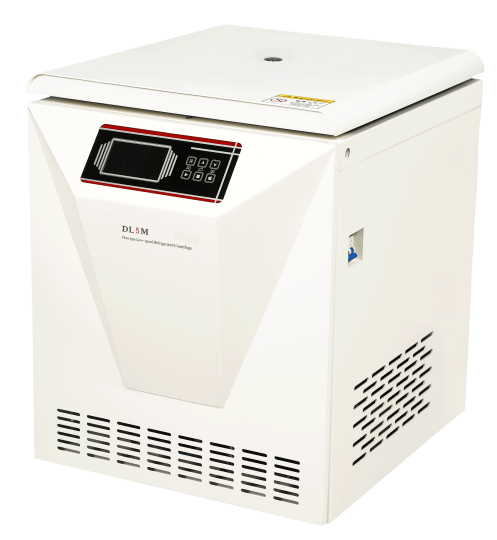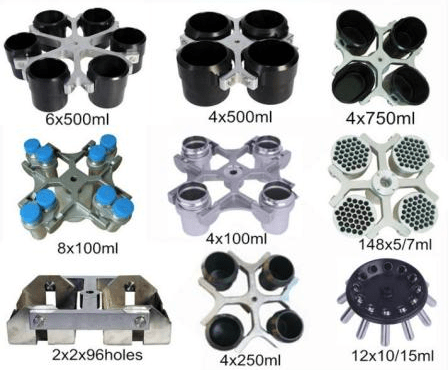 Technical Parameters of DD5-MC/DD6-MC Centrifuge
Model

DD6-MC

DD5-MC

Max Speed

6000r/min ±10rpm

5000r/min

±10rpm

Max RCF

5120×g

4390×g

Max Capacity

6×500ml

Temperature Range

-20℃~+40℃

±1℃

Timer

0~99min

Noise

≤60dB(A)

Motor

Converter motor

Power Supply

AC220V & 110V50Hz 5A

Dimension

800×600×825mm(L×W×H)

Weight

150kg
Rotors
Rotor No.

Capacity

Max Speed

Max RCF

No.1 AR

12×15/10ml

6000 r/min

6680 xg

No.2 SR

4×750ml

4000 r/min

4390 xg

4×500ml

4000 r/min

3500 xg

No.3 SR

4×250ml

4000 r/min

3600 xg

No.4 SR

6×300/250ml

4000 r/min

3940 xg

No.5 SR

6×500ml

4000 r/min

3780 xg

No.6 SR

72×5/7ml

4000 r/min

3440 xg

148×5/7ml

4000 r/min

No.7 SR

2×2×96 holes

4000 r/min

2300 xg

No.8 SR

8×50ml

4000 r/min

3020 xg

24/32×10/15ml

48x7ml

No.9 SR

4×100ml

5000 r/min

4390 xg
Other Floor Ultra Capacity Centrifuge