Veterinary monitors are very popular and used in the pet hospital or at home. Today, this article will introduce you to what veterinary monitors are, types of veterinary monitors, applications of veterinary monitors, and a method to one situation problem while you use the veterinary patient monitor.
What are Veterinary Monitors?
Veterinary monitors detect important parameters such as the pet's ECG signal, heart rate, blood oxygen saturation, blood pressure, respiratory rate, and body temperature. Before the operation, it can provide detailed body assessment data for the sick animals, and evaluate the pet's cardiopulmonary function, hemodynamic status, and internal and external temperature. The veterinary patient monitor can also ensure the safety of animals during anesthesia operations.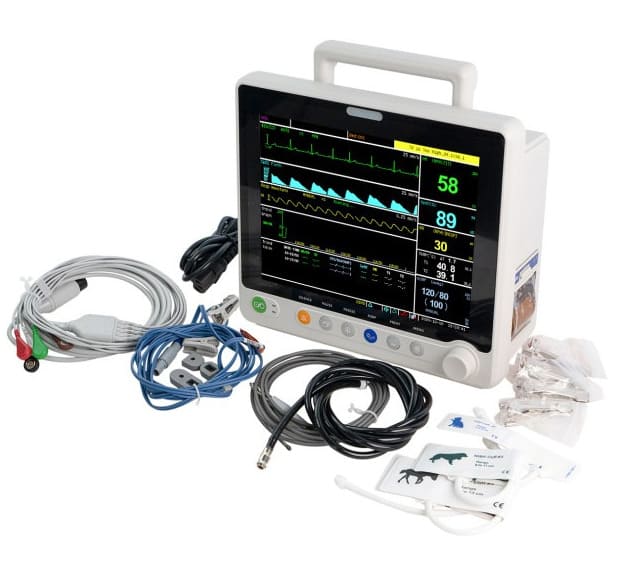 Applications of Veterinary Monitors at Drawell
Here are four types of Drawell veterinary monitors. The veterinary patient monitor includes uPM60V Veterinary Pulse Oximeter, VS2000V Veterinary Vital Signs Monitor, PM6000V Veterinary Pulse Oximeter, and UT710V Veterinary Infusion Pump.
1. Clinical Applications of the Veterinary Monitors
It are mainly used for animals. The vet patient monitor is one of the most commonly used clinical equipment in pet hospitals. This part will introduce you to clinical applications.
2. The veterinary patient monitor can be used in the checkroom.
In the process of clinical examination, the vet patient monitor can be used as a portable electrocardiogram machine for preliminary diagnosis of the heart.
3. The veterinary patient monitor can be used in the recovery room.
The vet patient monitor is used for animals waiting to wake up after surgery, animals that need monitoring after surgery, animals that are in critical condition, and animals that need real-time monitoring of parameters such as blood oxygen and heart rate.
4. Veterinary monitors can be used for home monitoring.
For elderly animals, and animals with serious diseases, the health status of animals can be monitored at home anytime and anywhere if you have a veterinary patient monitor.
5. Veterinary monitors can be used outdoors.
Some veterinary monitors are portable. The veterinary patient monitor can be applied not only to small animals but also to large animals, making it easier to monitor the health of large animals in real time.
What to Do When the Blood Oxygen Saturation Alarm Is Abnormal?
When the blood oxygen saturation alarm of the veterinary patient monitor is abnormal, you can do as follow:
1. First check whether the position of the blood oxygen clip is correct, and whether there are any interference factors such as falling off. (under anesthesia, the tongue of the animal is first measured, and if it is too thin, a layer of medical gauze can be added)
2. Monitor the pet's circulation and respiration by using veterinary monitors, and confirm the presence of abnormal blood oxygen saturation. (short-term blood oxygen loss or sudden drop due to movement or probe displacement is a reasonable phenomenon, please ensure that the animal's blood oxygen monitoring returns to normal after reset)
3. Adjust the oxygen flow rate of the ventilator, remove respiratory secretions, and keep the airway unobstructed.
4. If not relieved, notify the attending physician immediately, make preparations for rescue, and correct hypoxemia.
5. Closely observe the changes in the condition of the animals and monitor the improvement of blood oxygen saturation by veterinary monitors.
The application of the veterinary patient monitor is to help animal doctors do their work better. Each veterinary patient monitor has detailed instructions for use. Please read it carefully before using it correctly.
Drawell focuses on the field of monitoring and integrates R&D, production, and sales. Products include veterinary monitors, OEM veterinary monitors, oximeters, etc. The products cover a variety of fields, including medical monitoring, veterinary equipment, and so on. All products are high quality at factory price. Besides, Drawell can provide instant delivery and after-sale service.
Other Products Recommendation