LCD Digital 7 Magnetic Hotplate Stirrer MS7-H550-Pro
7-inch square hotplate magnetic stirrers are widely used in chemical synthesis, physical and chemical analysis, bio-pharmaceuticals, and other fields.
PID temperature technology precisely controls the heating process, rapidly reaches the target temperature, and enhances control accuracy, heating temperature up to 550°C.
DLAB 7-inch square magnetic stirrers have glass ceramic plates extremely resistant to corrosion and easy to clean. The heating models are suitable for external temperature sensor PT1000, display, and control actual medium temperature.
Features
LCD display for precise monitoring of speed and temperature.
Built-in PID controller ensures safe heating of the medium with overheating protection
Max. heating plate temperature 550°C.
Glass ceramic work plate provides excellent chemical resistant performance and the most efficient heat transfer.
External temperature control is possible by connecting the temperature sensor(PT1000) with an accuracy of ±0.2°C.
Digital speed controlling, max. speed at 1500rpm.
An outstanding brushless DC motor enables more stirring power.
Two rotating knobs enable easy adjustment of speed and temperature.
The "HOT" warning will flash when the work plate temperature is above 50°C even when the hotplate is turned off.
The remote function provides PC control and data transmission.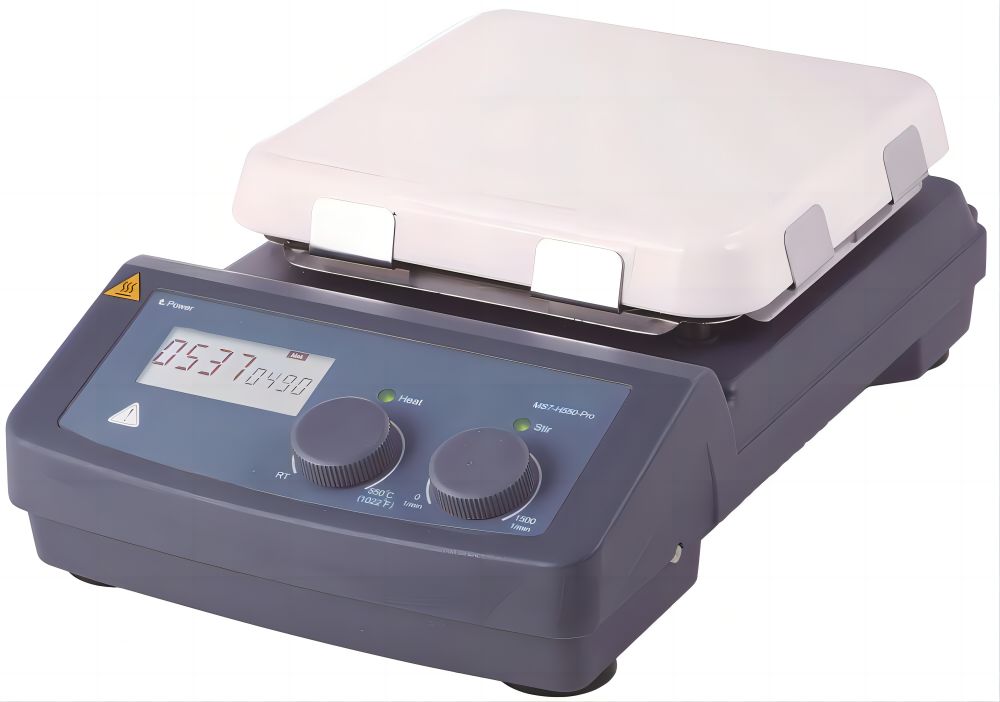 Specifications
| | |
| --- | --- |
| Specifications | MS7-H550-Pro |
| Work plate Dimension [W x D] | 184x184mm (7 inches) |
| Work plate material | Glass ceramic |
| Motor type | Shaded pole motor |
| Motor rating input | 15W |
| Motor rating output | 1.5W |
| Power | 1030W |
| Heating output | 1000W |
| Voltage | 100-120/200-240V 50/60Hz |
| Stirring positions | 1 |
| Max. stirring quantity, [H2O] | 10L |
| Max. magnetic bar[length] | 80mm |
| Speed range | 0-1500rpm |
| Speed display | Scale |
| Temperature display | LED |
| Heating temperature range | Room temp.-550°C, increment 5°C |
| Temperature control accuracy | ±10°C |
| Overheating protection | 580°C |
| Temperature display accuracy | ±1°C |
| External temperature sensor | PT1000 (accuracy ±0.2) |
| "Hot" warning | 50°C |
| Protection class | IP21 |
| Dimension [WxDxH] | 215x360x112mm |
| Weight | 4.5kg |
| Permissible ambient temperature and humidity | 5-40°C, 80%RH |