1200°C Chamber Muffle Furnace STM-12
Integrated Structure with elegant design.
Chamber Materials: Vacuum-forming ceramic fiber, which has the advantage of no powder drops off at high temperature, and saving energy more than 50%.
SHIMADEN (Japan) Microprocessor-based self-tuning PID control provides optimum thermal
Long life type N thermocouple.
CE compliant.
Built-in RS485 port and USB adaptor as optional settings for computer control. It needs to add extra fees.
Features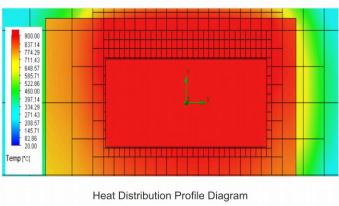 Specifications
Model
STM-1-10
STM-3-12
STM-6-12
STM-8-12
STM-12-12
STM-18-12
STM-30-12
OEM
Inner Dimmensin (WxDxH)mm
100x100x100
150x150x150
180x230x150
200x300x120
200x300x200
250x300x250
300x500x200
Any size
Outer Dimension (WxDxH)mm
250x240x350
430x465x620
460x570x660
480x630x630
480x630x710
550x635x780
600x870x735
Type
Benchtop
Furnace structure
Alumina Ceramic Chamber, Temperature control system, Heating element, Furnace shell, Main Electric Parts, and other relative accessories.
Max temperature
1000℃
1200℃
Continue Temp.
950℃
1100℃
Power Supply
220V/1.2KW
220V/2.5KW
220V/3KW
220V/3KW
220V/4KW
220V/6KW
380V/7.5KW
Heating Element
High quality alloy resistance wire (HRE)
Chamber Material
High temperature polycrystal alumina ceramic fiber plate
Temp Precision
±1℃
Thermocouple
N type
Temp controller
SHIMADEN (Japan) brand intelligent microcomputer PID controller can program 4 groups 32 segments
Electronic Parts
SCHNAIDER (France ) electronics brand
Heating rate
≤ 25℃/min ( suggest 15-20℃/min for longer life using of furnace )
Safety protection
Overheat and Thermocouple-break Alarm
Certification
ISO9001 /CE/ SGS
Furnace shell
High quality cold-rolled steel sheets CNC processing
Insulation
High quality thermal insulation material to ensure a good uniformity
Standard Packing
One pair of high temperature gloves , One pc crucible tong , one catalog and operation manual
Optional
Paperless recorder , Stainless steel exhaust chimney , Quartz /Alumina crucible