Lab Blenders Stomacher DW-09
Germfree Homogenizer, also known as flap homogenizer, is widely used in the homogenization treatment for animal tissue and biological samples, also used for the following testing areas: food, pharmaceutical, cosmetics, clinics molecule, toxins, and bacteria, particularly suitable for preparation of micro-organism testing samples.
The device is made of stainless steel and can effectively separate the surface of a solid sample from a sample with germs inside. The samples are packed in germ-free disposable homogenization bags, and thus are in no contact with any parts of the instrument. It has such features as soft homogenization, no pollution, no damage, no temperature rise, no sterilizing treatment, no need to wash the utensils. so as to meet the requirements for being fast, accurate and repeatable. This product is also suitable for homogenizing tumor tissues( such as liver, intestines cancer, stomach cancer, breast cancer) not only can obtain large numbers of single cells(2×105 within 2 minutes) but also crush tissues cells (such as liver cells)more gently.
Specifications of the Lab Blenders Stomacher
| | |
| --- | --- |
| Model | DW-09 |
| Timing | 0.1 ~ 99min(to 0.1mins step) |
| Rap Speed | 3~12times/Sec(to 0.1minutes step)Display the actual rattling number, the system |
| Capacity | 3-400ml |
| Ratting Box | Stainless Steel |
| Parameter storage | 1More than 10 groups of multi-stage programming |
| Power | 300W |
| Display | Digital |
| Temperature control | NO |
| UV Disinfection | NO |
| Sterile bag | 17*30cm |
| Net Weight | 18.5Kg |
| Protection Device | With auto-stop anti-trap feature, Removable windows and adjustable slap board, toughened glass security door |
| Dimensions | 420*245*340mm |
Product Display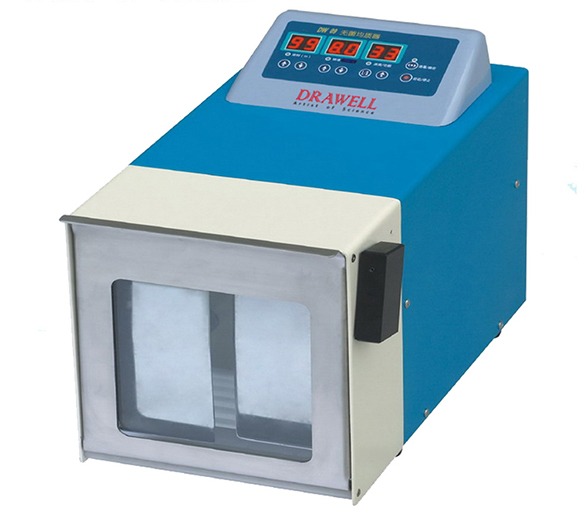 Other Homogenizer