High & Low Speed Refrigerated Centrifuge TGD-22MC
Drawell TGD-22MC can meet high-speed centrifuge and 4*750 large capacity low-speed centrifuge. It has fast speed up and speeds down functions, the fastest speed-up time is 20 seconds, and the fastest speed downtime is 18 seconds. Not only can high-speed centrifugation, but also low-speed and large capacity centrifugation, one machine multi-function.
Features of TGD-22MC Benchtop High/Low-Speed Large Capacity Centrifuge
Microprocessor control, speed control by frequency-conversion and CFC compressor.
Maintenance-free Frequency-conversion motor without carbon dust pollution.
Both High speed angle rotor and low speed swing rotor can meet different requirement
Safety Interlock system that prevents opening the centrifuge lid during running.
10 programs can be stored, and quickly recall the last used program.
Imbalance sensor, Over speed and over temperature cut off
Easy operation, LCD touch screen, compressor control.
With Emergency lid lock release, in case of power off.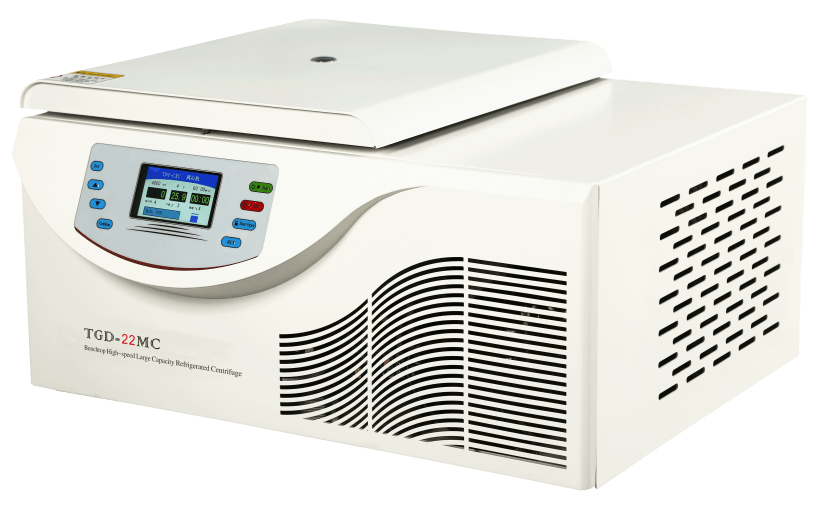 Technical Parameters of Refrigerated Centrifuge TGD-22MC
| | | | |
| --- | --- | --- | --- |
| Model | TGD-22MC | Speed Accuracy | ±50r/min |
| Max Speed | 22000r/min | Timer Range | 0~99min |
| Max RCF | 34700xg | Temp Range | -20℃~﹢40℃ |
| Display | LCD display | Max Capacity | 4×750ml |
| Noise | ≤60dB(A) | Power Supply | AC220v&110V 50Hz 18A |
| Weight | 100kg | Dimension | 656x835x45mm |
Rotor
No.1

Max Speed:22000r/min

Capacity:12×1.5/2.2ml AR

Max RCF:34700xg

No.2

Max Speed:16500r/min

Capacity:8/10/12×5ml

Max RCF:18360xg

No.3

Max Speed:12000r/min

Capacity:12×10ml AR

Max RCF:14800xg

No.4

Max Speed:13500r/min

Capacity:24×1.5/2.2ml AR

Max RCF:17000xg

No.5

Max Speed:13500r/min

Capacity:18×0.5ml AR

Max RCF:17000xg

No.6

Max Speed:14000r/min

Capacity:36×1.5/2.2ml AR

Max RCF:18200xg

No.7

Max Speed:13000r/min

Capacity:6×50ml AR

Max RCF:17940xg

No.8

Max Speed:10000r/min

Capacity:4×100ml AR

Max RCF:9800xg

No.9

Max Speed:4000r/min

Capacity:2×2×48 holes

Max RCF:1760xg

No.10

Max Speed:15000r/min

Capacity:6×30ml AR

Max RCF:23120xg

No.11

Max Speed:13000r/min

Capacity:6×15ml AR

Max RCF:15100xg

No.12

Max Speed:5000r/min

Capacity:12×15/10ml

Max RCF:4390xg

No.13

Max Speed:4000r/min

Capacity:48×10/15/7/5ml SR

Max RCF:3020xg

No.14

Max Speed:4000r/min

Capacity:4×250ml SR

Max RCF:3020xg

No.15

Max Speed:4000r/min

Capacity:6×500ml SR

Max RCF:4390xg

No.16

Max Speed:4000r/min

Capacity:4×500/750ml SR

Max RCF:3600xg
Other Benchtop Refrigerated Centrifuge