Gentier 96 Real-Time Quantitative PCR
Gentier 96E/96R is a real-time fluorescence quantitative PCR detection system tailored to meet the needs of high-end users. The product has many advantages, such as a scientific and efficient temperature control system and photoelectric system, powerful and easy-to-use software analysis function, humanized control mode, etc., and can easily realize the application of downstream multiple gene detection, quantitative analysis, SNP analysis, fusion curve analysis and so on.
It is widely used in medical institutions, universities and research institutes, CDC, exit inspection and Quarantine Bureau, public security criminal investigation and material evidence identification center, veterinary station, food enterprises and dairy products factories.
Features of Gentier 96 Real-Time Quantitative PCR
The temperature rises and falls rapidly, and the heating rate is more than or equal to 6.1 ℃ / s.
The homogeneity of temperature is ± 0.1℃.
High brightness maintenance-free LED light source, with 6 / 4 fluorescence detection channels, and fast fluorescence scanning.
4-inch full-color touch screen.
The device can run independently without the computer and store more than 1000 times of experimental data.
It has the function of automatically recovering the experiment when the power is off, without waiting for the PC and software to open.
LED-excitation and PD-detection, 7 seconds top optical scanning.
Specifications of the Gentier 96 PCR
Real-Time Quantitative PCR
Gentier 96E
Gentier 96R
Thermal Block
Sample capacity(wells)
96
Reaction Volume
0-100 μL
Consumables
0.2ml 96-well Plates(unskirt);
0.2ml 8-strip tubes ,0.2ml PCR single tube(Optical flat cap,clear,frosted,white tube)
Temperature range
0°C-100°C
Heating/cooling method
Peltier
Max heating rate
6.1°C/sec
Average heating rate
4.5°C/sec
Max cooling rate
5.0°C/sec
Average cooling rate
2.8°C/sec
Temperature accuracy
±0.1℃
Temperature uniformity
±0.1℃
Gradient Range
1°C-40°C
1°C-40°C
Gradient block
12 row
12 row
Special temperature portocol
Gradient PCR, Long PCR, Touch Down PCR
Gradient PCR, Long PCR, Touch Down PCR
Heat Lid
Temperature range
Room Temperature–110°C
Optical System
Excitation Source
6 LEDs
4LEDs
Detector
Photodiode
Detection Position
Excitation and scan at top
Detection method
6 channels scanning at the same time, no edge effect.
Detection time
7 seconds for 96 wells for all channels
Range of
excitation/emission wavelengths
(nm)
1 465 /510 (FAM, SYBR Green I,SYTO9,EvaGreen,LC Green)
2 527/ 563 (HEX,VIC,TET,JOE)
3 580 /616 (ROX, Texas Red)
4 632/ 664( Cy5)
5 680 /730 (Alexa Fluor680)
6 465 /616 (FRET)
1 465 /510 (FAM, SYBR Green I,SYTO9,EvaGreen,LC Green)
2 527/ 563 (HEX,VIC,TET,JOE)
3 580 /616 (ROX, Texas Red)
4 632/ 664( Cy5)
Probe
Taqman Probe, Molecular beacons probe, Scorpion probe, FRET
Taqman Probe, Molecular beacons probe, Scorpion probe
Multiplexing
Up to 6 targets
Up to 4 targets
Fluorescence Linearity
r≥0.990
Fluorescence Dynamic Range
Adjustable
Performance
Sample Linearity
/r/≥0.999
Sample repeatability
Ct value CV≤0.5%
Sample Dynamic Range
1-1010 copies
Software Functions
Data Analysis modes
Qualitative analysis, Absolute quantification, Relative quantification, Genotyping analysis, Endpoint analysis, Melt curve analysis, High-Resolution Melting
Control modes
1.10.4′ touch screen
2. PC direct control
3. WLAN control(One PC can control max 10 units, and the device can be controlled by any PC in the WLAN)
Sample Drawer
Touch screen commend
Data Storage
Upload and download through USB disk,1000 results can be stored in the machine
Power failure protection
Automatically start running experiments after power supply, no need to wait for PC software
Customize Report
Templates reserved, the report can be customized
Administration Management
The administrator can set functions limits for users
Transport Locker
Automatically detect transport locker
Fault Management
Fault report and analysis, solution instruction
LIS connection
CSV,Excel,TXT format data output,open port for LIS connection
Others
PC operating system
Win 7, Win 10
Communication Port
1 ethernet and 3 USB
Footprint(WxDxH)
355mm X 480mm X 485mm
Weight
30kg
Power usage
AC 100 to 125 V / 200 to 240 V (50/60 Hz).
power consumption
900VA
Work environment
Tempereture:10°C~30°C Humidity:20%~85%
Gentier 96 PCR Display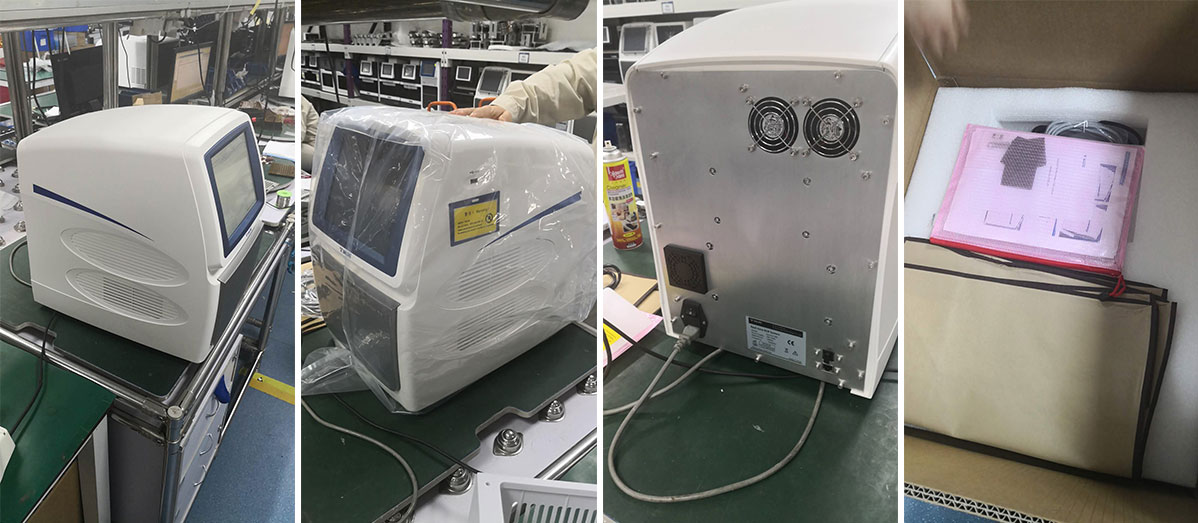 Other PCR