Portable Real-Time PCR System Gentier-Mini
The latest design for mobile laboratories, small laboratories, or field testing. Portable Real-Time PCR is widely used in food safety, infectious disease prevention, and control, scientific research, animal diseases, environmental monitoring, etc.
Features of Portable Real-Time PCR :
Thoughtful design
Compact size, 3.2kg, hand-held, easy to carry.
7-inch high-definition LCD touch screen, for your smooth operating experience.
Patented design, no need for fluorescent calibration after moving.
Instant power failure protection, seamless automatic recovery of the operation, and no fear of unexpected situations.
High efficiency testing
16-well dual-color fluorescence scanning within 1 second, to fight for your results against time.
Independent temperature control module, supporting touchdown PCR, long-range PCR, qualitative and quantitative, melting curve, SNP site analysis, etc.
The software analysis function is powerful, to meet the diverse testing needs of customers in various fields!
Easy to operate
Special shortcut mode, preset programs for convenient and fast testing.
Various ways to stay online: Internet interface, USB, WiFi.
It can directly analyze the data in the stand-alone state, and the results are printable immediately after connecting to the printer.
Various control modes including stand-alone, PC, and table for the applications of multiple scenarios.
Specifications of the Portable Real-Time PCR
Sample Throughput

16

Fluorescence Channels

2

Suitable Consumables

0.2mL transparent single tubes and 8-strip tubes

Compatible Fluorophores

Channel1:FAM,SYBRGreenⅠ,SYTO9,EvaGreen,LCGreen

Channel2:HEX,VIC,TET,JOE

Heating Rate

Average heating rate of 3.3℃/s; maximum heating rate of 5.0℃/s.

Cooling Rate

Average cooling rate of 3.0℃/s; maximum cooling rate of 4.0℃/s.

Temperature Accuracy

≤0.1℃

Light source

High-brightness, long-life, maintenance-free LED light source

Detection Duration

Fluorescence channel information acquisition within 1 second for all holes.

Temperature- Controlled

Programs

Supporting conventional PCR, touchdown PCR, long-range PCR, etc.

Hot Lid Temperature

40℃-110℃

Software Analysis

qualitative analysis, absolute quantitative analysis,

relative quantitative analysis,

endpoint fluorescence analysis,

dissociation curve analysis, and SNP analysis, etc.

Disisplay

7-inch full-color HD LCD capacitive touch screen

Control Methods

Model 1: touch-screen of Gentier-Mini, with at least 1000 times storage data stand-alone.

Model 2: computer software

Model 3: remote control via tablet

Result Analysis

The results can be analyzed directly on Genter-Mini and can be printed out directly when connected to a thermal printer.

The results can also be analyzed through PC software depending on your preference.

Network Connection

Internet interface, USB, WiFi

Power Failure Protection

Instant power failure protection seamless automatic recovery of the experiment when restarted.

Specifications and Weight

205mm(L)*156mm(W)*153mm(H)); 3.2kg
Portable Real-Time PCR Display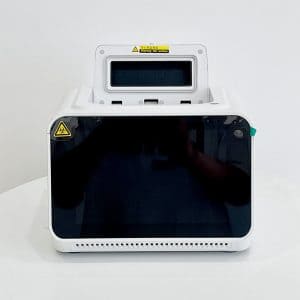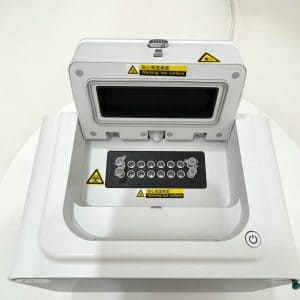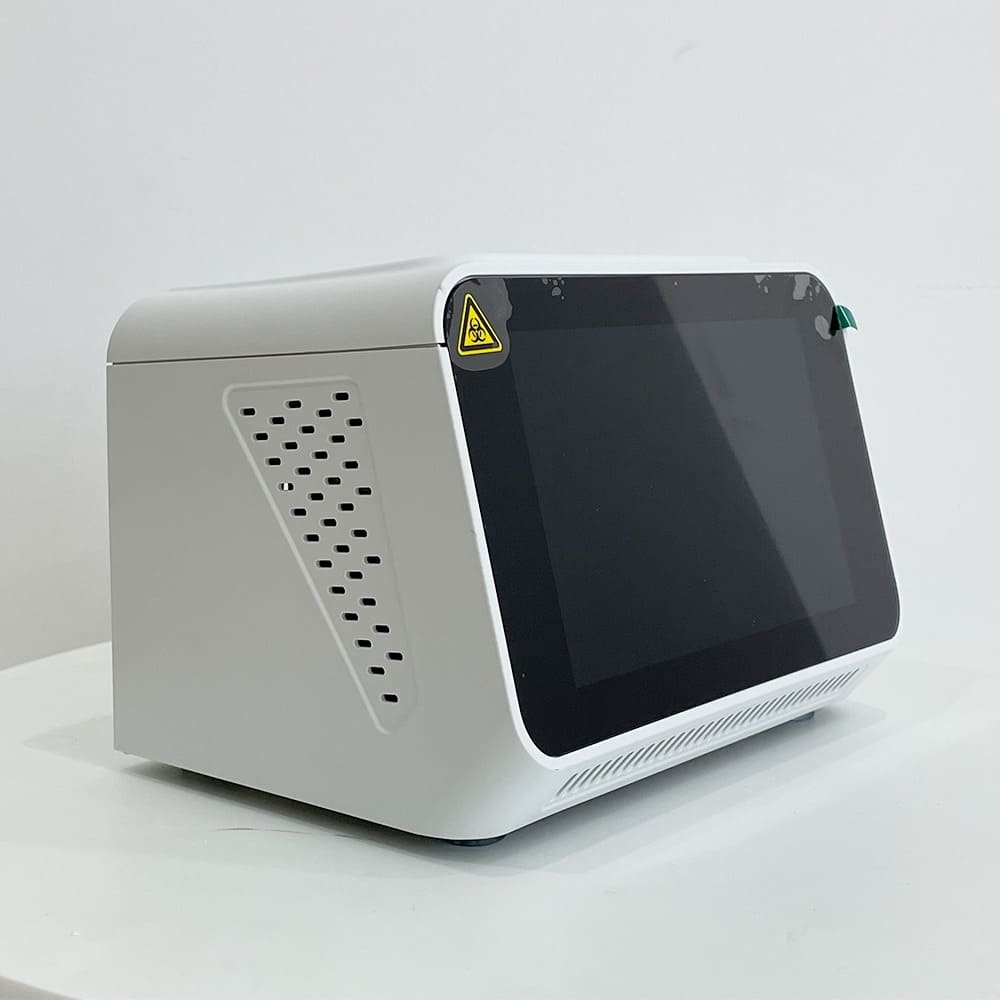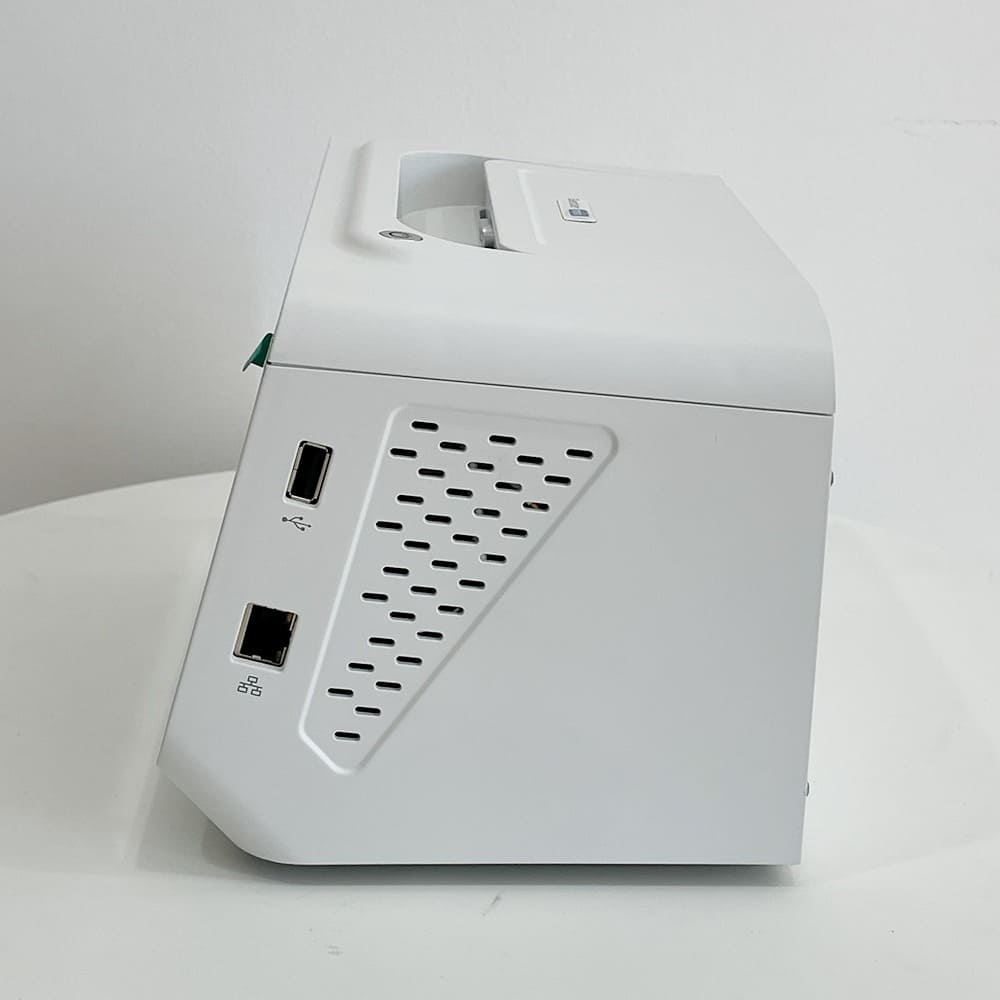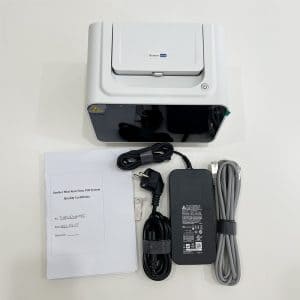 Other PCR Thermal Cycler