What is Muffle Furnace?
Muffle furnace is a kind of high-temperature furnace, box type, resistance wire hide in the box body, casing wall thickness, with thermal insulation material, the temperature may rise to 1200 degrees, often used in muffle furnace alkali melt some of refractory metals and minerals, and the analysis of the weight method, the filter paper flameless driven ashing, burning decomposition of organic matter, inorganic matter in can volatiles, etc. Muffle furnace is a new generation of energy-saving intelligent products with high performance and mechatronics.
According to the heating element, it can be divided into electric furnace wire muffle furnace, silicon carbide rod muffle furnace, or silicon molybdenum rod muffle furnace; According to the rated temperature, it is generally divided into 900-degree muffle furnace, 1000-degree muffle furnace, 1200-degree muffle furnace, 1300-degree muffle furnace, 1600-degree muffle furnace, and 1700-degree muffle furnace. According to the controller, there are mainly the following types: ordinary digital display table, pointer table, PID adjustment control table, and program control table; according to the insulation material, there are two types: ordinary refractory brick and ceramic fiber.
Features of Muffle Furnace
One-piece design, several sets of data shown on a big LCD screen, an easy operator with an elegant appearance.
PID high precision temperature control, zero power loss.
Imported HRE ultra‐temperature alloy heating element, long life, and energy‐efficient.
Short temperature rising time, from indoor temperature to 1200℃ takes less than 30 minutes.
Little thermal pollution, a new type of ceramic fiber insulation material. When the temperature reaches 1000℃ and after lasting 1 hour, the temperature of the shell is not so hot (about 50℃).
Several temperature controllers for customers to choose from. Little temperature fluctuation after going into the hold mode (temperature precision ±1℃, temperature uniformity ±5℃).
TP type step multiplex temperature controller, rise and fall slope can be preset.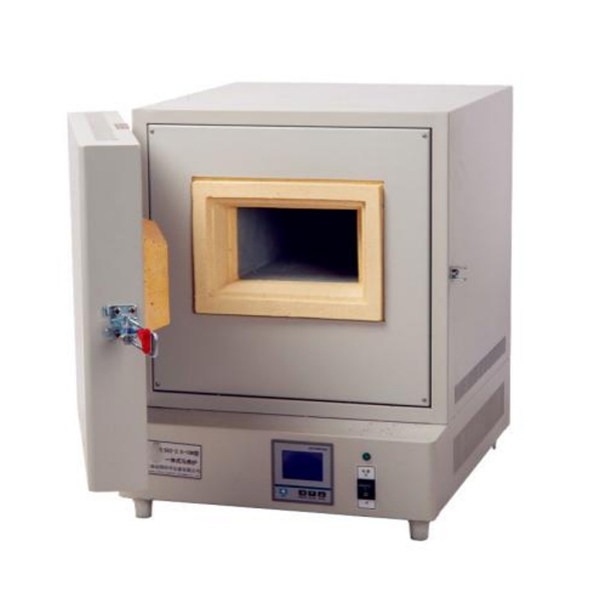 Applications of Muffle Furnace
Thermal processing, industrial workpiece processing, cement, building materials industry, thermal processing, or treatment of small workpieces.
Pharmaceutical industry: used for drug inspection, pretreatment of medical samples, etc.
Analytical chemistry industry: as sample processing in water quality analysis, environmental analysis, and other fields. It can also be used for petroleum and its analysis.
Coal quality analysis: used to determine moisture, ash, volatile content, ash melting point analysis, ash composition analysis, and elemental analysis. It can also be used as a general-purpose ashing furnace.

Specifications of the Muffle Furnace
Model

1.5‐10T/TP

2.5‐10T/TP

4‐10T/TP

8‐10T/TP

16‐10T/TP

Image

Power

1.5KW

2.5KW

4KW

8KW

16KW

Temperature rising time

RT+10~1000

<30min

RT+10~1000

<30min

RT+10~1000

<30min

RT+10~1000

<30min

RT+10~1000

<40min

Type of heating element

Resistance wire

Resistance wire

Resistance wire

Resistance wire

Resistance wire

Furnace dimension W×D×H(mm)

120×200×80

200×300×120

200×300×200

300×400×300

400×500×400

Overall dimension W×D×H(mm)

430×605×590

510×705×705

530×715×690

700×860×860

800×960×960

Nominal capacity

1.9L

7.2L

12L

36L

80L

Model

1.5‐12T/TP

2.5‐12T/TP

4‐12T/TP

8‐12T/TP

16‐12T/TP

Image

Power

1.5KW

2.5KW

4KW

8KW

16KW

Temperature rising time

RT+10~1200

<30min

RT+10~1200

<30min

RT+10~1200

<30min

RT+10~1200

<30min

RT+10~1200

<40min

Type of heating element

Resistance wire

Resistance wire

Resistance wire

Resistance wire

Resistance wire

Furnace dimension W×D×H(mm)

120×200×80

200×300×120

200×300×200

300×400×300

400×500×400

Overall dimension W×D×H(mm)

430×605×590

510×705×705

530×715×690

700×860×860

800×960×960

Nominal capacity

1.9L

7.2L

12L

36L

80L
Muffle Furnace Display

Other Products Recommend