Horizontal Shaking Incubator
The horizontal Shaking Incubator is a special constant temperature culture device for the cultivation and breeding of molds and microorganisms. It is especially suitable for scientific research and production in the fields of bioengineering, chemical engineering, medical research, agriculture and forestry sciences, aquatic products, animal husbandry, and environmental protection.
Features of Horizontal Shaking Incubator
Integrated with incubator and shaker to save space and cost with tempered glass window.
The shell is made of a high-quality steel plate, and the mirror stainless steel chamber assembly.
large LCD display to display temperature and shaking velocity.
With easy operations of storage function of working parameters.
Auto-recovery after power interruption as originally programmed.
Auto-stop protection to keep samples safe when the door is opened. Strong air spring rod with easy opening and closing.
Brushless DC motor, more stable and reliable
Equipped with leakage protection.
Specifications of the Horizontal Shaking Incubator
Model
DW-SI-211B
DW-SI-111B
DW-SI-211C
DW-SI-111C
Shaking Speed
20-300rpm
Speed Precision
±1 rpm
Oscillation Amplitude
φ26mm
Standard Configuration for Flasks
500ml×28
2000ml×12
Max. Volume
250ml×36,500ml×28,1000ml×18
1000ml×18,2000ml×12,3000ml×8,5000ml×6
Tray Size(mm)
920×510
Timing Range
0-999h
Temperature Range
4~60℃
RT+5~60℃(RT:25℃)
4~60℃
RT+5~60℃(RT:25℃)
Temperature Precision
±0.1℃(constant temperature)
Temperature Precision
±1℃
Outer Size(cm)
120×74×80
120×74×100
N.W

(

kg

)

174
160
183
168
Chamber Volume (L)
970×565×280(155L)
970×565×480(265L)
Power Consumption
866W
570W
951W
676W
Power Supply
AC220V ±10% 50~60HZ
Horizontal Shaking Incubato Display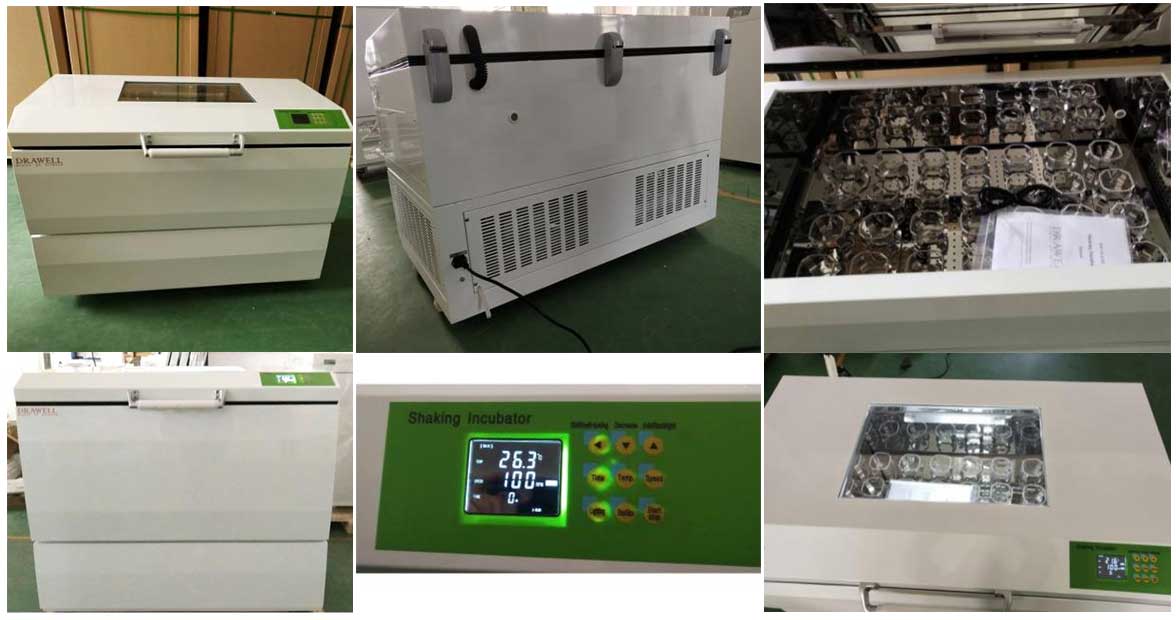 Other Shaking Incubator