Introduction of Precision Balance (1mg)
In the weighing industry, we define precision balances as "a balance used to weigh quantities to a very precise number, usually up to one milligram". They're sometimes referred to as "top loading balances". Precision balances are available in a wide range of capacities, from several hundred grams up to kilograms. They're not as precise as analytical balances, but more precise than the average bench or compact scale. Also, precision balances have a higher capacity than analytical balances, but lower readability. Highly precise laboratory balances for measuring mass, typically designed with an enclosed measuring pan to avoid the influences of dust and air currents; may include vibration resistance, data transfer, automation, and capacity range options.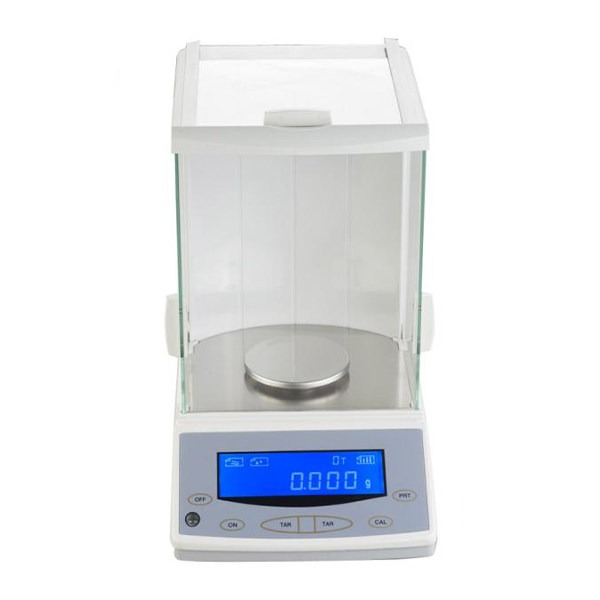 Features of the Precision Balance (1mg)
1. Electromagnetic Force Compensation Technology.
2. Aluminum Alloy die cast base and ss platter.
3. Super Bright LCD display with backlight.
4. RS232C Interface.
5. Clear Glass Windshield as standard
6. Overload protection, Bubble Level Adjustment, Under hook.
7. Full capacity Subtraction.
8. Multi Weighing unit conversation g/mg/ct/oz.
9. Stabilization Time, 1.5 seconds.
10. Check Weighing, Parts Counting, and percentage weighing.
11. Universal power adaptor supplied as standard.
12. Certificated calibration weight supplied as standard
13. Internal calibration or external calibration for your choice.
14. Density function for choice.
Application of Precision Balance (1mg)
Precision balances have many uses throughout various industries. precision balances are used in various laboratories and chemistry applications, and are a common sight in labs for use in anything from advanced physics classes to biology research. Precision balances are often used in the medical and pharmaceutical fields, where their higher readability and capacity is helpful for weighing test samples, equipment and chemicals, including blood packs medicines.Production is another industry where precision scales are used frequently, as are industrial and manufacturing operations since they can precisely calculate the weight of materials used in lubricants and oils. They can also be used in the jewelry industry for weighing gold, gems and other precious metals and stones.

Specification of the Product
(1)DT-A series
Model

DT1003A

DT2003A

DT3003A

DT4003A

DT5003A

DT6003A

Picture

Capacity:

0-100g

0-200g

0-300g

0-400g

0-500g

0-600g

Cal.weight

Internal Calibration

Readability:

1mg

Linearity:

±2mg

Repeatability:

±2mg

Pan size:

Φ90mm

Output Interface:

RS232

Dimensions:

340mm x 215mm x350mm

Net Wight:

6800g

Power Supply

Adaptorsupplied universal de la energía AC110-240V
(2)DT series
Model

DT1003

DT2003

DT3003

DT5003

DT6003

DT10003

Picture

Capacity:

0-100g

0-200g

0-300g

0-500g

0-600g

0-1000g

Cal.weight

External Calibration

Readability:

1mg

Linearity:

±2mg

Repeatability:

±2mg

Pan size:

Φ90mm

Output Interface:

RS232

Dimensions:

340mm x 215mm x350mm

Net Wight:

6800g

Power Supply

Adaptorsupplied universal de la energía AC110-240V
Product Display