JY92-IIN JY92-IIDN Ultrasonic Homogenizer
Ultrasonic cell pulverizer (also called ultrasonic breaker, ultrasonic emulsification machine) is a multi-functional and multi-purpose instrument that uses ultrasonic waves to generate cavitation effects in liquids; it can be used for a variety of cells, bacteria, viruses, and animal and plant tissues At the same time, it can be used for emulsification, separation, homogenization, extraction, defoaming, cleaning, preparation of nanomaterials, dispersion and acceleration of chemical reactions. Widely used in biology, medicine, agronomy, chemistry, material science, pharmacy, and other fields.
Feature
Complete functions, novel appearance, and reliable performance.
Large LCD screen display and concentrated control by a central computer.
The ultrasonic time and power can be set accordingly.
Sample temperature display, actual frequency display, computerized tracking, and automatic trouble warning can all be displayed.
7' TFT Touch display.
Frequency automatic tracking.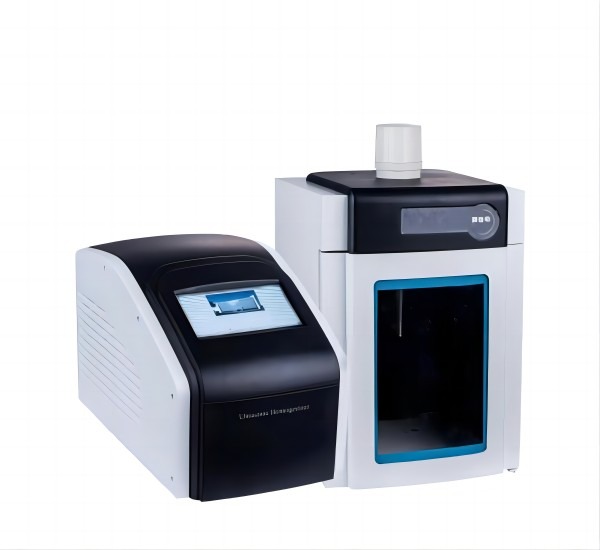 Main Technical Parameters:
| | | |
| --- | --- | --- |
| MODEL No | JY92-IIN | JY92-IIDN |
| Frequency | 20-25KHz auto tracking | 20-25KHz |
| Power | 650W (1%- 100%) | 900W (1%- 100%) |
| Display | 7" TFT Touch display | 7" TFT Touch display |
| Temperature alarm range | 0-99.9C | 0-99.9C |
| Timer | 0-999 minutes | 0-999 minutes |
| Accessories (Φ) | Ф6mm | Ф6mm |
| Working method | Interval /continue | Interval /continue |
| Alarm items | Time, temperature, overload | Time, temperature, overload |
| Optional Tip (Φ) | Ф2mm, 3mm, 10mm | Ф2mm,3mm,10mm,12mm,15mm |
| Crushing Capacity | 100μl -500ml | 100μl -600ml |
| Duty Ratio (%) | 0.1-99% | 0.1-99.9% |
| Supply | 220/110V 50Hz/60Hz | 220/110V 50Hz/60Hz |
| Host size& weight | 430mm*245mm*300mm &9.5Kg | 430mm*245mm*300mm &9.6Kg |
| Sound chamber size &weight | 345mm*345mm*535mm &12kg | 345mm*345mm*535mm &12kg |