DW – LDO-A Series Forced Air Drying Oven
Features of DW – LDO-A Series Forced Air Drying Oven
Horizontal and vertical forced air type, good temperature uniformity.
Microprocessor controller (with temperature correction and timing function), accurate and reliable.
Large LCD screen display.
High quality stainless steel chamber, removable shelf, easy-to-clean.
Silicon sealing ring for reliable sealing.
Equipped with leakage protection.
Equipped with spare temperature control. Ensure it works normally when the main temp. control failed.
Anti-hot handle.
Technical Parameters of DW – LDO-A Series Forced Air Drying Oven
Temp. Fluctuation:±1℃.
Temp. Uniformity:±2.5℃%.
Temp. Resolution:0.1℃
Timer:1~9999min
Optional Parts
Multi-segment programmable control
Built-in Printer
RS485 interface
Specifications of DW – LDO-A Series Forced Air Drying Oven
Model
Volume (L)
Chamber Size (W×D×H)cm
Power Rating(W)
Temp.Range(℃)
Shelf/Max
Net/Gross(kg)
Power Supply
Shape
DW-LDO-9023A
25
30×30×28
320
RT+5~200
44961
29/36
AC 220V 50HZ
Horizontal
DW-LDO-9053A
54
42×37×35
600
44962
35/43
DW-LDO-9123A
138
50x50x55
120
44992
45/55
DW-LDO-9203A
252
60×60×70
1600
44995
60/69
DW-LDO-9030A
31.5
30×30×35
700
44962
29/37
Vertical
DW-LDO-9070A
72
40×40×45
1000
44964
45/52
DW-LDO-9140A
136
45×55×55
1600
44993
45/56
DW-LDO-9240A
225
50×60×75
2000
44996
62/70
DW-LDO-9420A
429
60×55×130
2600
45022
130/153
AC 380V 50HZ
DW-LDO-9620A
624
80×60×130
3600
45052
168/186
DW-LDO-9036A
31.5
30×30×35
950
RT+5~300
44962
29/37
AC 220V 50HZ
DW-LDO-9076A
72
40×40×45
1400
44964
40/50
DW-LDO-9146A
136
45×55×55
2000
44993
45/56
DW-LDO-9246A
225
50×60×75
2600
44996
62/70
DW-LDO-9426A
429
60×55×130
3500
45022
130/153
AC380V 50HZ
DW-LDO-9626A
624
80×60×130
5700
45052
168/186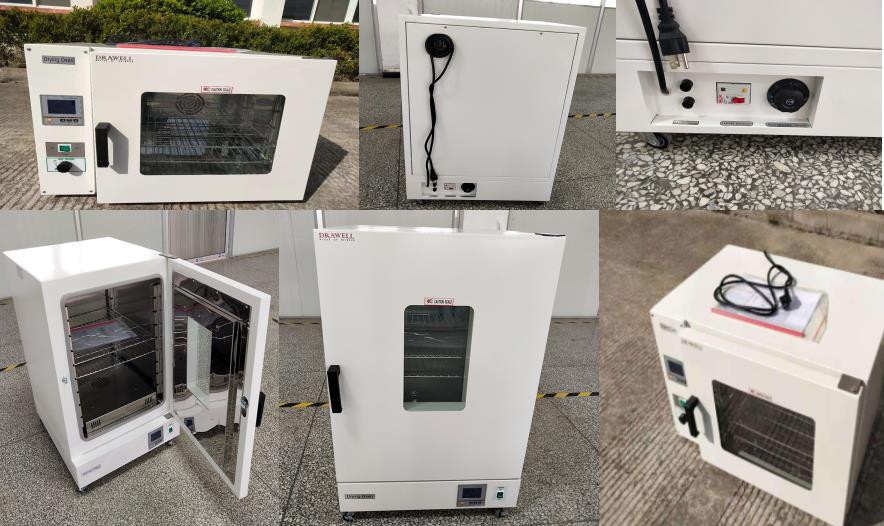 Reviews of DW – LDO-A Series Forced Air Drying Oven