Classic Magnetic Hotplate Stirrer MS-H-Pro+
340°C magnetic hotplate stirrers are widely used in chemical synthesis, physical and chemical analysis, bio-pharmaceuticals, and other fields.
PID temperature technology precisely controls the heating process, rapidly reaches the target temperature, and enhances control accuracy, heating temperature up to 340°C. Stainless steel with ceramic coated hotplate resists corrosion, also with good uniformity of heating. The hotplate models are suitable for external temperature sensor PT1000, display, and control actual medium temperature.
MS-H-Pro+ with external temperature sensor PT1000stainless steel and ceramic coated hotplate
Features
External temperature sensor PT1000 is available for hotplate model, real-time controls medium temperature.
Simple running interface easy to use and program. Automatically identify temperature sensor PT1000 and transfer to PT1000 operation mode. Record and display the last running parameter when switching on.
LCD display target and actual temperatures, as well as set and actual speed, can be displayed.
PID temperature technology precisely controls the heating process, rapidly reaches the target temperature, and enhances control accuracy.
Brushless DC motor maintenance free and explosion-proofed, accurately controls the speed
Fully closed assembly guarantees safety and long service life, effectively preventing the liquid into the unit to protect the components from damage.
Separate safety circuits, fixed safety temperature of 360℃, Automatically stop heating once exceeds secure temperature.
HOT warning indicates residual hotplate temperature. The LCD display would show "Hot" when the hotplate temperature is over 50°C warning point, even if switched off.
Free software StirPC, the computer can control and document all operation values via the RS232 interface.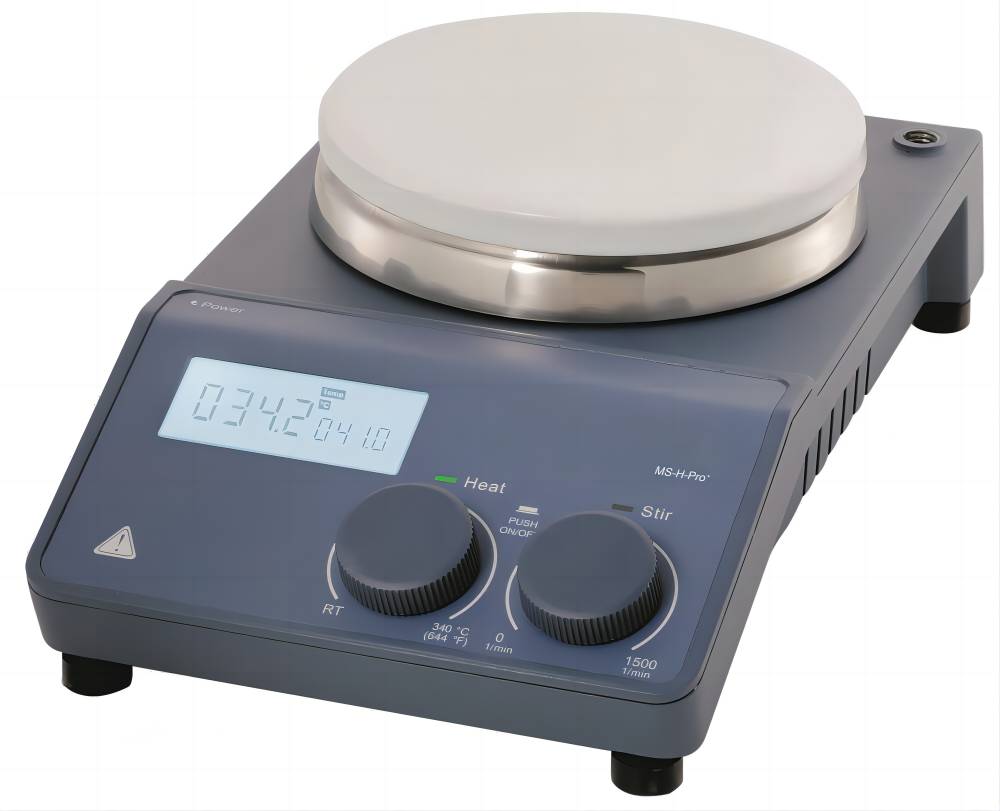 Specifications
Specifications

MS-H-PRO+

Work plate dimension

φ135mm(5 inch)

Work plate material

stainless steel cover with ceramic

Motor type

Brushless DC motor

Motor rating input

18W

Motor rating output

10W

Power

550W

Heating output

500W

Voltage

100-120/200-240V 50/60Hz

Stirring positions

1

Max. stirring quantity[H2O]

20L

Max. magnetic bar[length]

80mm

Speed range

100-1500rpm
resolution±1rpm

Speed display

LCD

Temperature display

LCD

Heating temperature range

Room temp.-340°C, increment 1°C

Temperature control accuracy

±1°C(<100°C)
±1%(>100°C)

Over temperature protection

360°C

Temperature display accuracy

±0.1°C

External temperature sensor

PT1000 (accuracy ±0.2)

"Hot" warning

50°C

Data connector

RS232

Protection class

IP42

Dimension[WxDxH]

160×280×85mm

Weight

2.8kg

Permissible ambient temperature and humidity

5-40°C, 80%RH