What is Flame Photometer?
A flame photometer refers to a clinical laboratory analytical instrument based on emission spectroscopy, used to determine the concentration of certain metal ions, including potassium(K), sodium(Na), lithium(Li), calcium(Ca) and barium(Ba). The basic principle of the flame photometer is to use flame as the excitation light source and apply a photoelectric detection system to measure the radiation intensity emitted when the excited element returns from the excited state to the ground state. Judge the element type and content based on its characteristic spectrum and lightwave intensity. It is mainly composed of a light source, a light splitting system, and a detection system. The flame photometer has been widely used in medical and clinical, agriculture, industry, food, etc.
The FP series flame photometer is a newly designed instrument, which uses LPG burning gas as fuel. It has the advantages of small size, simple structure, convenient operation, stability, and reliability. The machine adopts a liquid crystal display, and keyboard operation, and can store up to 10 points of a standard curve and 200 sets of test data.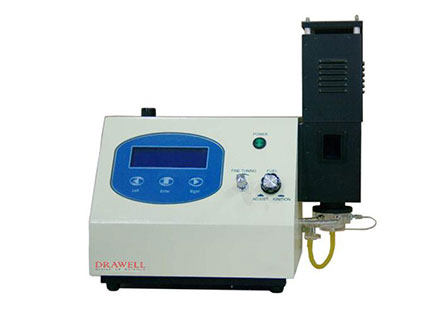 Features of Flame Photometer
USB Interface(Except FP640)
LPG as burning gas
Direct concentration read-out
Measuring range adjustable
7 inch LCD touch screen
Automatic Calculation of correlation coefficient (Except FP640)
Pre-selection of flame sizes
Flameout protection device
Measuring range changing
Air compressor including
Application of Flame Photometer
Flame Photometer is widely used in agricultural fertilizer, soil analysis, cement analysis, analysis and determination of silicic acid industry; clinical laboratory and pathological research of medical and health.
1) Testing of building materials such as cement, glass, ceramics, and refractory materials;
2) Testing of fertilizer and soil;
3) Testing of mining, petroleum, metallurgical and chemical products;
4) Testing of foods such as pharmaceuticals and beverages;
5) Testing of municipal solid waste;
6) Tests for various experiments in scientific research, health, teaching and other fields.

Specification of Flame Photometer
item
element
Model
DW-FP640
DW-FP6410
DW-FP6430
DW-FP6431
DW-FP6440
DW-FP6450
Sensitivity
K
0.01ppm
Na
0.01ppm
Li
——
optional
0.1ppm
——
0.1ppm
Ca
——
——
——
2ppm
2ppm
Ba
——
——
——
——
——
6ppm
Range
K
0-100ppm
Na
0-160ppm
Li
——
optional
0-100ppm
——
0-100ppm
Ca
——
——
——
0-1000ppm
0-1000ppm
Ba
——
——
——
——
——
0-3000ppm
Linearity
K
0.195ppm(0.39-3.12)ppm
Na
0.69ppm(1.15-9.2)ppm
Li
——
optional
0.15ppm(0.25-5)ppm
——
0.15ppm(0.25-5)ppm
Ca
——
——
——
3ppm(5-100)ppm
3ppm(5-100)ppm
Ba
——
——
——-
——
——
9ppm
Repeatability
1 % CV for 20 consecutive samples
Respond time
<8s
Sample uptake
<6L/min
Weight
N.W : 18kg G.W.: 22kg
Package Dimension
770 x 560 x 390mm 0.168M3
Product Display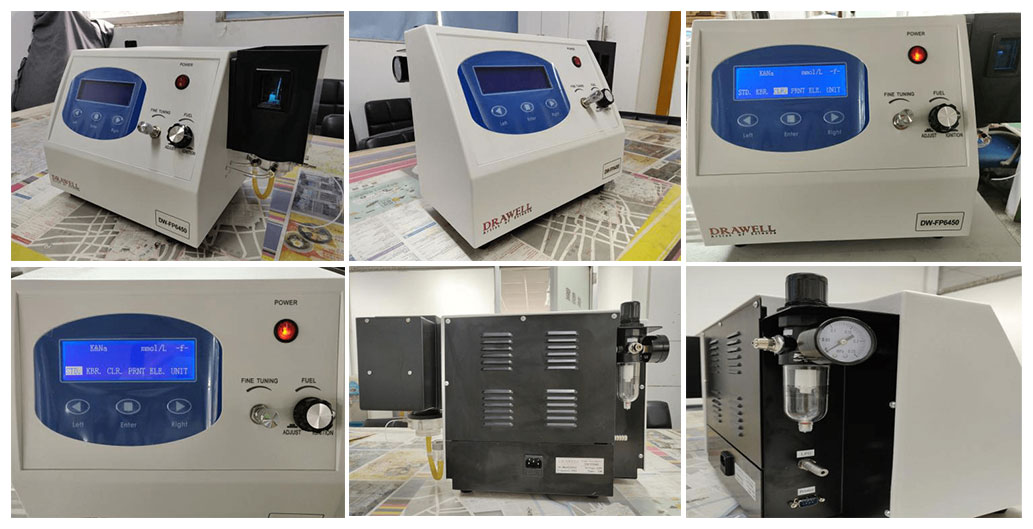 Why Choose Us?
Quick Service
For the before-order stage, our professional sales team will respond to your inquiry within 24 hours whether it is on working days or not.
For the order-running process, we will keep track of your order. You don't have to worry about the quality or production time.
For the after-sales stage, our technical guidance is free and ready forever. If you have any problems, our after-sales team and engineers will help you solve it, and you will get an answer within 24 hours.
Pre-Installation services
Providing free pre-installation advice and guidance. Providing a demonstration video if necessary.
User training
Operation manuals are in English. Training by Drawell skilled engineers can happen in our factory in China, or at site in cusotmers' country. Cost depends on where and when the training happens.
Warranty services
1 year free, including repairing quality-damaged parts, and offering replacements of selected parts (shipping cost is extra). 5% of product price is charged for extending the warranty before the end of the official warranty.