What is 2~8℃ Vaccine Freezer?
2~8℃ degree vaccine freezer is one of the commonly used equipment in laboratories and other institutions, mainly used to store medicines, reagents, biological products, specimens, etc. Drawell 2-8 degree vaccine storage freezer adopts temperature display, temperature control, intelligent safety alarm system, etc. Which can provide a safe and reliable temperature environment for customers' storage problems. Mainly used in pharmaceutical factories, hospitals, university laboratories, scientific research institutions, etc.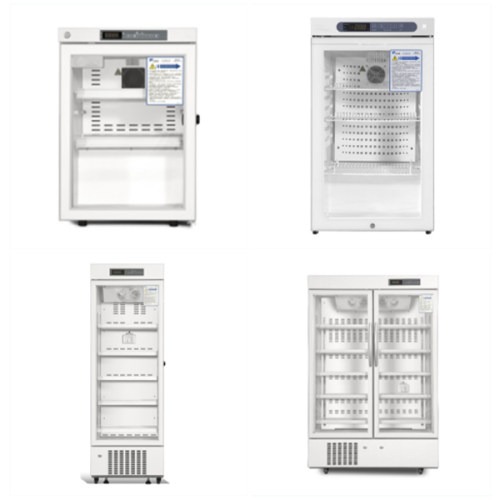 Features
Accurate microprocessor controller to ensure consistent cabinet temperature of 4士1°C.
Specially designed forced-air cooling system to ensure fast-free cabinet and good temperature uniformity.
Three-layer toughened glass door with a heater to avoid condensation.
304 stainless steel inner chamber for friendly use and easy cleaning.
Wide available voltage range: 187V~242V
Application Areas
The 2-8 degree vaccine freezer is high-precision laboratory equipment with constant temperature and numerical control functions. It is ideal for scientific research departments, colleges, and universities such as bioengineering, health and epidemic prevention, pharmaceuticals, chemicals, food, beverages, agriculture, animal husbandry, and aquatic products. select. The 2-8 degree vaccine freezer is widely used in the constant temperature storage of various molds, tissue cells, microorganisms, and antibiotics.

Specification of Product
Model

MDF-5V100

MDF-5V316

MDF-5V415

MDF-5V1006

MDF-5V1500

Performance

Picture

Capacity

100L

316L

415L

1006L

1500L

Temperature range(℃)

2~8℃

Ambient temperature(℃)

10~32℃

Control System

Temperature Controller

Microprocessor

Display

Digital LED display

Refrigeration System

Compressor

1

Refrigerant

R600a

R600a

R134a

R600a

R134a

Cooling Type

Forced air cooling system

Defrost Type

Auto

Electrical Data

Power Supply (V/Hz)

220V/50Hz

Rated Power (W)

80W

240W

280W

425W

1040W

Electrical Current (A)

0.8A

1.2A

1.7A

2.4A

5.4A

Dimensions

NT./GT.(kg)

35/38

93/100

120/133

189/213

245/280

Exterior size(W*D*H)(mm)

505*510*875

640*552*1880

800*552*1940

1240*820*1900

1800*775*1965

Interior size(W*D*H)(mm)

385*356*737

540*425*1380

685*429*1380

1100*684*1325

/

Alarm

High/low temperature

Y

Y

Y

Y

Y

Power failure

Y

Y

Y

Y

Y

Sensor error

Y

Y

Y

Y

Y

Thermostat failure

Y

Y

Y

Y

Y

Door ajar

Y

Y

Y

Y

Y

Accessories

Castor

Y

Y

Y

Y

Y

Out door/Type

1/Glass door

1/Glass /Low-E

1/Heating glass door with automatic rebound

2/Heating glass door with automatic rebound

3/Glass door

Remote alarm port

/

Y

Y

Y

/
Other Refrigerator & Freezer