DW-XRD-2700A Combined Multi-functional XRD X-ray Diffractometer
This XRD adopts the most advanced technology. The angle accuracy and precision of the goniometer has reached world advanced level. The light source and detector can work stably for a long time to ensure the accuracy and precision of diffraction peak position, peak shape and intensity measurement.
Applications & Functions of DW-XRD-2700A
It can accurately measure metal and non-metal samples, do qualitative and quantitative analysis. When it is work with the corresponding accessories, it also can be used to analysis the influence of high temperature and low temperature on the material structure and analysis the structure of the film sample, metal material texture, stress measurement, etc.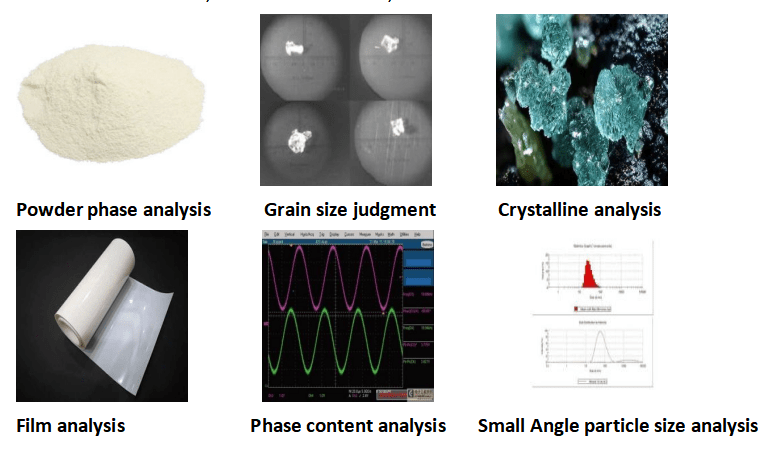 DW-XRD-2700A Structure
Our Multi-functional XRD X-ray Diffractometer Advantages
High stability X-ray source Unit (AF3 model High Frequency &High Voltage X-ray generator)
Rated power: 3 kW (HF, HV control technology)
Tube voltage: 10~60kV, 1kV/step;
Tube current: 5~50mA, 1mA/step;
Stability of tube voltage and tube current:≤0.005% ;
There is Protection for over voltage, over current, and over power and water depletion.
X-ray tube: metal ceramic x-ray tube / Cu Target / Focus size: 1×10mm²/ 2.4kW .
High Precision Goniometer Unit
Goniometer: Adopt servo motor and optical coding technique to drive θs and θd;
Scanning mode: θ—θ goniometer; it is vertical; the sample is put horizontally ;
2θmeasuring range:-6°~160°; Radius of goniometer: 225mm;
Scanning mode: continuous, stepping, and Omg;
Minimum step width Angle:0.0001˚;
Angle accuracy:≤0.001˚; Angle repeatability:≤0.0001˚.
It can cancel the idle running and do angle calibration automatically.
Angle locating speed:1500˚/min;
Diffraction Angle linearity: the Angle deviation of all peaks within the full spectrum shall not exceed ±0.02°.
Detector Unit
Closed proportional Detector
Spectral resolution: <25% (Cu Kαspectral line);
Maximum linear count rate: >5×105cps
Protection
X-ray scattering ray protection device is safe and reliable with the interlocking mechanism. When the sample is measured, the radiation-shielding door is automatically forbidden to open, which can protect the operator from the scattering ray radiation under any circumstances, and the scattering ray dose conforms to the international standard of 1.0 sv/h.
Control and processing software
Windows 10 operating system;
Qualitative and quantitative analysis of material phases, Kα1,α2 peeling, Full spectrum fitting, peak fitting, FWHM and grain size calculation, crystal cell measuring, second kind stress calculation, diffraction line indexation, multiple plotting, 3D plotting, diffraction data calibration, background subtraction, quantitative analysis without standards, full spectral image fitting (WPF), XRD diffraction image simulation, etc.
Working condition of DW-XRD-2700A
Environment temperature:20±5℃;
Relative Humidity: 30% ~ 80%;
Power supply:3 phases,380V,50 Hz (If user′s is different, please inform), single phase power≥30 a
Ground resistance≤4Ω;
There should be no high frequency and arc interference caused by the tool, welding machine, high-frequency furnace, and other equipment.
Cooling water quality shall meet the requirements of the X-ray tube;
The surrounding environment should not be flammable, corrosive gases, dust, and vibration.
DW 2700A XRD Configuration List
Parts

Configuration

Qty

Remark

X-ray high-voltage generator

① AF3 X ray high frequency high voltage generator

② X27.05 high voltage cable 100kVP

③ 3310 pipe sleeve(including auto shutter)

④ X25.07X-ray generator auto control system

⑤ X25.0 2 stage Metal shell

⑥ AS2901/24Metal ceramic insulation X-ray tube

1

High frequency &High voltage

1

3 meters

1

1

includes 1 cable

1

lead and lead glass

1

Cu target, 2.4kW

Goniometer

System

① AG-3512H/DW-2700Agoniometer

② Slit and powder sample holder

③ Through-hole sample plate

④ Blind-hole sample plate

⑤ Filter

⑥ Slit Plate and Lighting System Adjustment Accessories

1

θ-θ structure

1

1 for each

5

Aluminium matrix

15

Glass matrix

1

Match with the target material

1

Recording and

controlling system

① Closed proportional detector

② Recording and controlling unit

③ Motor and communication cable

④ Power supply unit

1

includes 1 connection cable

1

1

2 motor cables, 1 communication cable

1

Circulating water cooling system

① DWC-3Circulating water cooling system

② Circulating water connecting tube

1

Split structure

2

PC system

① Intel i processor,RAM 4G, 128G Solid state disk, 19 inch LED, High Performance HD Display card

② HP1108 A4 Laser printer

1

DELL

1

System Control and

Applicable Software

① DW Series Diffractometer Control Program Software

② Phase qualitative and quantitative analysis software

③ Data processing and application software

④ Diffraction data card base

⑤ Crystal Structure Data Base

1

Windows 10

1

1

1

1

Technical documents

① DW series XRD user manual

② Data Process and Application Software User Manual

③ DWC 3 Circulating Water Cooling System User Manual

1

1

1

Accessary

① DW S 3 crystal graphite monochromator

1

Reflectivity>28%

Spare parts

① Fuses 1、1.5、2、2.5、3、3+ A

② Tools

③ Agate Mortar ф100mm

10

10 for each

1

1
DW-XRD-2700A X-ray Diffractometer Display
Other X-ray Diffractometer