DV-8000 Single Beam Visible Spectrophotometer
DV-8000 visible spectrophotometer is the ideal instrument for education and QC laboratories. They are simple to fit a curve by using your standard. They are widely used in colleges and quantitative analysis labs.
Optional Accessories:
PC scanning software
Tungsten Lamp
Deuterium lamp
Micro cuvette cell holder (one-position)
Manual 4-positions cell holder
Automatic 4/8 positions cell holder
Features:
1. Small fine design, space-saving
2. The excellent optical and electric system
3. Low noise and Low stray light
4. High-quality grating, detector and lamps
5. Data and Curve can be stored in real-time
6. Auto setting WL, auto Blank
7. Easy to change Pri-aligned lamps
8. Reinforced baseboard and bracket assures durability
Function:
1. Photometric: T%, Abs
2. Quantitative: Standard Curve
3. System Utility
4. Time Scan (Kinetics) (PC)
Specifications of DV-8000 Visible Spectrophotometer
| | |
| --- | --- |
| Model | DV-8000 |
| Wavelength Range | 325-1020nm |
| Spectral Bandwidth | 4.0nm |
| Optical System | Single Beam, Blazed Holographic Grating (1200 lines/mm) |
| Wavelength Accuracy | ±2.0nm |
| Wavelength Repeatability | ≤0.5nm |
| Wavelength Setting | Manual, Resolution 0.1nm |
| Photometric Range | 0~200%T, -0.3~3A, 0~9999C |
| Photometric Accuracy | ±0.003A (0~0.5A), ±0.005A (0.5~1A), ±0.5%T (0~100%T) |
| Photometric Repeatability | ≤0.002A (0~0.5A), ≤0.003A (0.5~1A), ≤0.2%T (0~100%T) |
| Stray Light | ≤0.2%T (220/360nm) |
| Scan Speed | High, Medium, Low. Max.1000nm/minute |
| Stability | ≤0.002A/h (500nm,0A) |
| Noise | ±0.2%T(0%T);±0.5%T(100%T);±0.001A (500nm) |
| Sample Compartment | Accommodate 5-100mm Pathlength Cuvette |
| Detector | Silicon Photodiode |
| Lamps | Tungsten Lamp & Deuterium Lamp (Pre-aligned) |
| Display | Graphic LCD (128×64 Dots) |
| Output Port | USB Port & RS232 Port |
| Printer | Mini Serial Printer; PC Printer |
| PC Software | Optional PC Scanning Software |
| Power Requirements | AC 220V,50/60Hz |
| Dimension | 431x318x195mm |
| Net Weight / Gross Weight | 8kgs / 10kgs |
Product Display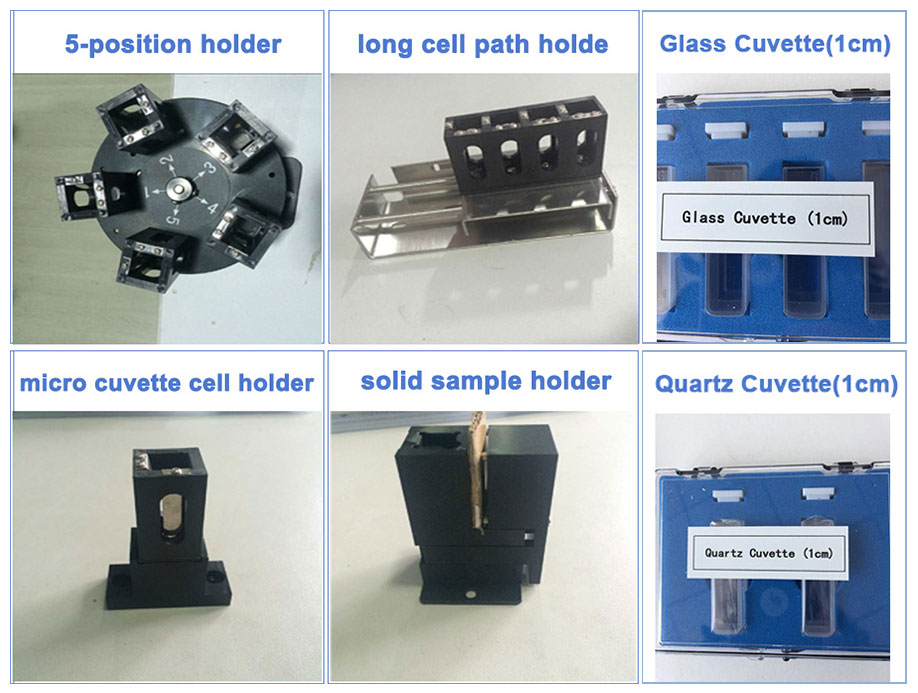 Why Choose Us?
On-time Delivery
Our on-time delivery rate is 100%. Delivery time is usually 7-15 working days after payment.
Rich Export Experience
Drawell is founded in 1999 and has more than 20 years of exporting experience. We have a professional sales team of around 30 people.
Our main markets are South Africa, the Middle East, Southeast Asia, Europe, etc. So far, we have established business relationships with more than 100 countries.
Quick Service
For the before-order stage, our professional sales team will respond to your inquiry within 24 hours whether it is on working days or not.
For the order-running process, we will keep track of your order. You don't have to worry about the quality or production time.
For the after-sales stage, our technical guidance is free and ready forever. If you have any problems, our after-sales team and engineers will help you solve it, and you will get an answer within 24 hours.
Warranty services
All Drawell Instruments will be warranted for a period of 12 months after shipment.
Other UV-VIS Spectrophotometers